LIGA IBERDROLA
Aintzane: "In the derby, your heart beats faster and stronger"
Aintzane Encinas, captain of Real Sociedad's women's team and author of the book, "Latidos de futbolista" cannot wait for Friday's Basque derby against Athletic.Tenerife vs Getafe: Playoff Final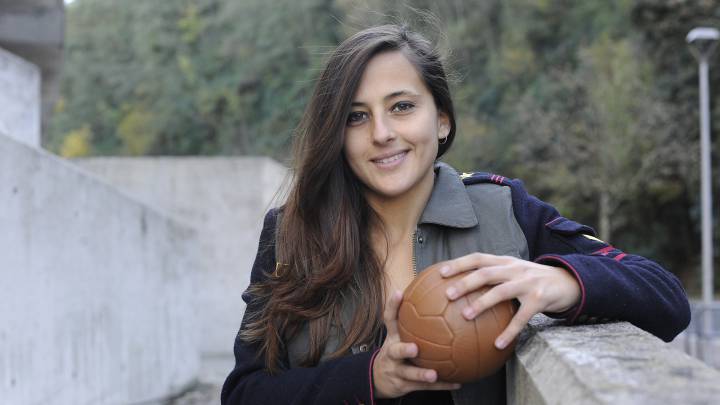 Basque derby
"In a derby, your heart beats faster and harder, and you find yourself with more determination than ever". Aintzane Encinas should know, the Real Sociedad women's team captain has experienced many run-ins with regional rivals Athletic Club over the years. The striker is the last, active member of the very first Real Sociedad women's side which was founded in 2004: "Playing for La Real was my dream, and still is. The first time I pulled on the Real Sociedad shirt, when I was 16 years old, was unbelievable".
Outside of playing football, Aintzane, who has a degree in Physical Activity and Sports Science, has written a book on the game and teaches in her spare time. "I started writing, first of all for me, because I felt the need to find an outlet for the emotions which I was experiencing out on the pitch. Those writings later turned into blog which developed into a book".
Positive dynamic
Aintzane says that the current form which Real Sociedad's men's team are in, especially after their recent performance against Barça is a source of inspiration for the women's team, who ended last season fourth and sit seventh going into tonight's clash with Athletic: "We have only won the derby once - in Lezama in 2010. Now it's time for us to win it again. It would be a great boost for the team. This season we have a very talented squad, but we need to enter into a good dynamic like we did last year. Let's hope this derby can kickstart a positive run of results for us".
School team
The Txuri urdin captain started playing football when she was just five years old in her neighbourhood and local school in Mundaiz. Later she joined Añorga then Real Sociedad. During that time, she says, the women's game has undergone a massive transformation: "It's important that Iberdrola are pushing strong for the women's game and that now games are televised every weekend because we, the players, have a lot to say".
Remembering Tximist
Aintzane has published her first book ("Latidos de futbolista") two years ago, and earlier this year, she and her team mates planted a lemon tree at La Real's training complex in Zubieta to honour Juan Carlos Samaniego Mijangos Tximist, the club's physical trainer who passed away in January. Next on the list is start a family. "But at the moment, that can wait" - what cannot wait though, is the derby...