Barcelona 1-1 Real Madrid: match report, goals, reaction
Real Madrid salvaged a point against Barcelona in Camp Nou in a 1-1 draw in the LaLiga Santander match on December 3 with goals from Luis Suárez and Sergio RamosChampions League Final: Real Madrid - Liverpool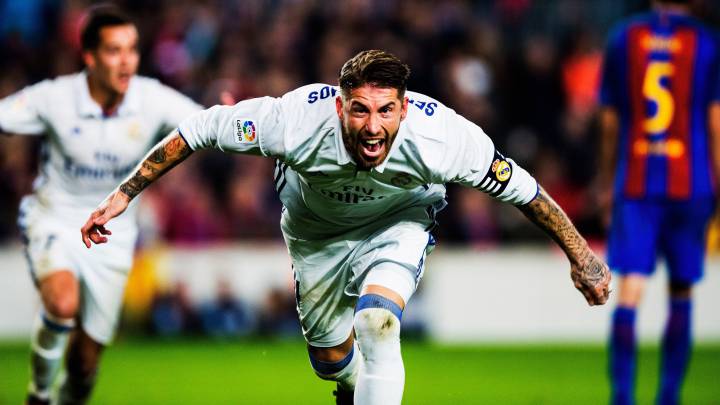 Barcelona 1-1 Real Madrid: summary
Real Madrid snatched a late draw in Camp Nou courtesy of Sergio Ramos' 89th-minute header to extend the unbeaten run in all competitions of Zinedine Zidane's side to 33 games while also preserving their six-point lead at the top of the Liga table.
Luis Suárez opened the scoring for the home side on 53 minutes when he snuck in front of Raphael Varane to head home from close range. After a scrappy first half the introduction of Andrés Iniesta lent Luis Enrique's side more control in midfield and Barça could have extended their lead through Neymar, whose close range shot arched over the bar, and Leo Messi, who was played through by a pinpoint Iniesta ball but could only pull his shot wide of Keylor Navas' far post.
Real, as they have done for most of the season, held on doggedly on the back foot and the visitors were rewarded when Ramos pounced to put Luka Modric's delivery past Marc-André Ter Stegen, who got a hand to the Real captain's header but could prevent the net from billowing.
---
Barcelona 1-1 Real Madrid: full time
Min 92 | High drama as Real clear off the line through Casemiro, then break upfield but Mariano's final ball lacks precision. And it's all over. Honours even in Camp Nou. 1-1.

Min 90 | Ronaldo is down in agony after a scything challenge in midfield. He's up and ok to continue though. three minutes of added time.

Min 89 | Ter Stegen got his hand to that but it was too powerful to claw away.

Min 89 | And it's Ramos! It had to be Ramos! The defender is in the right plave to meet Modric's free-kick and he buries it past Ter Stegen! 1-1!

Min 88 | Close! Ronaldo goes all air-Jordan at the far post from Marcelo's glorious cross but he can only direct a soft header towards the foot of the post and it's hooked clear.

Min 86 | It's def-con 2 for Real now as Ramos is up in the striker's role and he gets under a header but can't keep it down and it plops onto the top of Ter Stegen's net.

Min 85 | Mariano is on... is there time for a script-busting cameo from the Dominican goal machine?

Min 84 | A better delivery from Modric this time, but Piqué is under it and clears.

Min 83 | Busquets in the book for bringing down a galloping Asensio. Free-kick in a dangerous area for Real...

Min 81 | What a ball from Iniesta to release Messi! The Argentinean's control is good as well but he drags his shot wide of Navas' far post. Excellent opportunity for Barça to put the game to bed.

Min 79 | Carvajal goes in the book for a foul on Neymar as Real's edges start to fray.

Min 77 | Another shout for handball as Asensio tries a flick in the area from Vázquez's cross and Real holler for a penalty. Nothing given though and there was more than a little desperation in the appeal.

Min 76 | Asensio coming on for Benzema, Arda also into the fray in place of André Gomés.

Min 74 | Suárez goes in the book for protesting as he felt the ball hit Varane's hand when the two were locked in an aerial duel in the Real half.

Min 73 | But Modric fails to clear the first man.

Min 72 | Lucas and Carvajal combine on the right and it's out for a Real corner, the big guns trotting up for it...

Min 70 | Intersting roll of the dice from Zidane coming up... Mariano is warming up. Barça are in almost complete control now, camped in the Real half, comfortable in possession. Real are struggling to get on the ball and it's not a bad call from the Frenchman, sending on his fearless cadet.

Min 68 | Iniesta! The captain glides into the area and fires a shot into the side netting. Carvajal did just enough there to see it round Navas' post. Barça are turning the screw now.

Min 67 | Neymar! A fluid move from Barça places the Brazilian in a shooting position but his effort is off target with the goal at his mercy.

Min 65 | Isco goes off, kicking a bib in frustration as he does so, and the Brazilian brick wall is on...

Min 63 | Ronaldo massaging his hamstring now... he ended the match against Sporting with a problem in that area.

Min 62 | Barça oozing confidence now, Busquets turning on the style in midfield with a neat drag-back and pinpoint pass. Real looking a little ragged and Casemiro is preparing to come on.

Min 60 | Immediately Barcelona have more pause on the ball. Iniesta's impact is immediate.

Min 59 |Surprise change this for Barça as the ineffectual André Gomés stays on and Ivan Rakitic goes off for the home side. Iniesta on to a huge ovation.

Min 56 | Camp Nou erupts into chants of "Iniesta, Iniesta" as the captain prepares to come on. Benzema is dispossessed easily in the area. He's been off the pace today, the Frenchman.

Min 55 | A rare loose ball from Modric hands possession to Barça again.. not the best day the Croatian has ever had. Suárez thunders into the area and Navas is down courageously to thwart the Uruguayan.

Min 54 | Marcelo tries to make something happen down the left but Barça's back four hold firm. A little more urgency about Real now...

Min 52 | Goooooooooal! The deadlock is broken! Suárez heads home from close range with Varane unable to prevent him doing so... 1-0 to Barcelona! El Pistolero fires the first shot of the Clásico!

Min 50 | Varane on the charge for Real but Real's passing radar is well off today. Ronaldo eventually gets the ball back down to earth ball but then fires a shot into orbit.

Min 48 | Benzema caught napping there as Kovacic released Vázquez, the Frenchman standing still as Barça's central defenders stepped up.

Min 47 | Real give the ball away in midfield and Barça launch an attack. Five white shirts close Messi down on the edge of the area but he still manages to loft a ball into the path of Suárez, but his shot-cross is bundled over the line for a corner by Isco.

Min 46 | No changes at half time as we get back underway in Camp Nou. 0-0 it stands after a largely forgettable opening 45 minutes...
---
Barcelona - Real Madrid: half time
It can only get better in the second half for the estimated 650 million people watching worldwide. The opening 45 minutes were energetic enough but lacked any semblance of structure from either side. Moments of individual panache were few and far between as well. A couple of half-chances and a couple of cards are pretty much all Barcelona and Real Madrid have to show for a frenetic first half in Camp Nou.
---
Barcelona - Real Madrid: first half live
Min 44 | A good drive from Kovacic into the opposition half... then a sloppy pass straight to a Barça player. Pretty much sums up the half. And that is the 45!

Min 43 | Close! Isco feeds Benzema, whose shot hits Piqué and loops out for corner.

Min 42 | Suárez is at least trying to make something happen for Barça. He's certainly doing all the running for the home side. 360º replays show that penalty shout may have been less clear cut than it looked in real time...

Min 39 | Another penalty shout! Alba's cross clearly hits Carvajal in the chest though. Corner rightly given.

Min 37 | Nice move from Real! Modric pings an inch-perfect pass to Vázquez, who controls on his chest, moving inside in the same instant, and then lays off to Ronaldo who skips into the box and manages to squeeze off a shot under pressure from Alba.

Min 35 | Ronaldo gallops down the left and into the area and warms Ter Stegen's gloves with a decent left-footed strike. The angle was asking a little too much though.

Min 34 | Messi sends it into the area but it's low and easily met by the Real wall. Disappointing delivery there.

Min 32 | For all the stops and starts over niggly challenges, it's a little odd Clos Gómez missed two players going over in a heap off the ball there... Neymar goes down in agony after a strong challenge from Carvajal, free-kick to Barça...

Min 30 | Ronaldo tees himself up for an overhead but clobbers Benzema instead, which rather sums up the Real attack so far. Little threat and even fewer passes between the two.

Min 29 | Another foul, another stoppage, there's no flow to the game at the moment with both sides struggling to string passes together.

Min 27 | This time it's Vázquez who goes down in a heap and Neymar is the culprit. Into the book he goes for a studs-on-foot challenge. The Camp Nou are seething with resentment as Clos Gómez has been reluctant to produce any further cards since booking Isco, despite Modric's demolition job.

Min 25 | Ramos with a bizarre attempt to clear with his head just inside Real's half, he misjudges it completely and belly flops but Barça are unable to capitalise. Mascherano then floors Ronaldo in midfield.

Min 24 | Barça win a corner and Neymar sends in a teasing ball but it's cleared easily enough by the visiting defence.

Min 22 | Marcelo this time slings one into the mixer, but it's too high for Ronaldo to meet. Real have been having some joy down Sergi Roberto's flank in the last few minutes, something for both coaches to ponder.

Min 20 | Nice work from Lucas Vázquez down the left and he squares for Benzema but the Frenchman had to wait an age for that one to drop and his shot is poor.

Min 19 | There hasn't been much classic about this so far... it's scrappier than Scooby's side-kick at the moment. Luis Suárez has the ball at his feet in the box, but can't get any power or direction on his shot on the turn.

Min 17 | Messi hits... but it's tame and straight into the paws of Keylor Navas.

Min 16 | Free-kick to Messi as Modric beings the Argentinean down. Dangerous range this...

Min 15 | Ronaldo guides a Lucas Vázquez cross towards goal with his head, but it's a gift for Ter Stegen, who barely has to move as it lands softly in his gloves.

Min 13 | Modric lucky to escape the same fate perhaps as he clatters into Messi, much to the displeasure of Luis Enrique.

Min 12 | Isco goes into the ref's book for a shove on Neymar to prevent the Brazilian breaking from midfield.

Min 11 | Real win a corner as Marcelo's attempted cross pings off a defender. Modric delivers, the rebound falls to Kovacic and the Croatian's shot is blocked. Barça clear all the way up to Suárez, who is called narrowly offside as he cantered towards Keylor Navas.

Min 9 | The first decent chance of the game falls to Barça, Sergi Roberto finds himself in space on the right and has a go, it hits Ramos and Barça appeal for handball but the ref waves it away, the lino nodding his agreement.

Min 8 | Barcelona have now found their zen after a scrappy opening five minutes and are passing it around in the Real half.

Min 5 | Jordi Alba lofts a ball into Messi but his attempted cushioned header into the full back's path flops harmlessly over the byline. Neymar is limping a bit after trying to keep that one in, it looked like the Brazilian caught his boots in an advertising tarp under pressure from Carvajal.

Min 4 | That was a penalty....

Min 4 | We'd like to see a replay of that, please... It looked like there was sufficient contact for Vázquez's appeal to find a sympathetic ear.

Min 3 | Penalty shout! Vázquez goes down in the area under the attention of Javier Mascherano but the referee is unmoved.

Min 2 | Both Modric and Ronaldo are down, the result of a collision as Busquets bore down on them. First free-kick of the match given against the Barça reducer.

Min 1 | And we're off! The 233rd Clásico. The game is afoot...
---
16:14 | The players all stand together for the tribute, a nice touch. Kick-off is imminent

16:12 | The players are heading out on to the Camp Nou baize, the stands come alive with colour and we're now minutes away... there'll be a minute's silence before kick-off for the victims of the air disaster in Colombia earlier this week before we get underway.

16:10 | The visitors have scored more and conceded fewer than the hosts, but in La Liga head-to-head is what counts. The last time that came into play was in 2006-07, when Real claimed the title after beating Barça 2-0 at the Bernabéu and drew 3-3 in Camp Nou, despite Barcelona having a far better goal difference, +45 to Real's +26.

16:05 | Real Madrid are six points clear of the champions going into today's game. Will it be nine when the dust settles, or will Barça haul them back in the title race?

16:00 | Just 15 minutes to go until kick-off now, Javier Mascherano is putting in a bit of shooting practice. You have to appreciate optimism when you see it. The Argentinean has only ever scored twice in his club career and has yet to do so in Spain.
---
Barcelona - Real Madrid: confirmed teams
Barcelona XI
Marc-André Ter Stegen; Sergi Roberto, Gerard Piqué, Javier Mascherano, Jordi Alba; Sergio Busquets, Iván Rakitic, André Gomes; Luis Suárez, Leo Messi and Neymar.
Bench: Jasper Cillessen, Denis Suárez, Arda Turan, Andrés Iniesta, Paco Alcácer, Lucas Digne, Samuel Umtiti.
Coach: Luis Enrique
Real Madrid XI
Keylor Navas; Dani Carvajal, Raphael Varane, Sergio Ramos, Marcelo; Lucas Vázquez, Luka Modric, Mateo Kovacic, Isco; Cristiano Ronaldo and Karim Benzema.
Bench: Kiko Casilla, Pepe, Nacho, James Rodríguez, Casemiro, Mariano, Marco Asensio.
Coach: Zinedine Zidane
---
Barcelona - Real Madrid: latest news
15:55 | Neymar has gone seven Liga games now without finding the net. Omen?

15:50 | 25 minutes to go. Players out warming up.

15:35 | The stadium is starting to fill up as the players go through their paces on the pitch. It's a perfectly acceptable 14 degerees celsius in the Ciudad Condal, a little overcast, with only three a three percent chance of rain during the game. Perfect conditions for a game of footie, all told.
15:25 | So there's no start for either Iniesta or Casemiro, with Zidane apparently opting for a 4-4-2 with Ronaldo and Benzema up front.
15:00 | Just over an hour to go now, team news expected imminently... will Kovacic start for Madrid? Will Mariano?
14:40 | All eyes will be on Leo Messi and Cristiano Ronaldo in Camp Nou. The pair's stats in the competition are fairly ridiculous. A goal today would hand Messi yet another record, that of all-time top scorer in Liga Clásicos, ahead of Alfredo di Stéfano, who is tied with his compatriot on 14 strikes.
14:20 | But although the Clásico has seen it's fair share of spit and bile, in recent seasons it's been a more cordial affair.
14:00 | Karim Benzema spoke ahead of the Clásico and said that the criticism he regularly receives doesn't bother him. But will he start today, or will the prolific Mariano's youthful insouciance sway Zidane's thinking?
13:40 | It's not always roses and do-you-mind-if-I-don'ts in the Clásico of course. We take a look at the controversial Clásicos down the years.
13:15 | Sergio Ramos loves a good Clásico, but he wasn't very happy when Real lost 5-0 to Barcelona in Camp Nou in 2010.
12:50 | Real Madrid have failed to keep a clean sheet in the Liga Clásico since December 23, 2007, when they won 1-0 in Camp Nou. That result today is being posted at a pretty tempting 17/1 in places with the bookies' most likely score line placed at 1-1. We have a few stats and odds for today's game here.
12:30 | The man in the middle today, Carlos Clos Gómez, is one of La Liga's less controversial officials. We have a profile of the whistle-wielder in Camp Nou.
11:50 | Italian cocah Fabio Capello lent his "tuppence worth" to the old Cristiano v Messi debate
11:25 | We've broken down Cristiano Ronaldo and Lionel Messi's goal stats in 25 El Clásico games they've played against eachother, and it makes for a more interesting perspective than you might think...
11:00 | Who wins today's clash on the pitch will be resolved after 90 minutes but who wins the #ElClasico social media battle?
10.30 | Stat attack: Madrid and Barcelona have played 232 official games against each other, with Real Madrid winning 93, Barça winning 91 and 48 draws. In total, there have been 770 goals scored in El Clásico: 391 in favour of Madrid and 379 in favour of Barcelona.
10:15 | AS Director Alfredo Relaño is certainly looking forward to El Clásico as today's editorial testifies.
09:30 | Our weekly resident "oracle" has cast his verdict about the outcome of today's game at Camp Nou. Here are his match-day 14 predictions
08:30 | So after all the anticipation, Saturday has finally arrived and we start our countdown to El Clásico at Camp Nou with a 16:15 (CET) kick-off.
08:15 | Good morning and welcome to our build-up ahead of this afternoon's El Clásico. The biggest club football match on the planet as the current LaLiga title holders FC Barcelona welcome current LaLiga table toppers Real Madrid.
---
Barcelona - Real Madrid: match preview
It's almost here. The game that many people describe as the biggest match in modern club football kicks off on Saturday afternoon - a time that suits Asian and US audiences but not those in the UK - as Barcelona welcome rivals Madrid to the Camp Nou. But unlike recent years, there is a strange feeling coming into this one. Barcelona in their own back yard have generally been considered a fearsome beast.
But as things stand, the Catalan side are already six points adrift at the top of the league table and results this season have them purring rather than roaring. Madrid may have been nervous for this fixture last season but as they head east on Saturday they'll be sitting rather more comfortable in their seats.
Barcelona
A disappointing 1-1 draw at the Anoeta last weekend saw a further two points dropped for Luis Enrique's men. Add this to their last home game where neither they nor Málaga could muster a goal, and surprise losses away to Celta Vigo and home to Álaves, to find a team short on confidence and at risk of losing significant ground to their most likely title rivals by early December.
Current form aside, Barcelona still boast a tremendous first eleven. One of their problems has been that the summer investment to provide strength in depth has not proved, as yet, to be working. Andre Gomes, Lucas Digne and Pablo Alcacer, to name but three, cost over 100 million euros but have not provided the immediate replacement quality for injuries, suspensions or rotation. The good news for Enrique is that he should have close to his best line up for this clash. Expect the MSN front line, Pique and Alba to provide control and width respectively and the creativity of Iniesta may even be seen, if not from the outset. But if Barcelona are to turn things around then they are likely to need some magic from their talisman, Lionel Messi. If he's on his game, and has enough support from those around him, then Madrid may have a tough afternoon.
Real Madrid
Zinedine Zidane said in his press conference that they come into this game not fearing it like they did before. The capital side sit atop of the table and look down on their opponents with a cushion ahead of the first 'leg' of the league clásico. A win and they are in dreamland before the halfway point is even reached. A loss, and the manager's idea of things tightening up may return. Few analysts of the game would go so far as to say that Los Blancos are lighting up LaLiga and justifiably hold a strong position at this stage. But Zidane's squad, one that has been tested as much as Barça's in the key injury department, have managed to take points when they may not have merited them. And that's what matters most.
As with his opposite number, the French coach has most of his first team to choose from and will make his decisions based on desired formation and match sharpness. His choices for the almost dead-rubber of a cup game midweek gave us clues to his plan where Isco is likely to add more creativity to a midfield of Modric and Kovacic. With Bale the only key absentee, Lucas Vásquez will provide the legs in the attacking third while remembering his tracking responsibilities. But the main goal threat, in 90 minutes where Madrid are going to be without the ball more than they're used to, will come from a revitalised Cristiano Ronaldo and Karim Benzema. Many onlookers will angle the narrative towards Cristiano vs Messi but there's so much more to define this battle. Let it commence.
---
Barcelona - Real Madrid: expected starting line-ups
Barça XI: Ter Stegen, Roberto, Piqué, Mascherano, Alba, Busquets, Rakitic, Iniesta, Messi, Suárez, Neymar
Madrid XI: Navas, Carvajal, Varane, Ramos, Marcelo, Modric, Kovacic, Isco, Lucas Vázquez, Benzema, Cristiano
---
Barcelona - Real Madrid: live match build-up