Benzema, Liverpool legends, Kroos and Robbie Williams...
The French striker has fallen out of favour with the Bernabéu, Toni Kroos is back training and bumped into the ex-Take that singer and Madrid's legends visit Anfield on 25 March. France-England live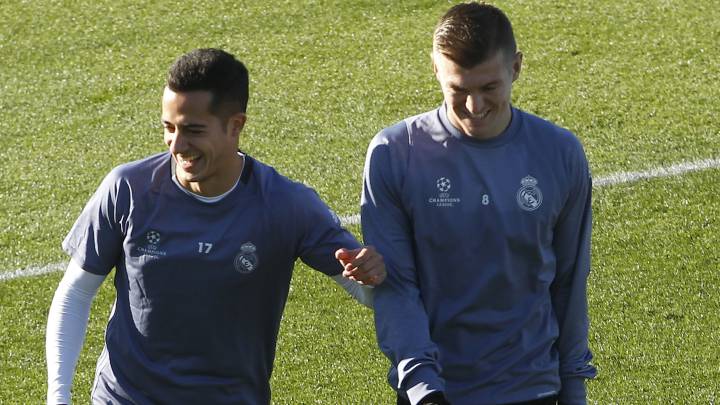 Real Madrid vs Borussia Dortmund
Benzema under review
Real Madrid top LaLiga table, are safely through the Champions League group stage and are unbeaten so far this season... but madridismo isn't happy with the performance levels shown by Karim Benzema in recent weeks. The Frenchman has invited his critics to take a look at his statistics, but his figures to date are not much to write home about - he is averaging one goal every 172 minutes. During the Sporting de Gijón game, whistles could be heard from sections of the Bernabéu - fans are at their wits end with the striker for his lacksadaisical demeanor. They were irritated by his discreet display at Camp Nou and he is sure to be under the spotlight in tomorrow night's clash with Borussia Dortmund.
Let us entertain you
There was more good news for Zidane on Tuesday with the return of Toni Kroos to the squad's training sessions.The German midfielder exercised at the same pace as his team mates but won't enter the list for tomorrow's final group stage game against Dortmund. Earlier this week Kroos bumped into ex-Take That singer Robbie Williams at the end-of-year review broadcast by RTL. He was also interviewed in the studio by presenter Günther Jauch with whom he chatted about his own personal highlights of 2016 which include the birth of his daughter and his new contract with Real Madrid: "They are happy with me and it's an honour to continue until 2022. It's always a relief to get contractual issues out of the way. At Madrid, the demands are high - there is always presure to deliver".

Legends rematch at Anfield
Veteran players from Real Madrid and Liverpool met in the 2015 Corazón Classic match at the Bernabéu and yesterday, details of the rematch, which will be played at Anfield on 25 March, were disclosed. Madrid's representatives Ricardo Gallego, Emilio Butragueño and Roberto Carloswere at Anfield for the presentation. Playing host were former Reds' strikers Ian Rush and Robbie Fowler, who will be keen to get their own back for the 4-2 defeat they suffered in the June 2015 meeting. Some of the names already confirmed for the game include: Gary McAllister, Luis García, Jamie Carragher, Jerzy Dudek, Michael Owen, Luis Figo and Steve McManaman. All proceeds from the game will go to charities selected by LFC Foundation. More information on that match can be found here.
Beenhakker record under threat
Finally, Zidane's Madrid have the chance to equal the club record of 34 consecutive games without defeat, in all competitions, set by Leo Beenhakker's side in the 1988-89 season. To do that, they will need to win or draw against Dortmund tomorrow night in MatchDay 6 of the Champions League. Dortmund midfielder Mikel Merino told AS that his team are determined to win the game and end as champions of the group - but not to ruin Madrid's chances of equalling their best unbeaten run: "We'll be coming to Madrid to win the game but breaking their run isn't what motivates us. On a purely selfish level, what interests us as a team is winning. We want to end top of the group".