Zidane: "I'm not going to judge Benzema on one game"
The Real coach also discussed James in his press conference: " It is a problem because he wants to play more, but I'm going to need the whole squad."Dortmund vs Real Madrid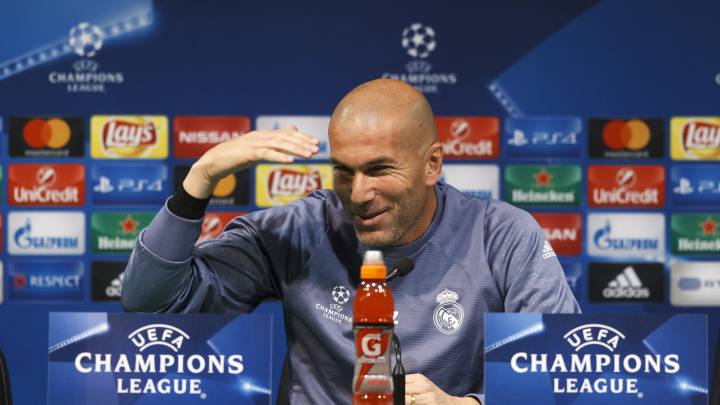 Real Madrid vs Borussia Dortmund
Zinedine Zidane spoke to the press ahead of Real Madrid's final Champions League group stage match against Borussia Dortmund at the Bernabéu on Wednesday, with both sides already through to the knock-out stages of this season's competition. However, Zidane played down the suggestion that the game is of no consequence: "We're playing a final, a final to decide the group. We're playing at home and what we want is to play a good game. We're not going to speculate. We're going to try and finish top of the group.
James
James trained the day after the Clásico but the Real manager appears to be unmoved by the Colombian's effort: "I admire him. He's training and he's available for the squad. I treat him the same way I do all of the players. He did the same thing as a lot of the other players. It doesn't change anything. He's a Madrid player and he's important. It is a problem because he wants to play more, but I'm going to need the whole squad."
Asked if he would let James leave if he wants to, Zidane replied: "I don't want to talk nonsense."
Benzema
Zidane also discussed out-of-form striker Karim Benzema, who has come in for criticism for his recent performances for the side. "I'm not worried. He can give more, as all the players can. He's training well and there are games in which we need more from him. He is always working to improve. I don't have any problem. He scored in the game in Lisbon. In Barcelona we expected more from him. We did from everybody. But he is focussed, concentrated. I'm not going to judge a player on one game."
In good news for Real fans, Zidane confirmed that the only player who remains unavailable through injury is Gareth Bale, with Toni Kroos recovering much more quickly from a broken foot than expected.
Unbeaten run
The Frenchman also discussed his run of form at the head of the team, which has suffered just two defeats in 50 games under Zidane's tutelage. "I'm very lucky, to be truthful. But it's not all down to luck. I'm doing the job I love and I'm at a great club who gave me the opportunity to play here, which is something not everybody can do, and to be the coach. Then there is also hard work and passion. I love football. Not losing means that the work we are doing is good but we are thinking about the end of the season, about winning titles."