Ramos: "Tax evasion? We'll see how much truth there is in those claims"
"Cristiano is the most important player in Real Madrid's history. To change that, someone else needs to come along and get cracking" the defender said of his team mate.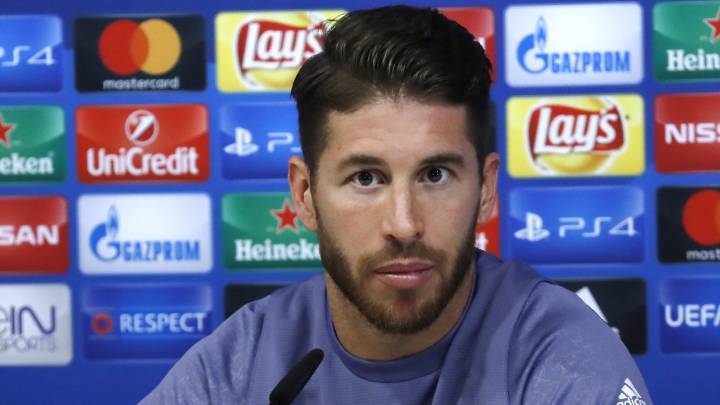 Real Madrid vs Borussia Dortmund
Final group game

Real Madrid captain Sergio Ramos joined Zidane in Tuesday's press conference to look ahead to tomorrow's Champions League MatchDay 6 game against Borussia Dortmund.
Anniversary

11 years to the day since your debut goal for Real Madrid - a header, against Olympiacos: "That was one of the nicest moments of my career. It came from a free-kick, taken by Raúl Bravo, against Olympiacos. The years hav gone by and I feel proud to still be here".
Fiscal issues
Tax issues involving members of the squad: "These are very delicate issues. I believe the law should be followed. Everyone needs to have their accounts clear, but these things shouldn't affect the players or the team. My conscience is completely clear because all of my earnings and the contributions I have made are above board. Whether there is any truth in these allegations, or whether they are lies to destabilize us when we are in our best form, we'll see".
The treble: "We don't talk about that. I said that the point we took from Camp Nou was important, but the league is wide open and Madrid has to battle to win all three competitions because it's in our DNA".
Zidane: "He's got that magic touch. What we have achieved is down to him and the work he has done. We're happy that he's at the helm".



Champions League
Leaders
Messi

9

Goals
Verratti

488

Passes
Zanka

85

Steals
*Update 6 de diciembre de 2016



Champions League
Leaders
Messi

9

Goals
Verratti

488

Passes
Zanka

85

Steals
*Update 6 de diciembre de 2016