ATLÉTICO MADRID
Atlético announce name of new stadium: Wanda Metropolitano
Atlético Madrid confirmed the name of their new ground on Friday lunchtime, with Los Rojiblancos also revealing a redesigned club badgeNigeria B - Atlético Madrid: friendly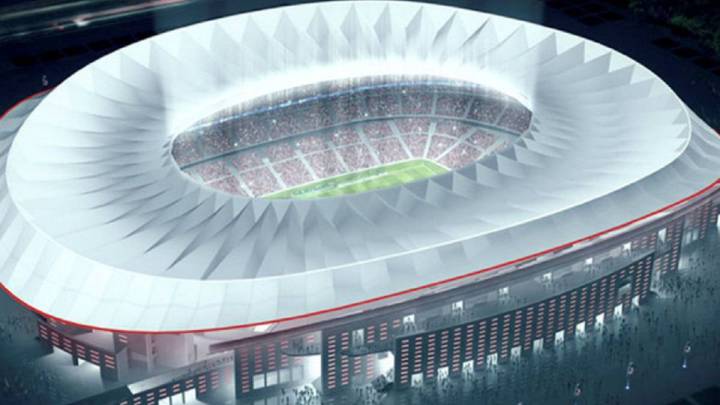 Atlético Madrid stadium name: Wanda Metropolitano
LaLiga outfit Atlético Madrid have confirmed that their new stadium is to be called the Wanda Metropolitano.
Name a combination of sponsor and club history
In an event held on Friday, club president Enrique Cerezo revealed the choice, which combines the name of a commercial partner with a nod to the club's past.
Wanda Group are expected to pay around 10m euros a year for the naming rights, with Atlético also incorporating a reference to the Metropolitano de Madrid stadium, their home before moving to the Vicente Calderón in 1966.
The Chinese company already possesses a 20% stake in the Champions League runners-up, whose training ground also bears its name.
Atlético are set to begin life at the 67,000-capacity Wanda Metropolitano next season, after more than half a century at their current ground.
Remodelled club badge also revealed
The announcement also saw Atlético spring a surprise by unveiling a revamped, rounder crest which pays homage to Los Colchoneros' first ever badge.
Created by design agency Vasava, the 12th crest in Atleti's 113-year history is said to "represent the club's traditional values while also looking to the future".
Here's how the stadium name announcement happened:
14:23 | That's all from me. Hope you've enjoyed reading. Bye!
14:11 | Here's a neat little look over the evolution of the Atleti badge over the years. I've seen it being compared to the Captain America shield on social media. I'll be honest: I prefer their current one.
14:07 | Curiously - and I may be straying into pedant territory here - Atlético's maiden game at the Wanda Metropolitano won't technically be their first outing there, since they played the second leg of the 1996 Spanish Super Cup at the arena in its former guise. The attendance that day? A whopping 15,000.
14:04 | Here's a bit more info on what the approximately 67,000-capacity new ground will look like, courtesy of the club.
14:01 | So, there we have it. Atlético confirm that their new ground will be called the Wanda Metropolitano, while there'll also be a new badge to boot.
13:59 | There's a family photo involving Simeone, the captains, Torres, youngsters from the academy and more, and that's that. The attendees are off for drinks and nibbles. I'm not a betting man, but I would put good money on there being a cracking spread.
13:57 | Time for Simeone. What's his main message? "We have to win on Monday." Ah, Cholo.
13:56 | "It's a sad day and a happy one, too," says Koke, meanwhile.
13:55 | Diego Godín also speaks: "It's an exciting day: we want to do everything to fill the new stadium and new badge with great memories for everyone.
13:54 | Time for a few words with Simeone and Gabi. The skipper first: "It's exciting to see the growth of this club. The fans should be very proud of the history and excited for the future."
13:52 | Here's a link to the badge.
13:49 | The new, rounder look to the crest is related to the fact that Atlético's original badge was round. The introductory video continues, and there's a lot of talk of respecting the club's history while also looking to the future.
13:47 | "What we're looking for is the club's essence," they say. And...finally! A glimpse of the new badge. "It's rounder and more blue," we hear of the new 'simpler' crest. Oh, and the bear is bigger, too.
13:45 | We're told that the company Vasava are behind the newly designed crest. "We're working with a 100-year-old club, with a great history and clear values," they explain. "So what we're looking for is [a process of] evolution [in our design]".
13:44 | They really do know how to stretch these things out in football, don't they. Show us the badge, you teases!
13:43 | We are given another video, this time featuring club names dicussing the importance of a club's badge. "It's not a change of crest," we're told," but an evolution."
13:40 | We now move on to a look at Atlético's club badge down the years, and how it has evolved. We appear set to see a new crest for 2017/18.
13:39 | Gil Marin also takes a moment to remember all those connected to Atleti who are no longer with us to see the club move to the Wanda Metropolitano, as well as all the future generations who will see the benefits of the side's new, modern home.
13:35 | Atleti CEO Miguel Ángell Gil Marin is next up via video link from Beijing. The agreement with Wanda "takes us closer to being a global brand [...] with a presence across the whole world," he says.
13:33 | So Wanda Metropolitano it is. We now hear from the CEO of Wanda, Wang Jianlin, who says he's hoping to see Atlético Madrid enjoy huge success at their new home.
13:31 | Now Torres speaks. Metropolitano, of course, was also the name of Atlético's previous stadium before they moved into the Calderón, and 'El Niño' says he's moved at the club's nod to its history in its choice of name.
13:30 | We now speak to a pair of Atleti legends, Adelardo Rodríguez and Fernando Torres. "I'm sure the Atlético fans are going to be really happy; the new stadium is impressive," says Adelardo.
13:29 | We regain our video connection in the middle of a video introducing the new name.
13:27 | Cerezo then prepares to reveal the full name...and the signal cuts out just as he's doing it. I think he said it'd be called the Estadio Wanda Metropolitano. Well, that was smooth, Atlético.
13:26 | "I have the honour of announcing that we have reached an agreement with the Wanda Group for our new stadium." So Tebas was right...
13:25 | "More than 30,000 club members have already chosen their seat at our new stadium," says Cerezo. "In a few moments, we'll reveal its name."
13:23 | Up steps Cerezo to say a few words.
13:20 | Now for the introductions: first to be welcomed are Enrique Cerezo, coach Diego Simeone and the team's captains, headed up by Gabi Fernández. Now a bit of jazz - which would be all very pleasant if it didn't drown out what our host is saying...
13:18 | We start with a slideshow of historic images from down the years at the Calderón, accompanied by music which, I'm guessing, is designed to get the ol' emotional juices flowing. There's Luis Aragonés, there's José Luis Pérez Caminero, there's Simeone, the 1996 double winners, the 2014 league champions....
13:16 | Oooh the anticipation.
13:15 | The event is about to get underway...
13:14 | 'Peineta' is also the term used in Spanish for giving someone the middle finger...but we'll ignore that.
13:13 | And what of the new stadium? It's not a completely new, from-scratch ground, but rather a fairly extensive conversion job from the, one-stand 20,000-capacity Estadio de la Comunidad de Madrid athletics arena, known as 'La Peineta' ('The Comb') on account of its resemblance to the grooming tool.
13:05 | Wanda are one of three finalists bidding for the commercial part of the new stadium name.
12:54 | LaLiga president Javier Tebas recently appeared to let slip that the ground will carry the name of sponsor Wanda. The Chinese company do already have a 20% stake in Atlético Madrid, while the Champions League runners-ups' training ground is also called the Wanda Training Complex, so it certainly wouldn't take an almighty stretch of the imagination to see that happening. We'll have to see, though.
12:51 | There had been a current of public Atleti opinion calling on the option of the late, great Luis Aragonés - however, the club are thought to be against the using the name of any individual, be it a legendary player or coach.
12:46 | It's understood that the new name will be an amalgamation of sponsor and something representing the club's history and values. The company chosen to have its name on the stadium is expected to have to part with around 10 million euros a season.
12:44 | Their new stadium is a bit of hike from their present abode, which sits on the banks of the Manzanares River in southern Madrid. They'll be off to the north-east of the city, close to the Spanish capital's Barajas Airport. Unsurprisingly, not every Atlético fan has been all that happy about that.
12:41 | Atlético are to move into their new stadium for the start of the 2017/18 season, having spent half a century playing at their current home, where life began with a 1-1 draw with Valencia in 1966.
12:39 | Diego Simeone's squad have been trained this morning at the Calderón ahead of Monday's LaLiga clash with Villarreal, so it'll be just a hop, skip and a jump for them to the VIP Lounge.
12:28 | The big reveal will be taking place in the VIP Lounge at the Calderón, with anyone who's anyone in the world of Atlético there for it. Club president Enrique Cerezo, the men's and women's first-team squads, Atleti legends, board members, club members...
12: 26 | Good afternoon and welcome to AS English's live coverage as Atlético Madrid formally confirm the name of their new stadium.
Los Rojiblancos will be revealing all in an event held at their current ground, the Vicente Calderón, at 13:00 CET. We'll bring you build-up and all the latest from the announcement.