ISTANBUL STADIUM BOMBINGS
Istanbul stadium bombings: death toll rises to 38
38 have died and 166 were injured by two explosions outside Besiktas' Vodafone Arena in Istanbul on Saturday, two hours after a match.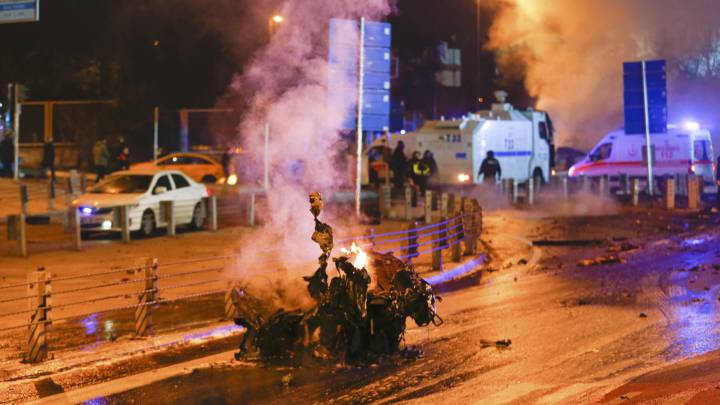 The death toll from twin bombings near an Istanbul stadium has risen to 38 and left 166 people injured, Turkish Interior Minister Suleyman Soylu said on Sunday.
Day of mourning declared in Turkey
The country has declared a day of national mourning after the blasts, which occurred following a football match on Saturday evening.
A car bomb detonated near the stadium of the soccer team Besiktas was then followed by a suicide bombing at a park close by.
The explosions happened less than a minute apart outside the Vodafone Arena, two hours after a Turkish Süper Lig game between Besiktas and Bursaspor.
Prime Minister Binali Yildirim also ordered flags to fly at half mast in the wake of the attacks.
Police forces the focus of bombings
A total of 30 police, seven civilians and an unidentified person have been killed, Soylu revealed, adding that an initial probe indicated that Kurdish militants, who have previously targeted security forces, were responsible.
"The findings point to the PKK as the authors," he explained, referring to the Kurdistan Workers Party (PKK).
Erdogan: "We as a country will overcome terror"
The country's president, Tayyip Erdogan, said in a statement: "A terrorist attack has been carried out against our security forces and our citizens."
"It has been understood that the explosions after the Besiktas-Bursaspor football game aimed to maximise casualties. As a result of these attacks unfortunately we have martyrs and wounded."
"Nobody should doubt that with God's will, we as a country and a nation will overcome terror, terrorist organisations ... and the forces behind them."
Responsibility remains unclaimed
No group has claimed the blasts, which was the latest in a year that has seen Istanbul and other Turkish cities rocked by a string of bombings.