ATLÉTICO - BARCELONA
Atlético Madrid-Barcelona: 2016/17 Liga Iberdrola, as it happened, goals, report
Atlético forward Soni set up the first goal and scored the second with a sublime strike to see off Barcelona and send the home side top of the league.Sporting vs Barcelona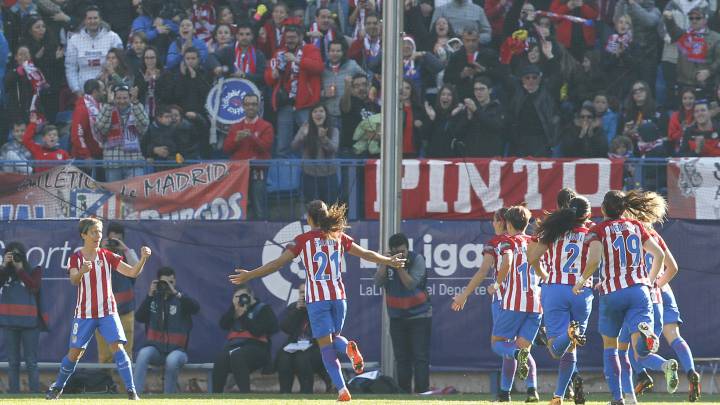 Atlético Madrid 2-1 Barcelona: match summary
Atlético Madrid moved to the top of the Liga Iberdrola with a 2-1 victory over Barcelona at the Calderón, led by the prolific Sonia Bermúdez, who assisted Marta Corredera's opener and scored the second with a splendid strike -- her 16th goal in in 14 league games -- to hand the home side a 2-0 advantage at half time.
Atlético could have extended their lead during their perdiod of ascendancy either side of the break, in which Barça had little answer to the home side's devastating counters, but a combination of the linesman's flag and some last-ditch defending prevented Atleti from putting the game beyond their opponents.
Andressa Alves pulled one back for the visitors with a glancing header beyond the reach of Atleti keeper Lola Gallardo and although Barcelona had their chances to level the game late on, Atleti held on for a deserved victory in front of a healthy home crowd in the side's first match at the Calderón.
---
Atlético Madrid 2-1 Barcelona: as it happened
Min 93 | And that's it! The whistle goes and Atleti hold on for a 2-1 win that sends them top of the league!

Min 91 | Soni is off to a huge ovation from the crowd, Pilar García coming on for the final few minutes. Patri sends in a header and although it's a good one, it' straight at Gallardo.

Min 90 | Andrea Pereira gets across to make a timely intervention as Barça were almost through on the right. Three minutes of added time...

Min 88 | Latorre has looked lively since coming off and boy can she shift. Lola Gallardo has to be off her line like a cheetah to prevent the Barça winger from reaching a long ball.

Min 87 | Priscila! The Atleti sub finds her way into the area, checks, shoots, recovers the rebound, shoots again but it's blocked and Barça survive. That probably ought to have been 3-1 and game over.

Min 85 | Another Barça change, Alves heads off and Olga García comes on.

Min 83 | Soni hits a beautiful ball into the path of Corredera, but she is just, just, offside. Close call and the Atleti winger was clean through there.

Min 82 | Latorre has a pop but its bread and butter for Gallardo. Jenni Hermoso was unmarked at the far post there and might have been a better option, the angle was acute for a shot and didn't trouble the Atleti keeper unduly.

Min 79 | Soni, who has been the best player on the pitch, plays an inviting ball for Sosa and Paños has to race from her line to collect the feet of the substitute.

Min 77 | Aleti make a change now, Esther going off after a lung-bursting performance and Ángela Sosa comes on.

Min 75 | Soni plays in Esther with a neat flick but Barça hook it clear. At the other end Jenni Hermoso torments the defence with some good footwork and plays in Latorre, but Atleti do just enough to prevent the sub getting through on goal.

Min 72 | Well, that's a curious move... Alexia is taken off along with Line Roddik. Aitana and Patri Guijarro come on, as does Bárbara Latorre with Melani making way. Triple substitution as Xavi Lorens rolls the dice in search of an equaliser.

Min 70 | Alexia is getting the "Ronaldo treatment" from the stands, which should be taken as a compliment. The Barça winger is growing into the game and most of the visitors' threat is coming from her flank. She stands up a cross and it's met at the far post but Gallardo smothers it none too comfortably with boots flying in all directions.

Min 69 | Corredera almost in! The Atleti player chases down an ill-judged back pass and Paños thrashes the loose ball into the stands under pressure.

Min 67 | The crowd are roaring Atleti on now as the home side look to restore their advantage but that goal seems to have settled the visitors somewhat. Carmen Menayo floors Alexia and Barça have a good opportunity here from the edge of the area. They try a training ground routine but it doesn't come off. Barça then pick their way through the defence and a low cross from the left is well met by Atleti keeper Gallardo.

Min 65 | Great covering tackle from León there to deny Torrejón a chance to cross from the right. Perfect timing, perfect execution.

Min 64 | Atleti make another change, Kenti Robles trots off and Alexandra López comes on in her place.

Min 63 | You have to say that came out of nowhere although Barça have been pressing the Atleti back line with more menace in the second half.

Min 62 | Gooooooooal! Andressa Alves! Marta Torrejón lofts in a cross and the Atleti defence for once are nowhere to be seen as the Brazilian cushions a crafty header into the far corner. 2-1!

Min 61 | Atleti make a change, Andrea Falcón going off and Priscila Borja coming on.

Min 60 | Alexia twists and turns on the edge of the Atleti area and gets a shot off under pressure from Mapi León but it's not got much fizz on it and Lola Gallardo gathers easily.

Min 58 | Atleti again look to expose the space on the right of Barça's defence but Soni is offside. It's all Atlético at the moment.

Min 55 | Soni plays a lovely flick out to Falcón on the right but the Atleti midfielder is rightly called offside.

Min 53 | Falcón does well to glide into the area but her cross, seeking the far post, is stood up too close to Paños and the Barça stopper plucks it from the air with ease.

Min 52 | There's been little wrong with Barça's build-up play but the final ball too often finds a red and white shirt and not a teammate.

Min 50 | Free kick for Barça now and it's floated towards Jenni Hermoso but the Spain international can't reach it.

Min 49 | Ouch! Soni attempts to pay herself through and Line Roddik is having none of it, clattering the Atleti forward to the floor and finding herself in the book for her efforts.

Min 47 | Barça come out of the blocks with intent but trying to pick a route through this Atleti back line is a tough ask. The red and white shirts are everywhere to close down the visitors' latest attempt to carve a way through to goal.

Min 46 | And we're back underway!
---
Atlético Madrid 2-0 Barcelona: half time
There were still fans trying to get in throughout most of the first half, the queues were going around the block our man on the spot says. Poor show from the Calderón organisers not opening enough gates but it seems that the backlog has been cleared for the second half, which is about to get underway...
Min 45 | And that's the half! Atleti go into the break with a deserved two-goal lead that will see them assume leadership of the league if Barça can't fina a response in the second period.

Min 43 | Alexia goes down in a little too easily on the edge of the Atleti area under minimal pressure and the ref is rightly unmoved.

Min 40 | It's going to be a long way back for Barça, who haven't really threatened the Atleti goal yet. The home side, meanwhile, are thoroughly enjoying this in front of a very decent crowd and look th emore likely to strike again. Soni almost finds herself in again but can't quite bring down Corredera's cross.

Min 38 | What a goal! Sonic Soni cracks one in from the edge of the area for her 16th of the season. She had time, picked her spot, and curled a classy shot beyond Paños to make it 2-0. The source of the goal? A cross from the left.

Min 37 | Uffff. Alexia was almost through there but her control let her down. Great through ball from Melani.

Min 36 | A jinking run from Meseguer deserved a better final ball but Atleti are still searching for an opening, until Esther checks Alexia Putellas and concedes a free kick.

Min 35 | Close! Barça's best chance of the game as Hermoso swings in a decent corner and Marta Unzúe, unmarked at the back stick, sends a firm header just wide.

Min 33 | Barça really need to address the issue of their right side: Atleti are targeting Marta Torrejón now but with the ever-present threat posed by Soni and Esther in the middle, Roddik is finding it hard to get across in support.

Min 31 | And Soni feels the full brunt of that midfield tussle as she is caught between two Barça players as she looked for a ball, and flattened most unceremoniously.

Min 30 | Good work from Line Roddick, who gets in a good block on a fizzing Robles cross.

Min 28 | We'll have to see how Barça react to that. Before the goal the visitors had been attempting to break the fierce struggle for midfield dominance by looking to the wings and Brazil's Andressa Alves in particular.

Min 26 | Gooooooooooooal! Corredera scores from close range after Soni showed the Barça back four a clean pair of heels with a blazing run down the left. She kept her nerve, waited for support to arrive and picked out her teammate with a pass of the sort called in Spain "mediogol." All Corredera had to do was pick her spot, and she sent it through Pakos' legs. 1-0!

Min 22 | Free kick for Atleti in a dangerous area after Melani goes through the back of Soni. Paños gets a good fist on a cross in towards Soni and Barça manage to clear their lines but Atleti are finding plenty to mine down the Barça right and every cross from that flank is causing problems for the visitors.

Min 20 | Sloppy there from Maria León, who plays a no-look pass straight into touch. Fortunately, no Barça player was near it either and the visitors can't take quick advantage of the situation. The home fans whistle their disapproval of the ref's failure to award a free-kick in Soni's favour.

Min 19 | Atleti are locking up shop with a solid defensive formation whenever Barça are in possession and the visitors' danger players, Alexia, Hermoso and Losada, are being given no time to try and carve out an opening.

Min 17 | Nicely worked move from Barça, a deep ball, a back-heel, out to the flank and the cross is a good one but Atleti manage to clear.

Min 15 | Esther is looking lively for the home side, most of the attacking play going through the Atleti striker at the moment but she gives away a free kick for a lunge on Vicky Losada.

Min 13 | Atleti are camped on the Barça left and the visitors are struggling to get a foot on the ball. A cross is sent in and Amanda Sampedro gets a touch but it's out for a goal kick.

Min 11 | The fans are in good voice, a rousing rendition of the club song doing the rounds as the home side press forward again and win a free kick as Corredera is clattered to the turf.

Min 9 | Barça waste a free kick and Soni looks to break but is hauled down for a free-kick in midfield.

Min 7 | Barça looking to build an attack, Leila nicking the ball in midfielder and feeding Jenni Hermoso, but Atleti hook it clear for the visitors to try again, and they look happy to keep possession for a bit to take the sting out of Atleti's attacking play.

Min 5 | Close again! Marta Corredera, a former Barça player herself, gets on the end of a good low cross through the visiting back four but blasts high from close range. Atleti enjoying the best of the opening stages here.

Min 4 | Uffff. Atleti almost catch out Barça keeper Sandra Paños, a lofted shot from the left channel looking like it was creeping in but the Spain international stopper read it well in the end.

Min 3 | Barça bring it forward and Alexia Putellas almost gets on the end of a decent through ball but ends up flooring a defender and it's a free kick to the home side.

Min 2 | Both sides are unbeaten this season in 13 games, Barça are top by dint of one draw fewer so far and there's not much in the goal difference either, three separating the sides.

Min 1 | And we're underway! First against second in the Liga Iberdrola title race and it's Atleti who get the ball rolling.
---
Atlético Madrid-Barcelona: confirmed line-ups
Atlético Madrid XI: Gallardo, Kenti, León, Pereira, Menayo, Meseguer, Sampedro, Corredera, Soni, Falcón, Esther
Barcelona XI: Paños, Unzué, Melani, Roddik, Miriam, Hermoso, Alexia, Leila, Vicky, Torrejón, Alves
---
Atlético Madrid-Barcelona: latest news
11:55 | The players are out on the sun-drenched pitch, the pre-match handshakes underway, the Atleti anthem doing its thing on the loudspeakers, and it's a decent turnout in the stadium as well.
11:50 | Just 10 minute to go until today's top of the table clash from the Calderón.
11:40 | Today's hosts, meanwhile, are out to win their maiden Liga Iberdrola crown, having won their first ever trophy last term by lifting the Copa de la Reina at Barça's expense.
11:39 | After winning four straight league titles, Barcelona were beaten into second by Athletic Club last term, so the Catalans are aiming to regain their crown.
11:36 | Here's the table in full.
11:32 | As mentioned in our preview below, two points separate Atleti in second from leaders Barça - so both have the chance to end 2016 top of the pile today.
11:24 | Atlético's Sonia 'Soni' Bermúdez, whose career began at Barça, is the league's top scorer with 15 in 13 games, and will be the hosts' main goal threat today.
10:54 | A little over an hour to go until kick-off of a match that sees both sides go into the game unbeaten so far in the Liga Iberdrola. Why not take a look at our match preview below?
10:32 | Ahead of today's mouth-watering encounter, we spoke exclusively to Barcelona's Danish defender Line Roddik Hansen in a wide-ranging interview.
10:20 | Buenos días! There are just under two hours to go until the first peep of the referee's whistle - stay tuned for all the build-up!
---
Atlético Madrid-Barcelona: match preview
Top spot is at stake as second plays host to first in a crunch Liga Iberdrola match-up between the two best sides in the country, in what is the final fixture before the league begins its winter break.
There is so much to look forward to: two teams stuffed with internationals, Barça's desire for revenge after losing last term's Copa de la Reina final to Atleti...
And it'll be played out against the best possible backdrop: the Estadio Vicente Calderón. The stadium, which the Spanish capital club is to leave at the end of the season, stages a women's football match for the first time in its history.
Both teams head into the encounter out to return to winning ways after midweek slip-ups. Atlético were held to a goalless draw by Granadilla Egatesa, while Barça also had to settle for point in a 1-1 stalemate with Valencia.
It's likely that they had one eye on today's top-of-the-table meeting. After all, it's an opportunity to send out a statement in the title race and end 2016 in first place - which currently belongs to the visitors, who are two points ahead of Atleti.
It'll be a special day for many, particularly Sonia Bermúdez, Kenti Robles, Andrea Falcón and Marta Corredera: a quartet of home players with Barcelona pasts. Blaugrana striker Jenni Hermoso, meanwhile, began her career at Atlético.
A fiesta of women's football is in store at the Calderón.
---
Atlético Madrid-Barcelona: possible line-ups
Atlético Madrid XI: Gallardo, Kenti, León, Pereira, Alexandra, Meseguer, Sampedro, Corredera, Soni, Priscila, Esther
Barcelona XI: Paños, Torrejón, Roddik, Melanie, Ouahabi, Losada, Unzúe, Miriam, Putellas, Hermoso, Alves
---
Atlético Madrid-Barcelona: live build-up