Real Madrid - Kashima Antlers, Club World Cup Final 2016
Atlético Nacional 0-3 Kashima Antlers: Full-time report
A historic win in Osaka for J-League side Kashima Antlers in more ways than one. For the first time in a major tournament we saw the future of the game as Hungarian referee Viktor Kassai stopped proceedings to look at video footage of an incident which resulted, correctly in a penalty kick being awarded for Kashima Antlers after Atletico's Orlando Berrío tripped Kashima full back Daigo Nishi in the area. Doi duly slotted home the spot kick to give the Japanese side a lead their play barely deserved. At that point and indeed for the bulk of the first period it was the Colombian side who had the initiative with Kashima being saved by the woodwork on two occasions.
It was more of the same in the second forty five minutes with the South American side dominating possession but lacking in the final third which was ultimately to become their undoing against a highly disciplined and organized Kashima side.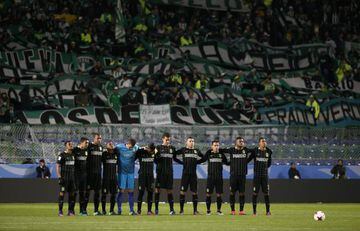 Two late goals provided a deceptive score line but ultimately it's the side from Kashima who will appear in the Yokohama final with Mexican side Club America or Real Madrid lying in wait to dispute the 2016 Club World Cup title.
Full time: Atlético Nacional 0-3 Kashima Antlers
Min 93 | Heartbreak for Atletico as Kashima make the final of the 2016 Club World Cup.
Min 91 | How will Kashima fare on Sunday in the final? Both Zidane and La Volpe will be impressed with the organisational level of the J-League side.  
Min 90 | We'll have 3 minutes of added time in Osaka 
Min 89 | 0-3 down and still the Nacional fans provide all the noise at the Suita City Football Stadium
Min 88 | A cruel defeat for the South American side and a scorline that adds insult to injury for Atletico who really have failed to trouble the well organised Japanese outfit in this second period.
Min 87 | Rodriguez comes on as Berrio is subbed in the Atletico ranks 
Min 85 | Hints of the Cristiano Ronaldo "Siiiiiiiiiiiiiiiiiiiiiiiii" celebration from the 20 year old as he celebrates his goal 
Min 85 | Gooooool as Kashima go three ahead. Sub Yuma taps home 
Heartbreak for the Colombian fans as Kashima all but seal their ticket to play Club America or Real Madrid in the final on Sunday.
Min 83 | Cheeky .... Kashima goe two up as Endo back heels into an empty net 
Min 81 | Close-up shot of the Kashima Antlers fans all dressed in the very smart home shirt of red and navy halves ( a la Genoa).  
Min 80 | Kashima launch a counter but Doi fails to find a white shirt and provides a respite for Atletico.
Min 78 | Borja nips into the area but the ball ricochets off a Kashima defender and out of the danger zone. Lady luck certainly not smiling on the Colombian side this evening. 
Min 75 | It's going to take something special from an Atletico player or an uncharacteristic mistake from a Kashima player to see the Colombian side back into this game. 
Min 73 | Clock is ticking as we head towards the final 15'. Kashima holding on with Atletico lacking the offensive bite of the first half. 
Min 71 | Card for Mateus Uribe (At. Nacional) for a late challenge. 
Min 70 | A predictable pattern to the game now as Atletico poke and probe looking for a way through the highly disciplined white shirts of Kashima. 
Min 68 | Ball falls to Dajome (At. Nacional) who toe pokes high and wide when a left foot strike was needed
Min 66 | 10/10 for the Atletico Nacional fans. Non stop noise from their end for the total duration of tonight's match.
Min 62 | Atletico go close again as Mac controls expertly but just pulls his shot wide. Time ticking and still no breakthrough for the men in black. 
Possession: Atletico 62-38 (%) Kashima, a fair reflection on what we are seeing at Suita City Football Stadium
Min 60 | Change for Nacional, Guerra on and Arias the player who makes way
Min 58 | Borja goes close again for Atletico but once again Sogahata blocks the righ footed effort.
Min 57 | Charales (At. Nacional) first player in the book as Kashima make another swap with Ogasawara coming off for Nagaki 
Min 55 | Impressive work-rate too from the Japanese outfit as they immediately pressurize the opposition player inhibiting Atletico to play with the freedom and time they would like
Min 53 | One way traffic at present as Atletico maintain possession but yet to carve open a well organised and well disciplined Kashima rear-guard.
Min 52 | Mu set to come on for Kashima with Akasaki making way 
Min 49 | Kashima playing very deep inviting Atletico to attack as Uribe trips a Kashima defender breaking the offensive move.  
Min 48 | Kashima less than 45' away from being one of the few hosts to reach the final of the World Club Cup. 
Min 47 | Akasaki tries a speculative left foot shot which lacked any venom to trouble Armani. 
Min 46 | The men in black get us underway... 
Min 46 | Teams return to the pitch at Osaka
So a first in a major tournament this evening in Osaka as Victor Kassai awards a penalty kick on the basis of video evidence. The decision is to be applauded as from the replay evidence one can see an infringement on the Kashima forward as he moved to the danger zone. Apart from the decision, it's been a brighter half from the Colombian side who have struck the woodwork on two occasion and are exploiting the Kashima right hand side to great effect. Real Madrid and Club America lie ahead for the victor as we head into the second 45 minutes
Half time: Atlético Nacional 0-1 Kashima Antlers
Min 49 | Crossbar again as Mosquera drives a header off the woodwork as Kassai calls time on the half. What do Atletico have to do to score .... 
Min 46 | Once again Atletico go close as another delivery from the right side (Kashima looking very vulnerable on this flank) reaches Borja who tries a cheeky back heel but fails to connect.
Min 45 | We'll have 3' of added time 
Min 43 | Borja goes close for Atletico with a right footed drive parried away by Sogahata. The Kashima stopper has dealt admirably with everything the men in black have had to throw at him tonight.
Min 40 | Kashima don't look all that clever at the back either as a tame ball makes it through the Japanese rear-guard and almost tapped home by the Atletico striker.
Min 39 | Atletico look very sharp going forward but have been caught out on manys an occasion this evening by delicately threaded Kashima through balls.  
Min 35 | So Atletico Nacional, playing their first Club World Cup (Inter Continental) since 1989 face an uphill task if they want to face Real Madrid or Club America in Sunday's final  
Penalty decision: A first here in Osaka as the match official stops the game, consults the video replay and gets the decision 100% right as the Atletico No. 22 can be clearly seen to trip an on-rusing Kashima player. 
Min 31 | Well done ref. 100% correct decision as Doi steps up to take and slots home
Min 29 | Mr. Kassai stops the game consults the video evidence and awards a penalty for Kashima
Min 28 | Atletico do look vunerable at dead ball situations and on occasion this evening their defence has looked out muscled and in danger from Kashima corners and free kicks. 
Min 25 | Mosquera was the Nacional player who thundered his left foot drive of the wood work. Complete dominance from the Colombian side currently.
Min 24 | Atletico almost open their account with the cross bar and then an off the line clearance saving the Japanese outfit. 
Min 22 | It's now Paco Armani in the Atletico goal being the busier of the two keepers with the Argentine being forced to intercept a Kashima breakaway.
Min 20 | Possession after 20': At. Nacional 59% vs. Kashima 41%
Min 15 | Plenty of Kashima fans present too in Osaka tonight making the seven hour journey south. 
Min 14 | ...just as Kashima break at the other end with the ball falling to Endo who tries to lob the Atletico keeper but fails to get his looping shot on target. 
Min 12 | First chance falls to the men in black as Borja drives a low rasping shot which is parried wide. Atletico pressing now... 
Min 9 | Cagey start from both sides with neither goalkeeer yet to be really troubled.
Min 7 | All the noise coming from the fans decked in green and white with over 1.000 fans making the trek from all over Colombia to Japan.
Min 4 | Better opening phase from the Colombian side, dominating early proceedings with smart neat short passing moves.
Min 2 | Glovewatch update, indeed, many Atletico players sporting black gloves to combat the chilly Osaka temperature.
11:30 | Off we go, Kashima in their change white kit today with Atletico in their change black shirts, black shirts and socks combo ! 
11:29 | #ForçaChape .........a minutes silence to be held 
11:27 | A discreet attendance at the stadium in Osaka. Fans of both teams behind either goal making plenty of noise but at  a guess 40% full ground this morning.   
11:25 | The teams take to the pitch with the Kashima Antlers side wearing amazing looking sleeping bag-esque coats ! 
11:15 | Hungarian Victor Kassai is our match official this morning
11:10 | Fans making their way into the Osaka stadium as kick-off approaches. Atletico Nacional's hard-core Los del Sur group are here and will make their presence felt with non-stop chanting.
Atlético Nacional - Kashima Antlers: confirmed line-ups
Kashima XI: Sogahata, Shoji, Showa, Shibasaki, Nakamura, Shuto, Akasaki, Daigo, Ueda, Endo, Ogasawara
At. Nacional XI: Armani, Bocanegra, Aguilar, Mateus, Mac, Arias, Charles, Diaz, Mosquera, Berrío, Borja, 
Atlético Nacional - Kashima Antlers: live build up
10:45 | A place in Sunday's final and a date with Club America or Real Madrid awaits the winner of our game today in Osaka. The Colombian side are favourites with the bookmakers to make it through.
10:19 | FT in game one in Osaka as Korean side Jeonbuk overcome Memelodi Sundowns (4-1) to secure fifth place at this year's FIFA Club World Cup. Next up in just over an hour our first semi final.
09:50 |  The Osaka stadium where the semi final will take place is currently staging the match for fifth place between Jeonbuk-Mamelodi Sundowns (3-1) 67' 
09:35 | Good morning and welcome to our live build up ahead of semi-final #1 in this years FIFA Club World Cup as South American champions Atletico Nacional (Colombia) play Japanese champions Kashima Antlers.   
Atlético Nacional - Kashima Antlers: match preview
At. Nacional
The South American representatives in the Club World Cup are generally the only threat to the European side present and indeed only twice in the history of the tournament has the final not been contested between the two continental champions. This year's Copa Libertadores winners are definitely taking it seriously and left behind a reserve team - those that didn't make the 25-man trip to Japan - to conclude the Colombian league, which they duly lost. With Real Madrid their expected final opponents, a win against the locals would give them a chance to truly test their credentials.
Despite a strong squad being available to coach Reinaldo Rueda, one player that will be missing is Andrés Ibargüen due to an injury to his ankle. Fifa have confirmed that he has been replaced by 22-year old striker, Cristian Dájome. Fans of Los Verdolagas will be looking to their summer signing Miguel Borja for the goals and he is likely to be supported by the creative Torres and Guerra in midfield, assuming Rueda selects a positive thinking side. He does, however, have a few choices to make regarding the formation, based on how he believes the Antlers will attack, and that may mean some of his more talented players are sacrificed, at least for a while, to maintain stability.
Kashima Antlers
Due to the seedings of the tournament, the Japanese champions have already been very active by the time they meet Nacional in the semi-final. A much closer than expected 2-1 win over part-timers Auckland City put them through to face Mamelodi Sundowns, the African qualifiers. The players seem to be loving the experience but with their toughest challenge yet coming on the back of four games in less than a fortnight, could fatigue play a part?
Taking these recent matches into account could mean some players are benched to ensure that the eleven that start have the energy levels required to compete against the tidy Colombian side. Coach Masatada Ishii will be hoping to get another goal or two out of Mu Kanazaki, however he's still not 100% fit. Yasushi Endo and Gaku Shibasaki will be tasked with trying to wrestle some control off the South Americans in midfield. No matter who is selected, what is clear is that with home support, and the chance to make a significant statement about Japanese and Asian football around the world, they'll be giving all they've got.
Atlético Nacional - Kashima Antlers: potential line-ups
Nacional XI: Sogahata, Shoji, Nagaki, Shoma, Shibasaki, Nakamura, Shuto, Akasaki, Daigo, Ueda, Endo
Kashima XI: Armani, Bocanegra, Aguilar, Henríquez, Díaz, Arias, Uribe, Berrío, Dájome, Guerra, Borja.
Atlético Nacional - Kashima Antlers: live build up