Craig Sager's 10 best outfits as tributes pour in for iconic NBA reporter
A legend of the NBA sidelines, Craig Sager, passed away on Wednesday at the age of 65 after a battle with cancer but will be remembered fondly for his fashion sense as much for his beloved personality Nadal vs Thiem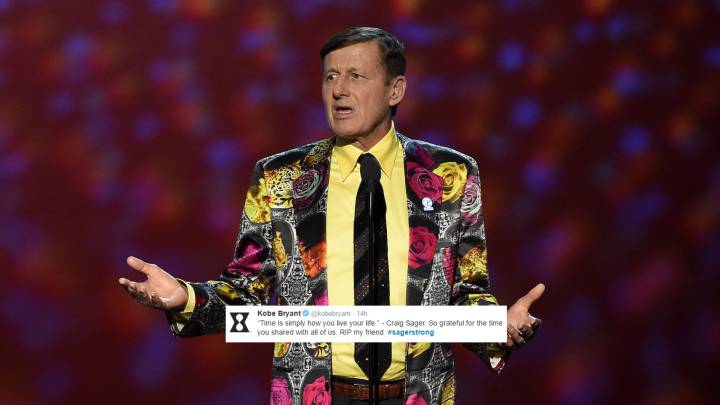 Craig Sager passed away on Thursday and leaves a legacy that will live on forever. The tributes poured in from all angles as players, fellow reporters, journalists and fans took to social media to express their sense of loss at the news.
Sager's enduring legacy
It really says something when you can stand beside giants, literally, of the NBA and still draw most of the attention. Sager did that during his career that spanned four decades, with his head-turning style that always pushed boundaries and his immitable sense of humour and repartee with some of the biggest names in the game of basketball.
One of the best tweets came from Don van Natta Jr., who is a Senior Writer at ESPN, when he spotted what someone had did on Sager's wikipedia page. It says everything you need to know about how the NBA community feels about Sager.
10 of Sager's slickest suits
Some of Sager's suits certainly caught the eye, to say the least, and here is a run-down of 10 of his slickest looks!
10: The lime green number - There is nobody outside of the 1970's that would even try to pull off this number but Craig Sager, and we might be biased, pulled it off to perfection.

9. The Sparkling Suit Elton John edition - Sager looks like he should have been playing piano at a fancy bar in Manhattan with this suit. Delightful choice.

8. The Audcaious Number - The audacity to wear, and get away with, this pink suit deserves applause. The pattern alone on the suit jacket is enough but those diamond shapes on the tie and the black pocket-piece are legit too.

7. The Snake Shoes - Okay, they might not be a suit but these shoes had to be included. A fashion statement for sure, but how are these things even comfortable. And were did he buy them? Kudos.

6. The Hipster Plaid suit jacket - Sager pulls off this plaid hipster number with grace and style. He pulls off the plaid better than any hipster that ever hipstered.

5. The showing up Michael Jordan suit - If you look at this photo for three seconds and then close your eyes and try to recall who Craig Sager is interviewing, you won't be able to remember. Sager is standing beside the greatest basketball player to have ever played the game and nobody is watching Michael Jordan. Enough said.

4. The Perseverance Award suit - The irrepresible Craig Sager won the Jimmy Valvano perseverance award at the ESPYs in 2016 and was not going to let a fancy award show stop him from stopping the show with this colourful flowery number. At the event, he said "I will continue to keep fighting, sucking the marrow out of life as life sucks the marrow out of me," as he continued to fight.

3. The Chicago Bulls suit - Sager working a bulls game and while he was wearing the same colours as everyone else in the stadium, he still managed to stand out.

2. The Plaid/Colourful combo - Looks like a tablecloth but Sager manages to pull it off. This has to be one of his more colorful suits. He often wore plaid but more toned down, or colourful designs in the shapes of flowers etc. With this one, he combines the two. Excellence without a peer.

1. The All-Pink swirly tie number - The tie looks like a default Microsoft screensaver but Craig Sager manages to pull it off. Extra points to Craig for the the contrasting colours of his shirt and collar.