Real Madrid 4-2 Kashima: Real Madrid Club World Cup Champions 2016
A Cristiano Ronaldo hat-trick was enough to see off Kashima Antlers in extra-time of the Club World Cup Final as Zidane extends unbeaten run to 37 games.Real Madrid-Deportivo: LaLiga matchday 20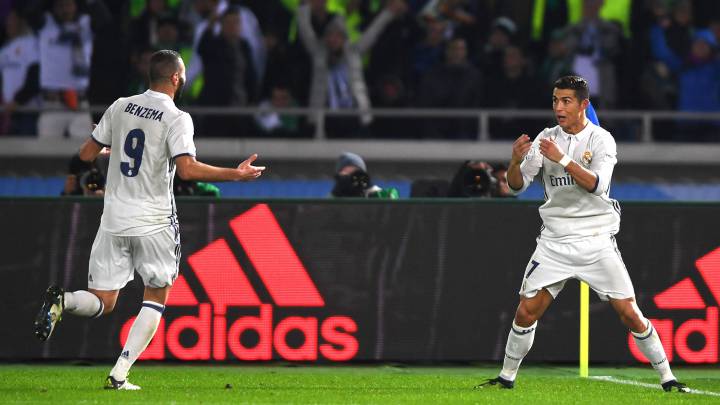 Real Madrid 4-2 Kashima Antlers: FT summary
Real Madrid sealed the Club World Cup and their 37th game without being beaten as Cristiano Ronaldo came up trumps for yet another big game. The Ballon d'Or winner was poor for the opening half but a penalty seemed to turn his confidence and he ended the game with a hat-trick. After Benzema gave them the lead, Shibasaki responded on the stroke of half-time and gave the Japanese side the lead after the break. That was before Vazquez was fouled in the penalty area and Ronaldo duly slotted home.
Kashima battled Real Madrid every step of the way despite being huge underdogs and could have won it late on but Endo's sliced shot went wide of Keylor Navas' post.
There was also some controversy just before that regarding the referee as he appeared to fish around in his pocket for a card after Sergio Ramos took down a Kashima player that would have been his second yellow, but he decided against it and the game continued 11 versus 11.
In extra-time, it was Ronaldo who would settle it, however, as he scored twice in the first period of extra-time to give himself the hat-trick and Real Madrid their fifth world club title.
---
Real Madrid 4-2 Kashima Antlers: Second half of extra-time
FT: An exciting game fizzles out after Ronaldo lands two in extra-time to kill off the game and Kashima's spirited challenge.
Min 27 | Morata rises to meet a header but catches a Kashima player instead. Ref plays on as the Spanish striker rubs the top of his head.
Min 24 | Isco's free-kick his the wall and goes out for a corner. Every time the camera goes onto a Kashima player's face, the mor eheartbreaking this gets. They have put everything into this. As Relaño said earlier, this team were considered huge underdogs. They have acquitted themselves very well today.
Min 23 | Shoji takes Kovacic down and Real Madrid have a free-kick in a dangerous position.
Min 21 | Ronaldo comes off and he has a wink and a smile for Zidane who is the first off the bench to greet him. Hat-trick. Not the worst day's work for a Sunday!
Kashima fans still bouncing in the terraces of the Yokohama international Stadium! Fair play to them because their players are still trying their hardest.
Min 18 | Nacho on for Ramos as he hands over the captain's armband.
Min 16 | Kovacic on as he runs through the middle and plays it to Ronaldo. Sogahata is straight off his line and gets to it before the Ballon d'Or winner.
---
Real Madrid 4-2 Kashima Antlers: First half of extra-time
HT: Such a heartbreaking 15 minutes after such an encouraging 90 before that. Kashima are surely out of this now with a Ronaldo brace in the opening period of extra time.
Min 15 | GOAL! GOAL! GOAL! Ronaldo with a hat-trick! he finishes off Kashima with a shot to the roof of the net and to straight to Kashima's heart.
Min 12 | Dani Carvajal with a foul on Suzuki and he is the latest to go in the book for Real Madrid.
Min 11 | Yuma Suzuki hits the crossbar from the free kick. So close for Kashima, who have been excellent so far.
Min 10 | Casemiro goes in the book for a foul, a cynical one, on Kanazaki. Free to Kashima.
Min 8 | GOAL! Ronaldo through on goal and he buries it! Absolutely no mistake this time as he slots underneath Sogahata. Replay shows that Ueda was keeping him onside.
Min 6 | Fabricio nicks the ball off Kroos and wriggles his way into the penalty area but his shot is blocked and deflects out for a corner.
Min 3 | The referee has no problem showing Fabricio a yellow for his first foul, and a clumsy one it is, on Raphael Varane.
Min 2 | Ramos outpaces Nishi as Kashima try to break.
Min 1 | Here we go!
---
Real Madrid 2-2 Kashima Antlers: Summary
What a game that turned out to be. The Antlers shed their 'plucky underdog' name and put Real Madrid to the sword. Shibasaki gave them the lead after the break with a lovely strike that came from a some very poor Real Madrid play. first, Ramos' cleared the ball to the centre of the field, then Lucas Vazquez was brushed aside by the Kashima player, Dani Carvajal was too easily sidestepped and Keylor Navas will feel as though he should have done better.
Ronaldo stepped up from the penalty spot after Yamamoto took Vazquez down and levelled matters before Real Madrid took control of the game and could have won it on several occasions. Kashima hung in there and got their second wind but neither team could score as the clock ticked down. It ended 2-2 with both teams feeling both fortunate and unfortunate to not have scored, and conceded!
---
Real Madrid 2-2 Kashima Antlers: Second half
FT: Right at the death. Endo has a chance at the back post after a lovely move by Kashima but he slices his right-footed shot wide! My word, that is an excellent chance.
Min 90 + 3 | Navas comes out to collect as the clock winds down. We are headed for penalty, it appears.
Sogahata out of his goals a good 50 yards and gives the referee an earful. He's right too. It was a bookable offence, the ref knew it and then decided he didn't want to send him off.
Min 90 | Referee has absolutely bottled it. He went for the card to give Ramos the second yellow and he decided not to.
Min 89 | Kashima the ones looking more like scoring as Navas again stops them before Carvajal kicks it out for a corner. What a game this has turned out to be!
Min 88 | End to end stuff now as Fabricio has a crack that forces a top end save from Navas.
Min 87 | Ronaldo with a one on one but again, his pace lets him down and he ends up nearly falling over himself.
Min 85 | Benzema battling with Shoji and he looks for a penalty, maybe, but the referee is not giving it. He does have a close look at it but it results in Benzema headering the ball over the bar.
Min 83 | Isco with a cross but Sogahata with safe hands yet again! He has been excellent now in the semi-final and the final.
Real Madrid substitution - Vazquez taken off for Isco. Strange move as Vazquez won the penalty and had looked lively.
Min 81 | Sogahata denies Ronaldo. He needed to put his laces through that but he tried to pass it into the net. A really good chance goes to waste. Ronaldo knows it too.
Min 80 | Vazquez with a couple of step-overs before finding Ronaldo with the cross. the ball can only hit his shoulder and goes out for a goal-kick.
Min 79 | Kanazaki fouled by Varane. Kashima really struggling now and will do well to hold on for the next ten.
Min 76 | Shibasaki fouled by Carvajal on the break to give Kashima a much-needed break. It's all Real Madrid now.
Min 73 | GOAL! But alas, the linesman flag was up as Ronaldo drove it beyond the keeper. It looked close and maybe a video referee might have been necessary for that one.
Min 72 | Endo has a shot that takes a deflection but the light-footed Navas makes his way across and stops the ball in its tracks.
Min 69 | Keylor Navas comes out to header the ball and in the process he catches his captain, Sergio Ramos, and nearly decapitates him. He is back up but has to be rattled after that collision.
Kashima substitution - Captain fantastic Ogasawara is replaced by Fabricio.
Min 67 | Benzema playing very well now and tries to find Vazquez but he can't get his cross past the first defender.
Min 65 | Benzema breaks free and gets a pass to Marcelo, who fires low. Sogohata parries and it almost falls to Ronaldo, who is lurking!
Min 64 | Kashima break but a breakdown in communication soon follows and the move is broken up.
Min 63 | Marcelo hits a home run and out of the park with a shot! High and wide and over and just terrible shooting.
Min 63 | Ronaldo through again and he has Benzema and Vazquez beside him but he opts for the shot. Keeper saves but he gave up a certain goal by not looking for his teammates.
Min 61 | GOAL! Ronaldo slots hom. Keeper had no chance.
Min 59 | Yamamoto gives away a penalty. He just missed the ball and too Vazquez down. He gets booked also.
Min 55 | Janny Sikazwe books Sergio Ramos for impeding Kanazaki. He's not happy about it either.
Min 53 | A succession of corners comes to nothing for Real Madrid but they have upped the tempo.
Min 51 | GOAL! GOAL! GOAL! Kashima take the lead. Ramos with a half-baked clearence and Shibasaki gives the underdogs the lead. Navas, Vazquez and Navas could have all done better.
Min 49 | It has been all Real Madrid in the opening exchanges here but Kashima growing into it again.
Min 48 | Ramos headers a corner onto the roof Kashima's net.
Min 47 | Kroos and Benzema try to collaborate in breaking down Kashima's rearguard but the Japanese side stand firm.
Min 46 | We are underway for the second half and everything to play for.
---
Real Madrid 1-1 Kashima Antlers: First half summary
Kashima Antlers promised to sit deep and defend but have shown themselves to be anything but a defensive, reactive team here in the first half. Despite going down early through a Karim Benzema goal, they have pushed up on their opponents and caused some uncomfortable moments in the Real Madrid penalty area.
There is a feeling that Real Madrid expected this to be slightly easier than it has turned out to be with Ronaldo, in particular, looking sluggish in the opening half.
Kashima's pressure was rewarded as half time approached when Doi found Shibasaki and the 24-year.old left midfield sent the ball beyond Keylor Navas to draw the side's level. It was poor timing for Real Madrid as they didn't have time to respond. It's all to play for in the second half now as Ishii has set his side up well and Real Madrid might struggle to go from third gear up into fifth.
---
Real Madrid 1-1 Kashima Antlers: First half
HT: Real Madrid and Zinedine Zidane won't be happy with that first half. The teams go in level at the break.
Min 44 | GOAL! Kashima Antlers score. Doi passes to Shibasaki and he drives home past Navas. Real Madrid have not been at the races since the opening few minutes and they have been made pay by a very good Kashima side.
Min 42 | Real Madrid break from the corner as it breaks down. Varana charges forward but Benzema ends up fouling a Kashima player and the referee awards them a free out.
Min 41 | Casemiro puts it out for a corner as Kashima build yet again.
Min 39 | Shibasaki tries to reach a long, searching pass across the box but the attacking midfielder can't get to it. Decent move by Kashima. That final pass continues to let them down though.
Min 37 | Vazquez lays it off to Ronaldo, who does the same for Modric but the Croatian can't get anought swerve on his shot and Sogahata saves.
Real Madrid really struggling to shake off the Antlers here. The Japanese side are very well organised and might trouble La Liga leaders if they can manage to put a few passes together in the final third.
Min 33 | Ronaldo free and gets ready to take on Shoji but he almost falls over the ball and ends up fouling a Kashima Antlers defender. Very poor from Ronaldo.
Min 30 | Modric is fouled. Ronaldo lines up the free kick and it hits the wall. The rebound falls kindly to the Ballon d'Or winner but he blazes over.
Min 27 | Benzema with a nifty 1-2 with Vazquez and gets a left-footed shot off. Saved by Sogahata and put out for a corner.
Min 25 | Ronaldo lays it off to Vazquez on the edge of the box but his shot is blocked and Casemiro lines one up from the rebound. Corner that results in a free out.
Min 24 | Marcelo looks for Modric in the middle but it's a sloppy pass and results in Endo having a shot at Real's goal. He slices it under pressure from Marcelo and it goes well wide.
Min 22 | Shibasaki and Doi connect down the right but Marcelo slides in and ends up putting it out of Doi. Goal kick - good defending by the Brazilian.
Min 20 | A Real Madrid counter comes to nothing as Ronaldo runs down a dead-end. They get it back and a Luka Modric shot is half-blocked and then cleared.
Benzema's opening goal marks the second time he has scored in consecutive games this season. Last time was in October when he scored against Real Betis and Athletic Bilbao.
Min 17 | Benzema making a nuisance of himself again. Corner for Real Madrid.
Min 15 | Kanazaki takes down a long pass but his back heel, which was a good idea, can only find a Real Madrid defender.
Min 12 | Kashima have enjoyed a really bright spell since Real took the lead. Nishi sends a cross towards the danger zone but Navas does well to collect it at an awkward angle.
Min 10 | Kashima captain Ogasawara has a crack from out the park and it flied over Navas' crossbar. Very close to drawing us level but even if it was on target, Navas might have had it covered.
Min 9 | GOAL! A Luka Modric shot is parried and Benzema finishes with ease. Shoji throws a hopeful hand up looking for offside. He was the won who kept everyone on, sitting in beside his goalkeeper.
Min 7 | Lucas Vazquez looking for a free but it's a throw to Kashima instead. Benzema finding himself out in wide positions. Ronaldo occupying that central role more often than not.
Min 5 | It seems as though things have calmed down a little and Kashima have dropped back a little. They really are a very neat and tidy side. Very well organised.
Min 4 | A strong gust of wind blows through the Yokohama Stadium there and Benzema falls over and coughs up possession in the left hand corner of the field.
Min 3 | Three fouls in three minutes. Kashima with an aggressive start.
Min 2 | Kashima far more attacking than they suggested they would be. Ogasawara pressures Casemiro and barges into his thigh, leaving the Brazilian wincing. No room for niceties out there!
Min 1 | The Zambian referee, Janny Sikawze gets us underway at the Yokohama International Stadium.
---
Real Madrid - Kashima Antlers: Team news
Real Madrid confirmed XI: Navas, Carvajal, Ramos, Varane, Marcelo, Modric, Kroos, Benzema, Casemiro, Lucas Vazquez, Ronaldo.
Kashima Antlers: Sogahata, Nishi, Ueda, Shoji, Yamamoto, Nagaki, Ogasawara, Endo, Shibasaki, Kanazaki, Doi.
---
Real Madrid - Kashima Antlers: Latest news
11:27 | Marcelo's hair looking delightful as ever this morning - or maybe we have just overdone it on the coffee. Remember, Neymar picked his friend as the one player he would bring to the Camp Nou if given a chance.
11:25 | The players are in the tunnel and preparing to enter onto the field. Lucas Vazquez looking particularly happy as he gives the cameras a cheeky grin!
11:20 | If you are just joining us, you are very welcome! The big news is that Sergio Ramos starts and the other news is that the Kishima Antlers defender Naomichi Ueda said that they will be like crocodiles today.
"Just as a crocodile will complete its conquest by dragging its prey into the water, I just want to bring them down - whether it's in the air or on the ground, one on one."
Prepare yourself for some backs-to-the-wall stuff from early on!
11:17 | Just a reminder in case you are scrambling around and looking for a place to watch the game today. Here is your how and where to watch guide.
11:12 | Real Madrid aiming to become the first team to claim five world championships. More than any other club.
11:09 | If Antlers are preparing for a battle, maybe playing Casemiro is the right option. Time and time again, Zidane has been questioned but time and time again, he has proven to be very good at making these calls.
11:06 | Kashima Antlers warming up as they bounce off each other with their shoulders. Preparing for a battle? It appears so.
10:58 | Kashima Antlers are captained today by 37-year-old Mitsuo Ogasawara. He has been with the club since 2007 and has made 455 appearences for them.
Sergio Ramos joined Real Madrid in 2005 and has 492 appearences for his club. Experience!
10:55 | Alfredo Relaño believes it is a one-sided game today but the video referee gives the game some interest.
10:51 | He might be considered a squad player but Lucas Vazquez is set to make his 23rd appearence of the season today for Real Madrid - enough to see him atop the list of Real Madrid appearence list this season. He is certainly benefitting from the absence of Gareth Bale.
10:48 | Kashima are currently third in the J1 League, sitting behind Urawa Reds and Kawasaki Frontale.
10:46 | The Antlers' manager is most proud of how his side defended in the semi-final against Atletico Nacional. He said, "They posed a threat on several occasions, but we defended very well as a team, just as we've been doing all season."
Watchng that game, it was interesting to see how organised they were, and might prove difficult to break down for Real Madrid.
10:43 | Never in their history have Real Madrid played a team from Japan.
10:29 | A lot more at stake than just the Club World Cup. Real Madrid putting their 36 game unbeaten streak on the line at Yokohama International Stadium. A run that started after they lost to Wolfsburg in the Champions League Quarter-Final. They beat Eibar 4-0 in their next game on the 9th of April and haven't looked back since.
10:23 | The reason for the controversy over the video referee was due to a big red button and a stray hand!
10:13 | The team news is in. Ramos starts as was confirmed by Zidane the other day. It is Nacho who drops out of the team in place of the captain. Meanwhile, Casemiro starts but there are questions as to whether Real Madrid need a defensive midfielder against a team who look set to sit deep and defend.
09:49 | We should have team news arriving shortly.
On this day five years ago Barcelona won their second Club World Cup by beating Santos 4-0. The goals came from Lionel Messi (2), Cesc Fabregas and Xavi. Can Real Madrid repeat that feat today? Zidane and co. will be happy with a 1-0, I would presume.
09:38 | Check out this young boys letter to his deceased father as he requests a Real Madrid jersey for Christmas.
09:33 | A recap of Real Madrid's semi-final and an as it happened. Goals from Benzema and Ronaldo.
09:22 | Zidane is on the front page of AS today saying: "You don't win with a name"
09:16 | The referee for the Club World Cup Final is Janny Sikazwe and all eyes will be on the Zambian to see how he deploys the video referee technology.
08:38 | Ronaldo made it 500 goals in club football against Club America and will most certainly be looking to add to it later on today.
08:28 | Real Madrid fans around the world would be delighted if we saw a few of these today.
08:10 | This is an article that has been bringing up plenty of debate. Vicente del Bosque says Cristiano is the best player to ever play for Real Madrid.
08:03 | As we get closer to the game, here is a how and where to watch, in case you happen to find yourself fidgeting with the remote or keyboard and don't know where to find Ronaldo and co. later on!
07:43 | Former Real Madrid player Ivan Campo says it would be a failure if Real Madrid do not win the Club World Cup.
00:45 | There are plenty of extra incentives for Real Madrid to go all out to win in Yokohama today.

23:55 | Zinedine Zidane, who was part of the Madrid side who lifted the trophy in 2002, has the opportunity to become the fourth person to win the Club World Cup/Intercontinental Cup both as a player and as a manger. Others who have done so are Luis Cubilla (Olimpia), Juan Mujica (Nacional) and Carlo Ancelotti (AC Milan and Real Madrid)
22:45 | Designs for what will be Real Madrid's third strip next season have been whittled down by Adidas - here is a selection of the best/worst...

21:25 | Club América coach Ricardo La Volpe wasn't happy with the refereeing in Thursday's semi-final. His side take on Atlético National for third place in Yokohama tomorrow.

19:30 | It was a great honour for AS to chat to manga artist Yōichi Takahashi in Tokyo this week. Takahashi-san spoke about the inspiration behind his work, which players from Real Madrid and Barcelona he likes the most and which Argentinean player was the influence for his Captain Tsubasa series.
17:49 | Martin Odegaard, who is sure to have an excellent career at Real Madrid, will need to find a new club to go on loan to in January after Rennes removed their interested in the player.
17:02 | Many suggest that the Club World Cup Final is a mismatch but Sergio Ramos has called for respect for Real Madrid's opponents on Sunday.
16:32 | A blast from the past here but Iker Casillas has opened up about his departure from Real Madrid and the strange atmosphere around the dressing room during that time.
15:57 | Check out the top 10 goals from the J-League this past season.
15:30 | James Rodriguez, the man at the centre of plenty of transfer speculation recently remains resolute and says he is happy at Real Madrid.
15:05 | Sergio Ramos' is a real captain's captain. Aside from his inspiring last minute magic that has been on display of late, he has also ordered Dani Carvajal to apologise for a gesture to Barcelona fans when Ramos landed the equaliser late on El Clásico.
14:46 | Ronaldo has been in the news recently, even more so than normal, after his fourth Ballon d'Or victory. Raul Albiol, his former Real Madrid teammate, has spoken about who the "real Cristiano Ronaldo is".
14:26 | Zinedine Zidane is never shy of peppering praise on his players. He recently said that the players make his job easy.
14:01 | If you will be joining us on Sunday morning and want to watch the game, check out our how and where to watch guide here.
13:37 | There was controversy on Thursday as Ronaldo's late goal against Club America was initially brought back and was set to go to the video referee's as there was a hint of offside. The referee opted to go with his linesman, and his gut instinct by awarding the goal. the hold-up was criticised by Luka Modric amongst others.
Spain, however, might have liked VAR technology in 2002 when they were knocked out of the World Cup by South Korea in controversial circumstances.
---
Real Madrid - Kashima Antlers: Match preview
Kashima Antlers became the first Asian side to qualify for the Club world Cup final on Wednesday when they beat Atletico Nacional 3-0 in the semi-final before Real Madrid downed Club America 2-0 just 24 hours later to set up an intriguing battle on Sunday morning 11.30 CET in Yokohama.
Real Madrid are looking to seal their third Club World Cup and remain unbeaten in the competition (not including penalties). They do not have another game until the 7th of January meaning there will be plenty of time for rest between now and then while they are keen to finish off what was a memorable year for the club with another trophy.
Kashima Antlers will have to forget about their star-studded opposition, however, as Antlers' striker Yuma Suzuki said, "It's like a dream. Now I want to do it in front of Ronaldo's very eyes," after he bagged a late goal in the semi-final and celebrated with Ronaldo's signature goal celebration.
Real Madrid
Real Madrid can call on a man recently described as the best player in the world by Sevilla defender Adil Rami, as Sergio Ramos is back in contention and set to start the game. Pepe, however, will not make it as he had to retire to the dressing room after just five minutes of training on Friday.
The last time Real Madrid reached the final, a game they won 2-0 over Argentina's San Lorenzo, Sergio Ramos and Gareth Bale got on the scoresheet and while Bale continues his recovery from ankle surgery, the news on Ramos is a welcome boost ahead of the final.
Another player who got a timely boost recently was Karim Benzema. The Frenchman has been criticised all season for his poor form but an opening goal against Club America will surely see his confidence return and he will be looking to keep Alvaro Morata at bay in Zidane's first choice eleven in the coming weeks and months.
Kashima Antlers
The team from the host nation are not to be trifled with. Their 22-year-old defender Naomichi Ueda likened himself to a crocodile in the build-up to Sunday's showdown and said: "Just as a crocodile will complete its conquest by dragging its prey into the water, I just want to bring them down - whether it's in the air or on the ground, one on one."
If that is truly how the Antlers see this game, we are set for an attritional, abrasive game as Zinedine Zidan'e men look to make it 37 games unbeaten on the trot.
Kashima Antlers head coach, Masatada Ishii, knows just how big an achievement this is for the club and told FIFA.com that, "We've made it to the final, which is an achievement for Kashima Antlers and Japanese football as a whole."
The Japanese coach applauded his side's defending in the semi-final and given the global status of Real Madrid and the quality they have in their side, they will retreat even deeper into their own half and try to frustrate last year's Champions League winners.
---
Atletico Nacional 2 - 2 Club America: Penalty shoot-out
Real Madrid beat Club America in their semi-final and Kashima Antlers defeated Atletico Nacional in theirs. The two teams just finishing an exciting 90 minutes of action with the score deadlocked at two goals a piece. With no extra-time, we will go straight to penalties and we will be updating them here.
1st penalty - Club America - The Mexican side take the first penalty and Martinez absolutely rattles the top of the crossbar and it goes up and over the goal!
1st penalty - Atletico Nacional - GOAL! Stylish finish from the spot by Mosquera.
2nd penalty - Club America - Another miss as Samudio absolutely launched it over the bar.
2nd penalty - Atletico Nacional - Missed again. This is a lesson in how to not take penalties. Nieto missed this time as he rolled it wide of the left post.
3rd penalty - Club America - GOAL! Third time lucky and what a peach of a penalty that was by Quintero.
3rd penalty - Atletico Nacional - GOAL! Bocanegra scores to restore Atletico Nacional's lead.
4th penalty - Club America - GOAL! Okay, it seems the Mexican side are getting the hang of this penalty lark. Peralta slots his penalty high and home!
4th penalty - Atletico Nacional - GOAL! Macnelly scores and puts all the pressure on the next Club America penalty taker. He needs to score.
5th penalty - Club America - GOAL! Arroyo scores to make it three in a row.
5th penalty - Atletico Nacional - GOAL! That is all she wrote as Borja sends the goalkeeper the wrong way. Top right, no chance! Atletico Nacional are the third best team in world club football.
---
Real Madrid - Kashima Antlers: possible line-ups
Kashima Antlers: Sogahata, Nishi, Ueda, Shoji, Yamamoto, Ogasawara, Shibaski, Nakamura, Endo, Dol, Akasaki.
Real Madrid: Navas, Carvajal, Varane, Ramos, Marcelo, Modric, Casemiro, Isco, Vázquez, Benzema, Cristiano.
Real Madrid - Kashima Antlers: Match build-up