Everton - Liverpool live online: Premier League, match report, goals, as it happened
Everton welcomed Liverpool to Goodison Park for the 227th Merseyside Derby and although the Premier League match didn't thrill from the start, Sadio Mane drama gave it the ending.Manchester United v. Manchester City live online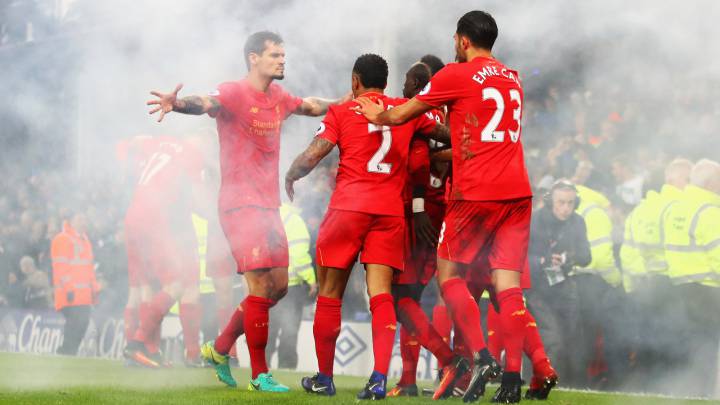 Everton 0 - 1 Liverpool: match report
The anticipation for a memorable Monday night on Merseyside was so much more than the reality but that won't bother Klopp and the rest of the red half of Liverpool. Sadio Mane was the man who scored a brace for Southampton earlier this year as Koeman's south coasters outdid the German's new Premier League side 3-2 and it was the same player - following his move north - that was to prove decisive against his old manager.
Everton started the game better than their visiting neighbours who were struggling to find any of their normal fluency but chances were scarce in the first half. A free header from a corner for Blues defender Funes Mori and an Origi shot under pressure following good build up play the best either side had. Not one shot was on target in before the break.
Toffees prove a hard nut to crack
The second half started better for the visitors who appeared to have been reminded by their manager of what they were capable of but as Everton felt this gear raise they too adapted and sat further back. Whether planned or not, the Toffees defended deeper and were more selective about when and where they would press their opposite numbers. But even with more control, slicker passing (without ever reaching close to the highs of there dazzling play in some games this season) the Reds struggled to find many openings. Firmino had one that Stekelenburg blocked but it was left to the death for the winner to come.
Sturridge, returning to the side as a late sub picked up the ball on the edge of the area in the fourth of eight added minutes and found a gap between the defenders to drag a shot passed Robles who had come on for the injured Everton keeper. Agonisingly it hit the inside of the right post but Mane was the sharpest to react and tucked it home. Cue the celebrations and disappointment in equal measure. With that Liverpool keep some pressure on Chelsea at the top.
Everton 0 - 1 Liverpool: as it happened
Min 90+9 | Peep peep peeeeeep!!!! Three points are taken across Stanley Park and Liverpool climb above Manchester City into second place. Match report coming up...
Min 90+7 | Liverpool almost make it two but a goal line clearance saves Everton. Sub: Leiva on for the goalscorer.
Min 90+4 | Goooooooooaaaaaaaal!!! And it's Mane!! Sturridge waited and waited as he came across the edge of the area with a wall of defenders in front of him. He pulls the trigger and, although not clean, it rolls past Robles...but hits the post and comes back into play. Mane is quickest to react to knock home.
Min 90+3 | Lukaku almost gets away and into the area but three covering players hound him down.
Min 90+2 | Free kick just inside the Liverpool half for Everton. They get the big men into the area and...play it short and give it away. Poor second half from the Blues, in terms of their offensive ambitions anyway.
Min 90 | A Liverpool corner is missed by Robles at the front post but cleared at the back by the covering defenders. 8 (eight) minutes added time!
Min 88 | Emre is on but that last pass suggests his boots may not be. Everton are still trying to press the play in certain areas and may find a single opportunity to hit the large grassy area in front of Mignolet.
Min 86 | It's only the visitors making any effort to attack now with Everton seemingly happy to hold onto a point.
Min 85 | Gueye yellow card for poor challenge.
Min 84 | Mike Dean bringing Henderson and Barkley together for some peace making after the players get rather close again. "You're off my Christmas card list," Jordan appears to mouth.
Min 82 | Sub: As I said, Can comes on for Lallana. Sturridge also on for Origi.
Min 81 | Sturridge about to come on for Liverpool as another attack cancelled out.
Min 78 | Another Red attack dealt with, this time with Lennon covering the pace of Clyne. Corner to Liverpool. What a save from Robles getting down quickly to the snap shot from Firmino.
Min 76 | Everton are sitting very deep now giving their visiting neighbours much more possession and territory. Firmino tries the spectacular overhead kick from a Clyne cross but doesn't make the right connection.
Min 73 | The team in Red are looking the more dangerous but are struggling to find their groove. Lovren tries to jump over Barkley and gives away a free kick about 40 yards from goal. It's lifted into the box and the header straight into Mignolet's arms. Half chance at best.
Min 72 | Sub: Enner Valencia going off for Calvert-Lewin. Klopp yet to make a change but it can't be far away.
Min 71 | Mane gets brought down on the run and faceplants into an Everton bottom.
Min 68 | Ouchie! Henderson feels the studs of Barkley who is lucky not to see red (he does get a yellow) and then both sets of players come together to swap handbags. Coleman also goes into the book although that was less clear.
Min 67 | The ball is bouncing around players in midfield before Liverpool get their combination play going on the edge of the home area. They just can't find the necessary space.
Min 64 | Crunch! That could've been tasty as Barkley and Klavan contest a 50/50. The Liverpool defender wins but Ross seemed to give way a little.
Min 63 | Sub: OK, Stekelenburg tried to run off that knock by Baines but is now being helped off the field. Robles takes his place in goal.
Min 61 | Liverpool try to work it a couple of times from a deep throw. No chucking it long for them (yet!) as they look for neat passing build up. The second attempt sees Firmino miscontrol and Everton have their own throw.
Min 60 | Add a couple of minutes onto the 90 for later but the Everton number 22 looks like he'll be OK to continue.
Min 57 | Chance! Mane, playing very centrally, plays a one-two with a back flick from Firmino and his pace almost sees him get on to it. Baines defends well and clears off Mane for a goal kick but in the process collides with Stekelenburg who is now down for some magic spray treatment on his thigh.
Min 55 | Lovren booked for blocking off the run of Lukaku. He complains then gets on with it.
Min 53 | The tempo and desire to play has gone up a notch (or maybe derby nerves are being controlled better) as Everton create a half chance. The ball is played forward high for Lukaku running into the area but he can't angle his header goalwards.
Min 50 | Chance! The Blues have hardly touched the ball in the first five as Firmino has a great chance to open the scoring. Played through the middle he tries to lift the bouncing ball over the onrushing keeper but it hits Stekelenburg's head. The rebound is lifted high into the area and two Reds clash going for it. Danger gone.
Min 48 | The third phase of possession frees Milner on the left but his cross is too high for everyone but an Everton head touches it on for a corner. Corner cleared.
Min 47 | Immediately the visitors start some quick, neat passing and with some controlled success. Jürgen has spoken it seems.
Min 46 | And we're off again! Barry has come on for McCarthy who took a knock late on in the first half.
---
A competitive first half at Goodison but lacking the level of quality that most viewers would have been hoping for. The home side had the better of the first 20 minutes and fashioned a couple of decent chances, but Liverpool started to get more of a grip of the game and Everton found themselves being pushed back as their attempts to get wide were restricted. The best chances fell to Funes Mori and Origi but while the oranges are being sucked both Koeman and Klopp will be planning how to create more.
Min 45 | Mr Dean brings the half to an end and I'm away to count the number of shots on target. I shouldn't be long!
Min 44 | Free kick to Liverpool wide of the Everton area after some shirt pulling from Barkley on the breaking Origi. Nothing comes of it as the ball is punched clear by Stekelenburg.
Min 43 | Chance! Funes Mori gets up well and has a great opportunity to head in the corner. Wide.
Min 42 | Neither manager is going to go in at half time particularly pleased with their team's play although Koeman probably more so. Not a great advert for quality football.
Min 39 | McCarthy is down injured and players from both side take on water and manager advice. He's back on his feet and looks to continue as Barry warms up just in case.
Min 36 | Chance! Best move of the game as Liverpool build quickly on their left and as the ball is played across field Mane jumps high to let it go beneath his legs and to the waiting Wijnaldum. Then patiently out to Clyne whose low ball in is met by the incoming Origi but he can't keep his shot under control.
Min 33 | Clyne then tries to burst past Coleman to the byline but hits it way too far ahead of himself and it goes out for a goal kick. The heatmap is shifting a little.
Min 32 | A bit better from Liverpool as they build it through the middle and Origi takes it wide. But solid defending snuffs him out.
Min 30 | Down below us, Daniel Sturridge is warming up. Probably a bit early for his introduction but Klopp needs some more invention if his side is to create some chances.
Min 28 | Deep free kick for Milner to drift into the area...but some sort of bumping between those in the box had Mike Dean whistling for a foul.
Min 27 | The first real meaningful attack from the visitors as Henderson feeds Clyne out wide and his ball in ends at Wijnaldum's feet. He tries to place one from the edge of the area but skies it.
Min 24 | I've seen quite a bit of both these teams this season and it's certainly one of the least joined up performances from Liverpool thus far. Can they find a footing soon?
Min 21 | Chance! Lukaka almost gets on the end of a low cross from the left by Lennon but it evades the Belgian's boots. Then Barkley hits one from 20 yards but it rolls safely past the left post. Everton fans will be pleased with their team's opening endeavours.
Min 19 | Another couple of balls get fed out wide and then swung into the Liverpool box with little delay. Each time a Liverpool head is getting to it but it seems that Koeman read our preview. (Apart from that bit about Barry!)
Min 18 | Williams vs Origi looks like it could be an interesting match-up tonight. So far the 5 in 5 man has not been in the game.
Min 16 | Mane decides to take the ball for a run and then sees a red shirt coming in at the back post. He does not get close to finding him. Stekelenburg goal kick.
Min 14 | The visitors are struggling to get into their passing stride - partly due to Everton pressing, partly due to finding their own player GPS malfunction. Everton getting more joy in the final third.
Min 11 | Good position for an Everton free kick after a soft Firmino foul just outside the Reds' area. Hit straight into the wall. A disappointing waste.
Min 9 | Both sides, unsurprisingly, not allowing their opposite numbers to settle.
Min 7 | Mane tries to control a high pass and sprint away. Sprint looked dangerous but control was with arm.
Min 6 | Firmino loses the ball uncharacteristically in the centre of the park and Lukaku is released on the right of the Liverpool area. He fires in a cross but it's higher than anyone who would've been in the centre...there was nobody.
Min 5 | Liverpool not getting much time on the ball and even some passing around the back results in a long clearance from Mignolet. Origi tries to kill it dead but the home side get it back.
Min 3 | Everton have won a few throws on their left as neither team finds it easy to get much early control. They then create a bit of space with some neat passing and Baines gets a dangerous cross in towards Lukaka. Cleared by Klavan.
Min 1 | Liverpool are expected to have more of the possession tonight but expect a cagey opening.
---
21:00 | Peep! Liverpool get us underway, kicking right to left as we look on.
20:59 | Right, we're all set. Both these sides have conceded the same amount of goals in the league this year...but the visitors have scored almost double that of their neighbours (21 vs 40). Who'll come out on top?
20:56 | Henderson and Baines lead out their teams onto the pitch. Really rather a tight exit from the Goodison tunnel.
20:49 | A win for Liverpool tonight will take them back into second place in the Premier League, but still six points adrift of leaders Chelsea. Everton looking to leap-frog West Brom and Ronald Koeman's old team, Southampton, to sit seventh.
20:45 | Just a quarter of an hour to go until KO.
20:37 | Jamie Carragher has said on Sky that Everton have tended to "bottle" the Merseyside derby. Surely that's a bit much from the ex-Red where normally the budget spent on the two sides has heavily favoured his old team.
20:22 | Our man in Liverpool says "it's a chilly night" and a "bit damp". He didn't take a brolly.
20:14 | Neutrals will be hoping for the recent Goodison trend to continue tonight with an 'original' draw. The last four have finished 0-0, 1-1, 2-2 and 3-3 (although not in that order). 4-4 anyone?
20:07 | No Barry tonight as Valencia gives an extra attacking dimension for the home team. Klopp goes with the expected XI with Klavan replacing the not-yet-ready-to-return Matip.
---
Starting line-ups:
Everton XI: Stekelenburg, Coleman, Williams, Funes Mori, Baines, Gueye, McCarthy, Barkley, Lennon, Valencia, Lukaku
Liverpool XI: Mignolet, Clyne, Klavan, Lovren, Milner, Henderson, Wijnaldum, Lallana, Mane, Firmino, Origi
---
19:58 | Team news: Joel Matip has failed a late fitness test for Liverpool so expect Ragnar Klavan to partner Lovren.
19:52 | The bookmakers have an away win as pretty much evens while three points for the Blues would triple your stake.
19:41 | Tonight's two managers have contested a match before and Ronald Koeman may look to draw some good vibes from it as his Southampton side beat Klopp's boys 3-2 at St Mary's. Unfortunately for the Dutchman, brace-man that night, Sadio Mane will be in the opposition ranks.
19:37 | Last year's equivalent fixture finished in a 1-1 draw but may be remembered more for what happened an hour after the final whistle. Then-manager, Brendan Rodgers was sacked.
19:01 | We've just seen some pictures of the home side arriving at the stadium and they all look super-focused. Hopefully ythey'll relax those expressions a little once out of the glare of the cameras to avoid facial injury.
18:48 | Just over two hours to kick-off in what has been dubbed "The Friendly Derby"
Everton - Liverpool: preview
Tonight's Merseyside derby is the 227th meeting between the two sides and as many know it is often a fiery occasion. With 21 red cards, this is the match up that has provided the most red cards in the Premier League. Both teams come into it with different expectations for the season, however, both on the back of encouraging wins.
Everton
What was turning into a disappointing first half of the season was somewhat flipped last Tuesday as Ronald Koeman's side came back from a goal down to beat one of the title contenders. That second half Goodison performance showed up the frailties of an Arsenal side that is yet to convince many and some would argue that tonight's opponents have similar failings to the London side. With their home support and that physical presence, the three points that would take the Toffees up to 7th in the table is not beyond contemplation. What last week's win should not overshadow though is that it was just their second in eleven games.
Lukaku is the main goal threat for the home side and Koeman will aim to find ways to feed the big Belgian in what is a constantly changing, but ever susceptible, Liverpool backline. Rather than trying to break through from the centre, width, crosses and timely runs into the area may bear more fruit. The experienced Gareth Barry could potentially to return after sitting out the Gunners win and alongside Ross Barkley, who is capable of taking the game to the opposition on his day, will look to stem the flow towards their defence. Missing will be the influential Phil Jagielka after his red card last week.
Liverpool
Often a 3-0 win gets much of the focus pointed towards the attacking success. But this season, Jürgen Klopp's Reds were congratulated for the lack of goals conceded. Scoring hasn't been a problem for the Anfield outfit - 40 in 16 games is better than anyone else - but 20 goals in the against column has been the big talking point, as has the uncertainty around new German goalkeeper, Loris Karius. Simon Mignolet was brought back in for the win against Middlesbrough but it'll take more than one game to make fans forget some of the errors he was prone to before.
Mignolet will maintain the gloves and will look to have the upper hand on his fellow Belgian, Lukaku, and in front of him Joel Matip could well return to partner Dejan Lovren in what appears to be Klopp's preferred pairing. The creative juices are expected to continue to flow from Lallana, Mane and Firmino whose movement will be key to opening space for another man from Belgium, Divock Origi. The striker came in as a replacement in the side for the injured Philipe Coutinho and has scored five in as many games. Sturridge on the bench will be an encouraging sight for many a Liverpool fan.
Everton - Liverpool: potential team line-ups
Everton XI: Stekelenburg, Coleman, Williams, Funes Mori, Baines, Gueye, Barry, McCarthy, Barkley, Lennon, Lukaku
Liverpool XI: Mignolet, Clyne, Matip, Lovren, Milner, Henderson, Wijnaldum, Lallana, Mane, Firmino, Origi
Everton - Liverpool: match build-up