Barcelona and UEFA reach deal over independence flags
Barcelona have agreed a deal with European football's governing body over the fines levied for the display of pro-Catalan independence flags. Uefa will look at changing its rules.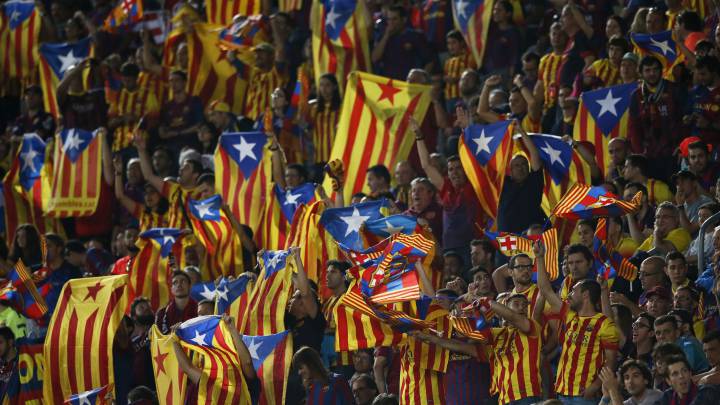 Barcelona have agreed to withdraw an appeal against fines imposed by UEFA last year after their supporters waved pro-Catalan 'Estelada' independence flags at two matches, European football's governing body said on Monday.
UEFA to consider rule changes over political symbols
In return, UEFA will consider loosening rules which prohibit the display of any flags or banners with political connotations, saying such regulations needed to evolve to respect "freedom of expression".
UEFA working group
UEFA said in a statement that it would set up a working group to review its disciplinary framework so that clubs are punished only "in circumstances and cases where the majority of reasonable people think that a sanction should be imposed".
Barcelona appealed fines to CAS
Barcelona appealed to the Court of Arbitration for Sport (CAS) after they were twice fined over the flags, known as esteladas, last year.
UEFA fined them 30,000 euros after supporters waved the flags during the 2015 Champions League final in Berlin and another 40,000 euros for similar incidents in a tie against Bayer Leverkusen.
The disciplinary board ruled the club had breached regulations which prohibit "the use of gestures, words, objects or any other means to transmit any message that is not fit for a sports event, particularly messages that are of a political, ideological, religious, offensive or provocative nature".
UEFA say rules "not set in stone"
On Monday, UEFA said Barcelona had recognised that disciplinary bodies had little scope to depart from established rules which had to be enforced "including with respect to the existing prohibition of political type messages at football matches."
However, the organisation added that the rules were not "set in stone". "They can, and should, evolve to reflect the nature of the society in which we live, where freedom of expression is generally a value to be supported and cherished," said UEFA.