Prandelli: "The whole squad are transferable not just Parejo"
Prandelli spoke ahead of the Copa del Rey game against Leganés and also confirmed that Dani Parejo is not in the squadCelta-Valencia live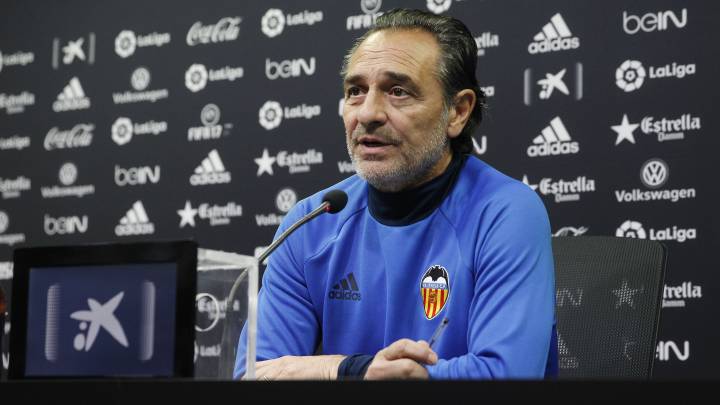 Valencia face Leganes at Mestalla tomorrow with a 3-1 advantage from the first leg. Ahead of the game Italian coach Prandelli spoke to the media analysing the latest series of events at the club including the video of vice captain Dani Parejo in a nightclub with a shisha pipe.
Parejo: "He hasn't been selected and a decision will be made after the game about the video. Parejo has personally asked me for forgiveness and the whole business is stupid"
The meeting with Lim: "When a coach speaks to the owner, it's a time to be frank. This squad needs four players to enhance the team and the higher echelons of the club are aware of this. The immediate focus however is on tomorrow's game".
Exit transfer list: "A list can't be made public and to be honest there is no list per se. So much depends on the Financial Fair Play system that we need to work within".
Maksimovic: "I know the player but don't know if there has been any movement with him"
Gayà: "There are no issues with Gayà. He's a young player full of personality and works hard".
Zaza: "He was one of the first names that Suso came up with. He's a fine player buyt i have nbo idea as to what stage the negotiations are at".
Is Dani Parejo on the transfer list?: "Every player at Valencia is liable for a move away from the club. My sole focus however is to prepare ahead of the Copa del Rey match".
Valencia v Leganes squad: Jaume, Alves, Montoya, Cancelo, Santos, Abdennour, Mangala, Gayà, Lato, Enzo Pérez, Mario, Soler, Fede, Medrán, Bakkali, Rafa Mir, Munir, Mina and Rodrigo.