January transfer window 2017 live online: Tuesday 03/01/2017
Live coverage of the 2016/2017 winter transfer market: the latest news on all the big rumours, offers and signings today, Tuesday 03/01/2017.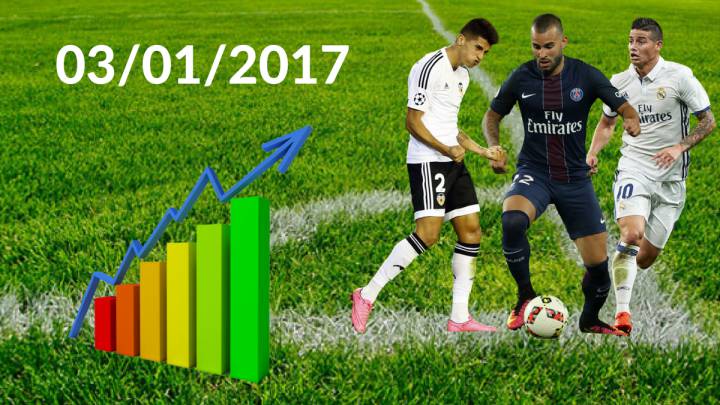 Hello and welcome to AS English's daily live coverage of the 2016/2017 January transfer market.
With the Spanish window open as of yesterday morning, be sure you join us for all the latest on the major deals taking place in LaLiga.
We'll also bring you news from beyond Spain's borders, where business commences today in Italy and got underway on New Year's day in the likes of England, Germany and France.
Stay tuned and we'll keep you up-to-date on all the transfer rumours, big-money offers and completed moves happening in the football world.
---
2016/2017 January transfer market: latest news
19:50 | Axel Witsel is the latest big-name player to move to the Chinese Super League, joining Tianjin Quanjian from Zenit.
18:10 | Leicester have signed Nigeria midfielder Wilfred Ndidi from Genk on a contract until 2022, the Premier League club have confirmed.
17:27 | There's a new man in charge of the Swans as Paul Clement moves to the Premier League hot seat in Wales with a relegation battle to plan for. Will he tap into the January transfer market? We say, "yes!"
16:45 | Earlier today, Real Madrid coach Zinedine Zidane spoke about his hope that Portuguese defender Pepe was not someone who would be joining the transfer stories, despite rumours linking him to clubs.
16:04 | In Italy, Serie A side Sassuolo have confirmed the signing of Alberto Aquilani following his release from rivals Pescara
15:42 | Carlos Peña and Sergio Mora have been presented to fans and press at Getafe.
14:01 | As we tend to find, one player moving triggers another and Sevilla may be welcoming back Éver Banega if the links to Arsenal for Steven N'Zonzi materialise.
13:52 | It won't be long until the summer window is upon us and Real Madrid are reportedly eyeing up a move for Spurs' Dele Alli.
13:25 | Here's the full story on Draxler's completed move to Paris Saint-Germain.
12:20 | Reports in Italy claim Real Madrid striker Álvaro Morata is up for a summer return to Juventus. The full story is here.
12:00 | Done deal: Paris Saint-Germain have announced the signing of Germany international Julian Draxler from VfL Wolfsburg, with the 23-year-old penning a four-year contract.
11:10 | Valencia sporting director Suso García Pitarch this week confirmed having talks with Chelsea's John Obi Mikel over a move to the struggling LaLiga club. We'll bring you further news as it comes in.
10:25 | Málaga are expected to announce the signing of Venezuelan forward Adalberto Peñaranda today - we'll keep you abreast of developments in Andalusia.
09:35 | All these different opening dates across the world is a mighty old fiddle, isn't it? Thankfully, the helpful fellows at FIFA have prepared this neat list of when each window begins and ends in each country - oh, it's dashed useful.
09:25 | Good morning to one and all! What does day one/two/three of the transfer window (depending on which country you're in) have in store? Join us to find out.
---
Transfers live: Tuesday 3 January 2017