Zidane: I would like Pepe to continue at Real Madrid
The French manager expressed his desire to keep the Portuguese central defender and addressed the incessant James transfer rumours.Transfer market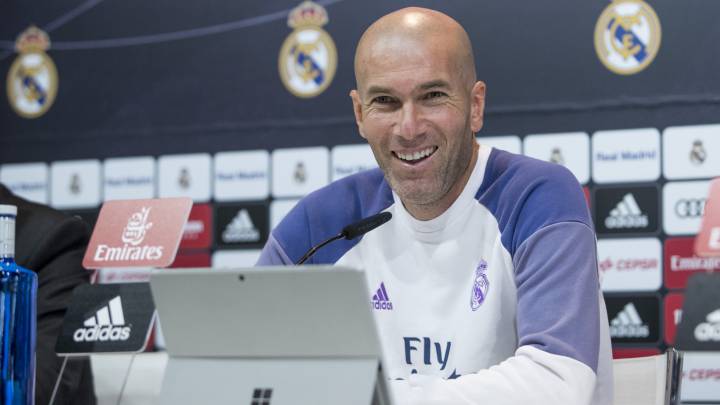 Zinedine Zidane was questioned about Pepe's contract and James' situation as he took questions ahead of the Sevilla game in the Copa del Rey on Wednesday night at the Santiago Bernabeu.
Thankful for the rest over Christmas to spend with family and rest, and also a quick congratulations to his team for arriving in good condition after the break, the conversation quickly turned to James.
Angry James Rodriguez
"He is an important player for Madrid. I'm going to deal with him the same way as I deal with everyone here. Everyone is important and we will continue to work together. His words? It's a complicated time, when you do not play in a final, you're going to be angry. I understand that sometimes it is difficult. It's complicated for everyone but that is the past. Now we look at what lies ahead and what we have to do together. "

While the conversation went a different way, it soon returned to the Colombia, "He's a Madrid player, he wants to be here because he's at the best club in the world and there's nothing more to talk about. We'll keep working, that's what's important."
Pepe's contract
Centre-back, Pepe, is set to be out of contract in the summer but Zidane says he wants the 33-year-old to continue at the club, "He's been here for ten years, he's made history here and I want him to continue."
Morata and Juventus links
Earlier on Tuesday morning, Alvaro Morata was linked with Juventus, with the reports saying he was keen to return to Turin. Zidane says he is oblivious to any desire for the player to leave the club and questioned the information, "I don't think that information is true. I see him as being content here because this is his home. He is working wel and very committed to the project. I don't know if that report is true, but you will have to ask him," Zidane said.



Copa del Rey
Leaders
Ben Yedder

5

Goals
Cabral

173

Passes
Razak

31

Steals
*Update 3 de enero de 2017