Athletic Bilbao - Barcelona: Copa del Rey Last 16 report and action
We were treated to a game that had everything from goals to controversy, red cards and ungiven penalties as Athletic Bilbao saw off a late rally by Barcelona to win 2-1 at San Mames in the Copa del Rey. Juventus-Barcelona live online: ICC 2017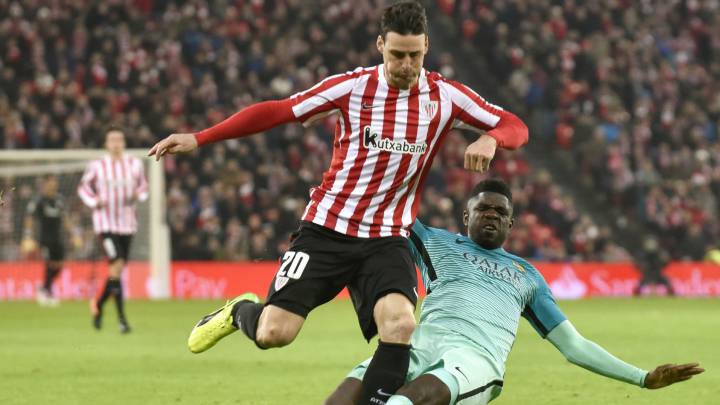 Athletic Bilbao 2-1 Barcelona: Full-time
An utterly compelling first half was followed by a scrappy and ill-disciplined second 45 that saw a Messi goal froma free-kick and two Athletic Bilbao red cards.
Athletic Club had their tactics spot on for the first half but seemed to regress in the second half, as they most likely tired from their high-pressure style to open the game. Barcelona took that advantage to mount a series of attacks and were paid back when Raul Garcia fouled Neymar on the edge of the square. Messi whipped the free-kick past Iraizoz and Barcelona were back in the game.
Within six minutes of each other, Garcia and Ander Iturraspe had received their marching orders and Athletic Club had to retreat further than they had in the previous 80 for the last ten.
Barcelona had chances but could not convert and the home side will gladly take this 2-1 lead to the Camp Nou on the 11th of January when the teams reacquiant themselves with each other for the second leg of this fascinating tie.
---
Athletic Bilbao 2-1 Barcelona: Second half
Min 90 + 3 | Last gasp effort. Messi rattles a shot against the post and it falls to Alcacer and he is not ready for it, stabbing an effort wide......and breathe! Full-time.
Min 91 + 1 | Athletic Club with their backs to the wall as Barcelona look for a crack to appear in their backline. Nothing happening yet. It's desparation stuff now for Athletic club. Any time they get the ball out beyond four yards of their goal, a huge cheer comes from the home crowd.
Three minutes of added time..
Min 89 | Just one minute left as Jordi Alba tries to chip a cross in that is put out for a corner to Barcelona.
Barcelona substitution - Paco Alcacer is sprung from the bench and replaces Samuel Umtiti.
There are a good solid four minutes left of normal time but it seems the Athletic Club fans are looking for a full-time whistle. Wishful thinking.
Min 84 | Luis Suarez tried to lob Iraizoz from but the goalkeeper is wise to his ways. He backpedals and collects.
Athletic Club substitution - Iñaki Williams comes off and is replaced by Elustondo.
Min 82 | Umtiti in the wars again as he throws himself to the ground. He recovers and catches Laporte with a late tackle in the air.
Min 81 | Iturasspe sent off now as Athletic Club are reduced to nine. He caught Neymar very, very late as the Brazilian went by him.
Min 78 | Messi with a chance but as he skips by one defender and lines it up on his right, the ball is tipped off his foot. He was just yards out. That was very close to being the equaliser.
75 Minute Update - The Raul Garcia sending off has caused Athletic Club to rethink their offensive. they had taken the foot off the pedal just before that given how tiring it is to keep up such a high-intensity game for 90 minutes but that is sure to see them retreat further into their shell, happy with a 2-1 victory, if that is how it says.
Athletic Club substitution - Eraso comes on for Aduriz. Ernesto Valverde looks to compensate for the loss of Raul Garcia.
Min 74 | Raul Garcia gets sent off. He receives a second yellow for a foul on Neymar. He came in late and caught the Brazilian's ankle. Correct decision.
Barcelona substitution - Rakitic comes off and is replaced by Andre Gomes.
Min 71 | Neymar break, slides it across to Suarez and he tries to flick it to Messi but Muniain is back to get a touch to Gorka, who clears.
Athletic Club substitution - Muniain comes on in place of Eric Saborit.
Min 67 | Aduriz through on goal but Sergi Roberto makes it back in time to save Barca's bacon.
Min 65 | As Luis Suarez breaks out of defence, he appears to exact revenge on Aduriz with a swinging arm to the chest. Aduriz falls in a heap but play continues and there is nothing more said about it.
Min 62 | Raul Garcia looking for a free but it is San Jose who concedes it with a fairly rough tackle on Sergi Roberto.
60 Minute Update - The game has calmed down to an extent but in the last couple of minutes it has picked up again. Messi's goal has sprung Barcelona into life and into action. Athletic Bilbao still looking dangerous though.
Min 59 | Another foul on Iniesta by Raul Garcia. The result is a through ball to Suarez but Gorka makes it out on time. The Athletic Bilbao players are not happy as they think Barcelona's number nine left his foot in on a ball he was never going to reach.
Min 55 | Raul Garcia with his third foul, this time on Messi, and he is booked. It was coming, to be fair.
GOAL! A Raul Garcia foul on Neymar results in Messi swinging one past Gorka Iraizoz. The goalkeeper runs 30 yards out of his goal to explain that it didn't cross the line but replays prove it did.
For the record, it was Iniesta who was booked at the end of the first half. The Barca captain along with Busquets, Alba and Umtiti now in the book. Aduriz the only Athletic player to see yellow.
Min 48 | Aduriz and Umtiti getting to know each other again as the French defender slides in and stops a run by the Spanish striker.
Min 46 | Sergi Roberto collides with Balenziaga in the air, concedes a free and gets a sore ear for his troubles.
Min 46 | Another, hopefully, blostering 45 is upon us!
---
Athletic Bilbao 2-0 Barcelona: First-half summary
A nice welcome to 2017 in Bilbao for Barcelona. First, they are stung for two goals in three minutes and then Samuel Umtiti is karate-chopped in the throat with no reprocussion.
This game is as fiery as you might expect between these two rivals and when Neymar went down in the penalty area, it seemed as though the roof might come of the San Mames. the referee did not give a penalty (For what it's worth, it looked like a stonewaller) before Luis Suarez went down at the stroke of half-time only to be told he would not be getting a penalty.
Athletic Bilbao are pressing their opponents high up the field, creating the kind of atmosphere that could and should hold them over until the end of the game. Barcelona have rarely threatened but you can never say never with Lionel Messi on the field. We are in for a mouth-watering second half.
---
Athletic Bilbao 2-0 Barcelona: First half
Min 45 + 2 | Suarez wants a penalty now as he looks to have been fouled in the square. Ref remains unmoved.
Jordi Alba, Sergio Busquets and the unnamed Barcelona player from before have all been booked.
Min 45 + 1 | Neymar gets turned upside down in the penalty area but no penalty. There can only be 11 players around the referee but it seems like more as he is surrounded by a sea of green jerseys. Someone is booked but it is not clear who he pointed the card at.
Min 43 | A Neymar corner lands a the feet of Umtiti but his shot is blocked, only as far as Messi, who rifles a shot at Gorka. His right hand turns it away at the near post. Athletic Bilbao break from the ensuing corner but can't make it count. Quite literally, end to end action here as the half-time whistle approaches.
Min 42 | Some more handbags as Luis Suyarez has his say. Piqué threw Raul Garcia to the ground from a corner to Athletic but it comes to nothing.
Min 39 | Meanwhile up the other end and Barcelona have a corner. San Jose ends up on the ground this time and it is a free out.
Umtiti has recovered from his scuffle with Aduriz and renews acquaintance with his foe. the both of them end up with yellows now as the referee tells then he has had enough.
Min 38 | The replays suggest Aduriz did catch Umtiti with his forearm. No punishment though as the referee and his linesman missed it.
Min 37 | This is getting very heated. A corner for Athletic Bilbao results in Umtiti on the ground holding his throat. Aduriz spinned and ran away from the scene of the crime but it remains to be seen what happened to the French defender.
Min 34 | Athletic Bilbao take the sting out of the game now as they try to keep the ball away from Barcelona, and do a good job of it so far. They're also more than willing to take the ball forward whenever they fancy too.
30 Minute Update - The whole game has been blown wide open in the space of three minutes. Aduriz first and then Iñaki Williams with the second. Ernesto Valverde has his tactics spot on here and Barcelona are rattled.
Min 28 | Madre Mia! GOAL GOAL GOAL! Iñaki Williams doubles Athletic Bilbao's lead with a rifle to the net of Ter Stegen. They pressured their opponents and won it back in the final third again and the ball found it's wat to Williams. He made no mistake when given the chance. The San Mames is in full voice now.
Min 28 | Athletic Club can sense blood here, and so can the crowd. Barcelona look rattled.
Min 24 | GOAL! There's no mistake this time as Raul Garcia and Aduriz combine to give Athletic Club the lead. Aduriz gave it to Raul Garcia after winning it back in the middle of the field and continued his run into the box where Garcia's cross just needed a light header into the net beyond Ter Stegen.
Min 22 | A Raul Garcia cross is just a little too high for Aduriz. He hasn't brought the step ladder he got for Christmas with him tonight and will have to suffice with a glancing header that he can't get enough on.
Min 19 | Best chance of the game falls to Piqué as Messi slings a cross in. Iraizoz comes and cleans the central defender out of it after he has headered the ball wide. He is not happy but the referee points for a goal-kick.
Min 18 | Neymar welcomed to Bilbao with a swift kick by Raul Garcia. He is arging with the referee but there is little doubt that it was a free. The former Atletico player is lucky not to pick up a yellow too.
15 Minute Update - A helter-skelter start has resulted in plenty of shouting and roaring from the home crowd but few chances. Ernesto Valverde has decided his forwards will press Barcelona's defence in the hope of forcing an error or two, which has forced the San Mames crowd off their feet on a few occasions. No massive chances to report yet but this game has the kind of openness that could result in plenty of chances, and maybe a few goals!
Min 14 | Sergi Roberto swings a dangerous cross in that Gorka gets a strong fist to.
Min 12 | Messi gets a shot away but his initial pass over the top appeared to show either Neymar or Jordi Alba offside. the San Mames whistles are piercing but the referee's is not. Messi's shot, on the other hand, whistles passed the post.
Min 10 | Iñaki Williams puts pressure on and forces Piqué into an awkward backpass to Ter Stegen. He pops it up in the air and an Aduriz header, that has no power on it, is the result.
Min 8 | As things start to settle down, to some degree, Barcelona are looking to gain control of the ball and inflict their game on the opponents. Athletic Bilbao still hassling them at every opportunity though.
Min 6 | If you happened to tune into Real Madrid and Sevilla last night, Athletic Club are playing in a similar fashion to los Blancos. They are putting pressure on Barcelona's back four and not letting them settle on the ball including Ter Stegen.
Min 4 | A rare Iniesta mistake gives Athletic Club the ball back high up the field. A cross from Aduriz and a push in the back by Saborit on Jordi Alba later and Ter Stegen collects. This San Mames crowd is all fired up!
Min 2 | Mikel San Jose comes within inches of giving Athletic Club an early lead with a header from a corner.
Min 1 | We are underway for Barcelona and Athletic Bilbao's first game of 2017. Who will be victorious? Let's find out!
---
Athletic Bilbao vs Barcelona: Team news
Athletic Club: Iraizoz, Bóveda, Balenziaga, Laporte, Etxeita, San José, Iturraspe, Raúl García, Williams, Saborit, Aduriz.
Barcelona: Ter Stegen, S.Roberto, Umtiti, Piqué, Jordi Alba, Rakitic, Busquets, Iniesta, Suárez, Messi, Neymar Jr.
---
Athletic Bilbao vs Barcelona: Latest news
21:13 | What a beautiful touch. Barcelona have taken to the field in red and white 'Animo Yeray' shirts. A lovely gesture for a fellow professional.
21:10 | Our AS weatherman (Will just googled it) tells us that it is a chilly night in Bilbao. Three degrees is all it is up north.
21:00 | This is the start of a long stretch for Barcelona. They will play eight games in just 24 days starting tonight against Athletic Club. It is important that Luis Enrique gets MSN and the crew back up to speed quickly but he will have to be thinking ahead too. Another slip in LaLiga could allow Real Madrid to romp home with it, or let Sevilla sneak in and nick third place from under their noses.
20:48 | Barcelona ready to take to the field in their slick, light persian green kits tonight! Athletic Club jog onto the field and into the chilly Bilbao night for their warm up in black shorts and socks.
20:41 | If you're looking for a feel good story, have a look at this as Barcelona stars visited a children's hospital to brighten up some kids' new years.
20:37 | Barcelona at full strength as they move into the new year looking to match and catch Real Madrid on all fronts.
20:28 | Sergio Agüero has given Lionel Messi the nod for "The Best" award.
20:27 | Also, some good news from Athletic bilbao earlier as Yeray Alvarez is making "positive progress" following operation for testicular cancer. All the best!
20:23 | The last result between these two sides was a 0-1 away victory for Barcelona at the San Mames. Rakitic got the goal that day and he starts tonight.
20:15 | Meanwhile, Athletic Club don't start with Beñat or Muniain.
20:11 | Rakitic gets the nod ahead of Denis Suarez and Andre Gomes. He has been somewhat of a forgotten man in Enrique's midfield. The MSN start too - Happy New Year too all of us with football on a Thursday!
20:05 | Oh, and just in case you were wondering what Javier Clemente thinks in the 'Ronaldo versus Messi' debate, he thinks Ronaldo has better abs.
20:03 | Luis Enrique ensured Barcelona fans that MSN are in better shape now then before the winter break.
19:53 | LaLiga dominated UEFA's top XI of 2016. There are a few Barcelona players in there too.
19:51 | Check out Lionel Messi and Luis Suarez linking up in a 50m pass and control challenge.
19:43 | And in case you were wondering whether Pep was a future Barcelona president candidate, he says he is not and never will be. That job is for Piqué, he explains.
19:10 | Speaking of our match preview, why not have cheeky pre-match shufties?
19:00 | As our match preview below notes, tonight's game sees the Copa del Rey's two most successful clubs go head-to-head. Holders Barça have won the cup 28 times, while Athletic have lifted the trophy on 23 occasions - though not since 1984...
17:30 | Pep Guardiola can't seem to keep away from the headlines at the moment, and not exactly for the right things either. He admitted earlier today that his comments this week on retiring early were "inappropriate" and insisted he's committed to City for the foreseeable future. Read the report from his interesting press conference here.
16:25: Good news! Bilbao defender Yeray is making "positive progress" from surgery following his diagnosis with testicular cancer. All the best Yeray.
15:55 | Check this out: Messi and Suárez took part in an unreal 50m pass and control challenge recently for Japanese TV, narrated (hilariously, as almost always is the case) by excited Japanese commentators.
15:05 | Back to tonight's game, and Barça's Denis, Mathieu and Aleix have all been excluded from the Bilbao trip. More here.
14:25 | Breaking: Osasuna sack Joaquín Caparros after just eight games in charge. More on the story here.
14:00 | Ex-Barcelona coach Pep Guardiola is finding life in the Premier League perhaps tougher than he might have expected. But Carlo Ancelotti says he's not all the surprised that Pep is being criticised. Why's that Carlo?
13:30 | ICYMI: James Rodríguez had a point to prove last night as he fired Real Madrid to a 3-0 victory over Sevilla. It was was undoubtedly one of Madrid's best performances of the season so far, and a statement of intent following the winter break. Can Barcelona follow suit in the cup tonight?
12:30 | After being allowed extended time off during the winter break, Barça front three Messi, Suarez and Neymar are all expected to start the Copa del Rey Last 16 first-leg at Athletic Bilbao, Luis Enrique revealed in his press conference yesterday.
---
Athletic Bilbao vs Barcelona: Match preview
The two clubs with the most Copa del Rey trophies between them meet on Thursday, when both will be looking to gain the upper hand in this 1st leg match-up. This fixture has seen some tasty encounters in the competition over recent years, including three finals. Besides the Spanish SuperCup, Bilbao have not managed to beat Barcelona in the last five cup games, but they'll be looking to drive home their home advantage tonight.
Barcelona
The defending Copa del Rey champions begin this tie as visitors. Barça's usual cup keeper Jasper Cilessen returned from the winter break injured and will miss the game, giving a possible chance to third-choice goalie Masip (who's only started four games in two seasons at the club).
The alternative could be to stick with No.1, Ter Stegen, given that Masip is out of contract at the end of the season and looks set to leave. However, the German has bad memories of facing Bilbao. He was in net when Barça lost 4-0 to Athletic in the Spanish SuperCup in 2015, and earlier this season he almost suffered a howler after a careless pass to Busquets almost gifted Bilbao a goal.
Luis Enrique is set to field his star attacking trident, Messi, Suarez and Neymar (after the three enjoyed an extended holiday over Christmas and New Year) and pick an overall strong lineup against The Lions.
Athletic Bilbao
The stats don't make pretty reading for Athletic from their last few meetings with Barça, but the Basque side will certainly remember and take inspiration from that famous 4-0 thumping of Los Cules back in 2015 which saw them lift the SuperCup title.
It's been a tough Christmas for the squad in San Mamés after it was revealed that defender Yeray has been diagnosed with testicular cancer. It was a blow to everyone at the club, but now they'll be wanting to get their minds back on competing, and if possible, winning.
Coach Valverde will have to do without De Marcos, however, who continues his recuperation from injury. Better news though is that Beñat is fit again and ready to return to action.
---
Athletic Bilbao vs Barcelona: Live buildup