Four from Madrid, three from Barça, Griezmann in top UEFA XI
Ramos, Kroos, Modric, Cristiano, Piqué, Iniesta, Messi and Griezmann show the hegemony of LaLiga in Europe. Ramos received the most votes and Ronaldo topped Messi. France-England live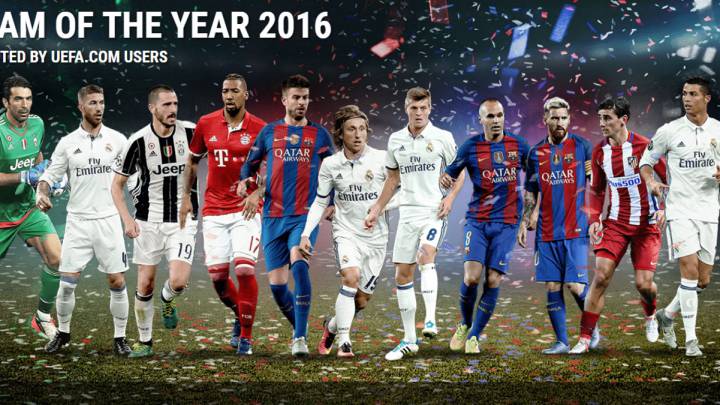 Four Real Madrid players, three from Barcelona and one Atletico representative feature in the best team in 2016, made public today by UEFA. In total, 7,146,715 votes cast by internet users, in which 24% of them confessed to being Real Madrid supporters, and 16% of them Barcelona fans. The list includes three Spanish internationals including Sergio Ramos, Gerard Piqué and Andres Iniesta.
The XI players on the team are: Buffon (Juventus); Sergio Ramos (Real Madrid), Piqué (Barcelona), Bonucci (Juventus), Boateng (Bayern); Iniesta (Barcelona), Kroos (Real Madrid), Modric (Real Madrid); Messi (Barcelona), Griezmann (Atlético) and Cristiano Ronaldo (Real Madrid).
Ramos is the player with the most votes (488,908 in total) and also the most popular as he appeared in 75% of the proposed teams by the voters. Ronaldo was voted for more times than Messi by a very narrow margin. 450,226 for the Portuguese attacker and 418,449 for the Argentine. Antoine Griezmann was the least voted for player in the XI.