Angry Piqué calls out LaLiga chief Tebas: "Did you see that!?"
After again feeling his team were hard done by refereeing decisions in the draw with Villarreal, Barça defender Gerard Pique appeared to call out LaLiga chief Javier Tebas on leaving the field.Barcelona v. Murcia Live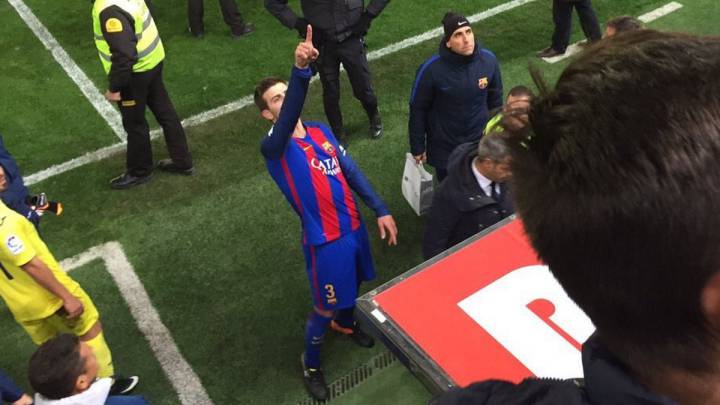 Gerard Pique was once again left reeling by refereeing decisions made against his team on Sunday night, with the Barcelona defender appearing to call out LaLiga president Javier Tebas following the Catalans' 1-1 draw away to Villarreal.
Just days after criticising the standard of LaLiga referees this season after being denied what he felt was a clear penalty on Neymar in the Copa del Rey loss to Athletic Bilbao, Pique again believed Barça were on the end of a wrong decision, this time as the referee waved away penalty appeals after Lionel Messi's shot hit the arm of Villarreal midfielder, Bruno.
"Two very clear penalties"
Pique stormed off the field following the final whistle, but not before stopping at the tunnel, pointing up to the presidential box, and seeming to shout in the direction of league chief Tebas, "Did you see that? Yes you!".

After the game Pique told TV cameras, "Today there have been two very clear penalties for us [not given]."
His comments also follow suggestions made on his Twitter account on Thursday night that Spanish national broadcaster, TVE, had been guilty of anti-Barcelona bias in its social-media coverage of Los Cules' games.
Ongoing Tebas row
This is not the first time the club have clashed with Tebas this season either. Back in November they fell out with the LaLiga president when he accused Barcelona players of "ridiculing themselves" for their reactions to being hit by a bottle thrown from the Mestalla stands.
The club responded by slamming Tebas and the Spanish Football Federation's "outrageous" view of the incident and called for Spain's Administrative Court for Sport (TAD) to take action against Tebas and his fellow committee members.
Tebas later refused to apologise, while Barcelona boycotted an awards ceremony at which he was honoured.