Barcelona vs Athletic Club: Copa del Rey report, goals, action
After an epic encounter in the first leg, Barcelona had to come back from behind in order to overturn a 2-1 deficit.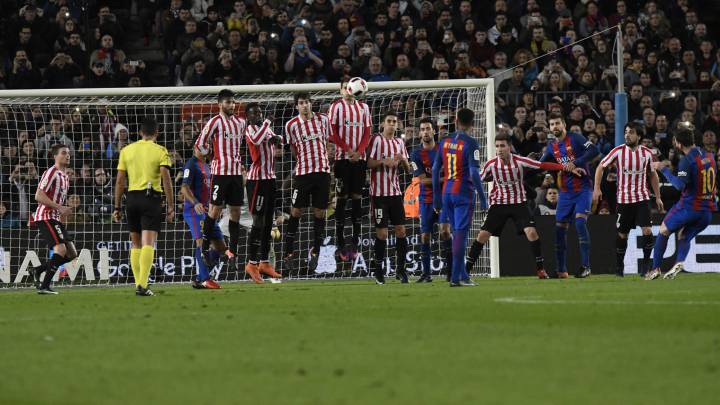 Good night and welcome to our live coverage at Camp Nou as Barça and Athletic both look for a place in the draw for the last eight of the 2016/17 Copa del Rey.
Barcelona 3-1 Athletic Bilbao: Full time report
After an epic encounter in the first leg, Barcelona had to come back from behind in order to overturn a 2-1 deficit. That job became slightly easier when Luis Suarez scored after 36 minutes of the first half and Neymar finished a penalty he won to make it 2-0 on the night and 3-2 on aggregate. Enric Saborit gave Athletic Club hope when he headed home to put the game on a knife's edge. As he has done so often in the past, Lionel Messi proved to be the different between the two sides as he curled home a free-kick with just a little under 15 minutes remaining in the game. Barcelona had chances to finish the tie after that but they would be made to wait. Athletic Club also had chances but nothing as concrete as the hosts and Barça marching on into the quarter-finals of the Copa del Rey.
---
Barcelona 3-1 Athletic Bilbao: Second half
FT: That's it. A Lionel Messi free-kick separates these two eternal rivals in the end.
93' Luis Suarez puts it on a plate for Denis Suarez but the substitute drives it over the bar. Luis Suarez and Luis Enrique not happy with that. Such a good chance to really kill this game.
92' Messi could have had a claim for a penalty but instead Athletic Bilbao break with Beñat. He has no options ahead of him, however, and turns back.
91' Iñaki Williams looks to have been obstructed by Piqué but instead, the ref books Williams for dissent after he gives him a mouthful.
Barcelona substitution - Iniesta comes off and is replaced by Arda Turan.
89' Suarez through on goal and Gorka nbearly takes him down but opts not to. Suarez overhits it and can't get enough purchase on it to fire it over the line. Almost game, set and match there.
87' Balenziaga wants a corner but the referee is having non of it. The left-back is trying his best to convince the man in the middle but to no avail.
Barcelona substitution - Neymar is replaced by Denis Suarez as Luis Enrique looks to close this down.
85' Iñaki Williams gets on the end of a long ball but he is offside.
83' Athletic Club with a chance but Barcelona clear it.
81' Neymar with a one-man show there as he took the ball around a number of Athletic Clb defenders before knocking it just wide.
Barcelona substitution. Luis Enrique finally turns to his bench and replaces Rafinha with Ivan Rakitic.
80' Beñat fouls Messi and he is very lucky to escape a second booking.
GOAL! Yes, he has. We knew he had it in his locker and he scores again, possibly breaking Athletic Bilbao hearts in the process.
77' Beñat takes Suarez down. The midfielder will feel unlucky to have given away a free there. Dangerous position too. Has Messi put on his free-kick scoring boots at half-time.
75' Neymar having a really good battle out on the left hand side with whoever is willing to take him on.
73' Elustondo booked for a heavy-ish challenge on Neymar.
71' Iñaki Williams is blindsided by Gerard Pique and he takes a heavy, and not intentional, knock to the head.
70' Ball goes out of play and Gorka is taking his time over it. Neymar takes matters into his own hands and grabs the ball and places it down for him to kick out.
68' Suarez finds himself in space but his shot is always drifting wide. He knows he should have done better there.
68' Iniesta links up with Messi but they can't make it count as Athletic Bilbao clear yet again.
65' This game has turned into a proper ding-don battle. Barcelona's turn to attack before and now Athletic Club seem to have the bit between their teeth. Can they make it count though?!
63' Neymar testing Gorka this time. He swings one, at speed, at the Athletic Bilbao goalkeeper but it's straight down his throat and he saves well.
62' Alba with a decent effort but Luis Suarez wanted to get in on the act and seems to have distracted his teammate. His shot lands safely in Gorka's gloves.
61' Elustondo slows Neymar down with a foul. No huge need for the Brazilian to stop but he decided to anyway. Free kick comes to nothing.
59' Messi dribbles and squares but Suarez can't get on the end of it. So, so close to being 2-2 on the night.
59' Neymar tries to slalom his way into the penalty area but this time Boveda expertly nicks it off the top of his toe.
55' Barcelona living on the edge now. A ball across the box is half-cleared by Umtiti and some hairy moments there for the home side.
Just a PSA that this will go to extra-time if it remains with this scoreline. Athletic Club's 2-1 victory mirroring Barça's current lead.
GOAL! What a reply from Athletic Bilbao. Saborit headers down and beyond Cillessen to bring the visitors right back into this game.
GOAL! Neymar slots home the penalty.
47' That didn't take long. Neymar hauled down, clumsily, in the penalty area by Boveda and the referee doesn't even need to think twice what his decision is.
46' Let's go! Hopefully, more of the same in the second half. One changes as Aduriz does in fact come on for Athletic Club. He replaces Merino.
---
Barcelona 1-0 Athletic Bilbao: First half report
It was a continuation of the last days with just a little less quality from Athletic Club in the first half. There is plenty of intensity, fouling, scuppering Barcelona and niggly fouls from the hosts too but it is Luis Suarez who broke the deadlock inb 36 minutes after a nuber of close calls. Athletic Club need to score now and Barcelona are doing a good job of playing keep ball so it will be up to the visitors to take the game to Barça with the possibility of seeing Aritz Aduriz for the second half. Still all to play for but this is Luis Enrique's charges' game to lose.
---
Barcelona 1-0 Athletic: First half
46' And that's all she wrote for this first half. Aduriz was threating to come on just before the referee blew the HT whistle. Will we be seeing Athletic Club's talisman for the second 45.
44' Alba makes some good progress down the left and clips a cross into the dangerzone. Laporte clears for a corner. Good work by Barcelona.
42' Same again from the free-kick. He has not calibrated his range-finder as he fired over again.
Another yellow. This time it is for Laporte who was up on Messi's back. Could have very easily been a red there as it appeared to be a last-man tackle.
38' It is Barcelona now who are taking the sting out of this game. The goal was coming but Athletic Bilbao will have wanted to get to half-time unscathed. Both side's gameplans now changed.
GOAL! Barcelona finally get their goal and it is Luis Suarez. Messi, Neymar and Suarez all involved as the Uruguayan hits a belter that Gorka could do nothing about.
33' Gil Manzano getting plenty of use out the new whistle he got for Chrismtas. He'll need a new one shortly if he keeps using it at this rate.
32' Resulting free-kick is too high and doesn't even trouble Gorka.
32' Neymar taken down just outside the box. Elustondo the man who fouled the Brazilian. It didn't take him long to get into the swing of things.
30' Umtiti with a yellow card now for a foul on Balenziaga. The crowd don't seem too happy but the man with the whistle is unmoved. Yellow card shown as the French defender jogs back into position.
Athletic Club substitution - Elustondo comes on in place of Etxeita as he looked to have injured himself before the Neymar tackle.
28' Neymar is haled down by Etxeita and he recieves a yellow card. He certainly did catch him late as Neymar swept past the defender.
27' Gorka gets a dressing down by the referee for what he sees as time-wasting. He is trying to take the sting out of Barcelona's attack.
26' We have a goal. But the referee rules it out for offside. Suarez was not offside when he received the bass from Neymar but he was offside in the build-up.
25' Athletic Club very busy up front making sure that Barcelona can't make it out of defense with too much ease. How long can they keep up this work rate though.
23' Alba swings a cross in but Gorka collects it despite the fact that it took a deflection.
22' Neymar appears to have been clipped by Boveda, and he seems to certainly think so - as do the home crowd. No free, however, as he mouths something at the referee.
21' Suarez gets himself all tangled up with Laporte and the referee gives Athletic Club a free out.
20' Alba tries to send a cross into the box but it is blocked by an Athletic player.
16' Messi looked to have been fouled again by San Jose but the referee waves it away. BArcelona fans, again, on their feet!
6' Suarez just about a half a yard offside. This game is wide open with Athletic Bilbao playing a dangerously high line. Barcelona, as they are wont to do, are doing the same.

4' Neymar is in over the top and he tries to square it to Luis Suarez. Athletic Bilbao make it back and clear their lines.

2' Messi hauled down and that has really irked the BArcelona crowd. He migfht have been away there but Bñat pulls him down.

1' We are underway at the Camp Nou.
---
Barcelona - Athletic Bilbao: Match build-up

Rakitic and Laporte having a good laugh together in the tunnel. Both players linked with Manchester City recently.

Just five minutes away from the start now. Athletic Bilbao making their way out at the Camp Nou as they hold their very last tactical session.

Both Barcelona and Athletic Bilbao showed support for Yeray after he was diagnosed with testicular cancer and operated on.

We also can't forget Aduriz' elbow to the throat of Umtiti. This is what started most of the trouble.

And you can also check the Neymar penalty that infuriated not just Piqué but everyone on the Barcelona team. Even Iniesta, the mild-mannered man from Albacete, got into the referee's face.
Here is all the action from the last day out. There was plenty!

In case you missed this one, a Lionel Messi statue was decapitated in Argentina.

We are just over a half an hour away from kick-off. Remember the blad blood from the first leg? Gerard Piqué has had a complaint made about him by LaLiga referee's. Neymar was denied a clear penalty and Piqué said after the game that "we already know how this works" in relation to the way Barcelona are treated by referees.

The team news is in. Luis Enrique does not opt for Andre Gomes or Ivan Rakitic and goes with Rafinha instead. Athletic Bilbao are forced into making some changes too with Iturraspe and Raul Garcia out due to suspension - both players were sent off in the first leg.

Welcome to our live coverage of Barcelona and Athletic Bilbao as Luis Enrique's men look to overturn a 2-1 deficit from thew first leg. We were spoiled with plenty of action in that first game - here's hoping it's the same again tonight!
---
Barcelona v Athletic: match preview
It's somewhat a shame that at this stage of the 2016/17 Copa del Rey we have to lose one of the competing sides in tonight's game who are both synonymous with the Spanish Cup. A 2-1 lead secured at San Mames last Thursday, gives Ernesto Valverde's side a slight advantage coming into the fixture tonight at Camp Nou.
The San Mames game sadly won't be remembered for a fine first half display from the home side but for the post match fall-out as the Catalan side felt they were hard-done by with various match officiating decisions during the discourse of the 90 minutes with central defender Pique claiming in his post match interview with TVE "We know how this works"
Los Leones will look to emulate the heroics of the Spanish Super Cup game at Camp Nou in the Summer of 2015 when a 1-1 draw (following a 4-0 win for Athletic at San Mames) saw the Basque side lift their first silverware since 1984. A similar scoreline this evening would see problems mount for the Catalan side with Luis Enriques' men currently third in LaLiga.
Barcelona
It's anticipated that Croatian midfielder Ivan Rakitic will return to the Barcelona starting eleven after being left out of Sunday's game at the newly named Estadio de la Ceramica in Villarreal where a sublime last minute free-kick by Lionel Messi salvaged a point for the current league champions.
Jordi Alba too is set for a return at left back and once again the home crowd will look to the attacking fire-power of the MSN that has stuttered somewhat this season to secure the goals that see the Catalan side in Friday's draw for the last 8 which will be held at the Spanish FA at mid-day.
Athletic Club
How much will athletic miss Raul Garcia this evening? The veteran midfielder received his marching orders in the final stages of the first leg and the lack of presence from Athletic's top scorer in the cup this season (3 goals) could be key at Camp Nou this evening.
Iñaki Williams is a late doubt with the young striker picking up a bug which provoked a feverish condition. Valverde will leave it late before deciding if the 22 year old is apt to play.
Barcelona vs Athletic Club: possible line-ups
FC Barcelona:
Ter Stegen, Alba, Mascherano, Pique, Sergi Roberto, Iniesta, Rakitic, Busquets, Messi, Neymar, Suarez.
Athletic:
Gorka, Boveda, Laporte, Etxeita, Balenziaga, Beñat, Eraso, San Jose, Williams, Saborit, Aduriz.
---
Barcelona vs Athletic: live build-up