Barcelona-Las Palmas LaLiga 2017: report, reaction, goals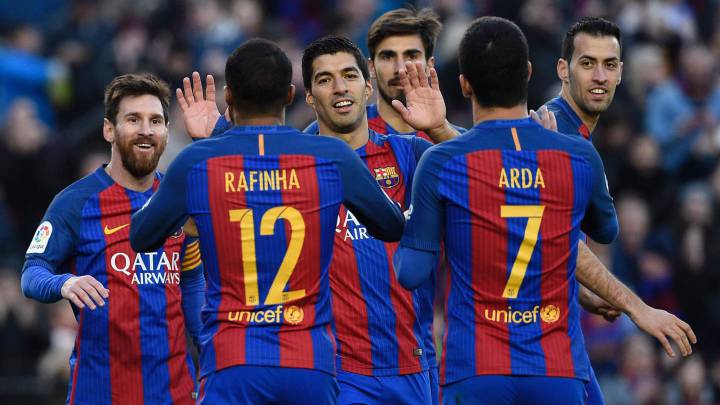 Barcelona eased to a 5-0 win over Las Palmas on Saturday afternoon to move into second place and close the gap on Real Madrid at the top of La Liga to two points ahead of the match between the leaders and Sevilla at the Sánchez Pizjuán.
Las Palmas were never really at the races in Camp Nou and only managed a single shot on target – a weak effort from Kevin-Prince Boateng – while also failing to prevent Barcelona from enjoying the lion's share of the ball.
Goals from Luis Suárez (2), Leo Messi, Arda Turan and Aleix Vidal wrapped up a straightforward victory for Luis Enrique's side, which was without Gerard Piqué, Andrés Iniesta and Neymar as the Barça boss juggled his squad to avoid burn-out during a gruelling set of January fixtures.
---
Las Palmas host Barcelona on 14 May as LaLiga reaches its climax. Here's how to watch it or follow it online.
---
Barcelona 5-0 Las Palmas: as it happened
Min 90+1 | And that's it! Barcelona run out comfortable winners in Camp Nou and close the gap on Madrid to two points pending the outcome of the match at the Sánchez Pizjuán tomorrow night.

Min 89 | But it's poor and Vidal was fouled during the delivery anyway. Rather sums up Las Palmas' performance this afternoon.

Min 88 | Quique Setién is cutting a disconsolate figure in his seat. He's given up on the technical area now but his side have a corner...

Min 85 | Las Palmas have a free kick in a dangerous area on the right but it's not a threatening delivery and Barça clear with ease. Las Palmas really haven't looked like scoring this afternoon and Ter Stegen won't have many quieter games in La Liga this season.

Min 83 | This game is over as a contest now and all that remains to be seen is whether Las Palmas can do our Quinigol a favour and get a consolation...

Min 81 | Alcácer fancies getting his name on the score sheet as well but he's put under just enough pressure when shaping to shoot to fire wide. The former Valencia man has yet to open his account in La Liga for Barcelona.

Min 79 | Goooooooooal! Aleix Vidal gets in on the action after a wonderful move from Barça. Alcácer with the assist. It was beautifully struck by the right back and his teammates are as overjoyed as he is.

Min 77 | Rakitic hits it but it's straight into the wall. Messi looked like a better option from that range and position.

Min 76 | The handbags are out now and so is a yellow card as Messi is scythed down on the edge of the area.

Min 74 | KPG fires off what we believe to be the first Las Palmas shot on goal this afternoon. It doesn't bother Ter Stegen unduly though.

Min 72 | Buquets trots off now to make way for Jeremy Mathieu. El Zhar off for Las Palmas and on is Livaja, who bagged a brace in the Calderón in the Copa this week.

Min 71 | Great covering tackle from Lemos to thwart Alcácer, who would have been one-on-one with Varas if the Uruguayan hadn't intervened. You feel there are a couple of goals left in this game.

Min 69 | Las Palmas try to build up a move and ping it about nicely enough but KPB is offisde when the final ball comes along. Fortunately for Las Palmas, so is Arda at the other end when he was clean through on goal.

Min 67 | Mateo García gets on the end of Viera's through ball but snatches at the shot and it's high and not very handsome. Luis Suárez is off now with the Copa in mind and Paco Alcácer is on.

Min 65 | Great save Varas! It looked like a Barça corner was going to sneak in at the near post there but the keeper read it well.

Min 63 | Alba and Messi combine gloriously for the Spain defender to get a volley in but it wouldn't have counted as the flag was up yet again.

Min 61 | Mateo García is on for Las Palmas, while Ivan Rakitic comes on for André Gomes to an ovation from the home support.

Min 60 | Barça have absolutely blasted Las Palmas off the pitch in eight minutes to all-but ensure the three points. A spectacular attackig display from the home side.

Min 58 | Gooooooooooal! Arda makes it four! The Turkey international turns in the rebound from Suárez's shot to put the game well and truly beyond Las Palmas.

Min 55 | Gooooooooal! Luis Suárez, take a bow! The Uruguayan takes a touch and hammers a low shot past Varas to make it 3-0. Rafinha, who has been quietly excellent this afternoon, with the assist.

Min 53 | KPB, you saucy chap! The Las Palmas forward goes in the book for a blatant handball trying to guide a cross in. The hand of god it was not.

Min 51 | Goooooooooal! Messi finally gets his reward with a tap-in after Varas parries Rafinha's cross. It wasn't the prettiest he's ever scored but well deserved and the Argentinean completes his set: he has now scored against every side currently gracing the Spanish top flight.

Min 50 | Messi springs the offside trap but blasts wide from an acute angle. The visitors aren't terribly happy as they had a player down there but Barça carried on.

Min 49 | Something like that... Las Palmas get forward down the left and a cross is pinged towards KPB, whose header is high.

Min 47 | Las Palmas are defending with everybody behind the ball whenever Barça get forward, which is often. If they are to equalise it will be on a break from practically their own penalty area.

Min 46 | KPB tries an acrobatic attempt after teeing himself up but fires his overhead well wide. He scored a beauty with a similar attempt earlier in the season.

Min 46 | No further changes from either side. Las Palmas have already used one substitute, Ayhtami coming on in the first half for the injured David García.
---
Barcelona 1-0 Las Palmas: half time
Las Palmas are going to have to try something different in the second half as the current game plan of trying to pass it out from the back is not bearing much fruit. Two shots from the visitors so far, neither of them anywhere near the target, and 64 percent possession for the home side, who have had five on target and would have had plenty more if they had stayed onside a little more often.
---
Barcelona 1-0 Las Palmas: first half
Min 45+1 | And that's the half! Barcelona 1 - Las Palmas 0.

Min 44 | Varas! Give the man the freedom of Gran Canaria... Messi wriggled through a challenge and was one-on-one with the Las Palmas keeper, who makes a glorious save to deny the Argentinean. You would not have got long odds on Messi not bagging from there.

Min 43 | Las Palmas attempt a counter but Barça recover their positions and the ball.

Min 42 | Varas! What a save from the Las Palmas keeper, who claws Messi's free-kick away high and to his left.

Min 40 | Messi is flattened in good range and Helder Lopes goes in the book for his troubles.

Min 39 | Suárez is through again from Messi's dink over the defence but the Uruguayan is narrowly called offside.

Min 37 | Las Palmas carve out a rare chance but Viera snaps at the shot from distance and hammers it well over the bar. The visitors don't look like getting too many sights of goal so far and they'll need to be a little more poised when they do.

Min 35 | Messi receives the ball and is immediately closed down by five yellow shirts. He still gets a pass away but Vidal had strayed offside.

Min 32 | Messi! The Argentinean harangues the ball from Varas' grasp then bewitches three defenders and fires a low cross-shot across the face of goal. The Barça number 10 is simply scandalous this afternoon.

Min 31 | Ufffff! Busquets plays in Gomés and the Portuguese thwacks a snap shot just high and wide. It would have been a highlights dvd job for Gomés had it gone in and he knows it, going in the book immediately for a needless challenge.

Min 30 | David García is off temporarily with what looks like a knock. Las Palmas down to 10 while the magic sponge men do their stuff on the midfielder.

Min 28 | Mascherano goes in the book for a wild lunge on Viera and will be suspended for next week's match against Eibar. The Argentinean didn't even bother to protest about that one, and neither did any of his teammates.

Min 27 | Barça go back to their methodical build-up play as Las Palmas chase shadows in midfield.

Min 25 | Rafinha goes in the book for bringing down Jonathan Viera to prevent a Las Palmas break.

Min 23 | Close! Vicente Gomez loses the ball in midfield and Arda drives forward, feeding Suárez, who squares for André Gomes. Javi Varas is equal to it though and makes a fine save to deny the Portugal international.

Min 20 | Messi's latest run, which tees up Rafinha for a pop but the midfielder's shot is dragged wide, is another work of art as he drifts across the Las Palmas area. El Zhar chases down a long ball at the other end but Ter Stegen comes out to claim without any fuss.

Min 19 | Lovely stuff from Messi, who picks a sublime pass after losing three defenders but Jordi Alba was offside.

Min 17 | Not only are Las Palmas struggling to bring the ball out of their own half but Barça are lurking at every turn to nick the ball back. The visitors do manage to get a corss in but it's too high for KPB and he can only get a flying foot on it to guide it harmlessly behind.

Min 15 | Las Palmas down a goal before the 15-minute mark and the visitors are up against it now. Suárez almost bags a second after a fluid move from Barça that made a mockery of the close attention of at least six yellow shirts.

Min 13 | Goooooooooal! Suárez breaks the deadlock with a low right-footed drive from André Gomes' cross. That was the first decent chance of the game and it hits the back of the net.

Min 10 | Barça are building up each move patiently, Las Palmas are hapy enough for now to hoof it clear and then back it comes... the visitors will have to get their foot on the ball more often to trouble Barça this afternoon.

Min 8 | Las Palmas have a promising opening but a poor touch brings the move to a disappointing end. The visitors could have been through there.

Min 6 | Barcelona are in no hurry to get the ball forward as Mascherano and Umtiti do a Chuckle Brothers impression at the back.

Min 4 | Barça tiki-taka it about a bit but the final ball through the visiting defence finds Vidal offside.

Min 3 | Messi takes but it's high over the bar. The Argentinean's radar was off there but Las Palmas won't want to give him too many chances from that sort of range.

Min 2 | That's an early blow for Las Palmas... Mesa goes in the book for a rugby tackle on Suárez, who was bearing down on Varas.

Min 1 | And we're off! Luis Suárez gets the ball rolling in Camp Nou.

---
Barcelona - Las Palmas: build-up
16:13 | Clap, clap, clap! The Barça anthem sounds around the Camp Nou as the handshakes take place.

16:10 | You can get odds of 23/1 on a Las Palmas win today... those seems slightly long for a side in as decent shape as Setién's. They haven't had the rub of the green in many matches away from home this season but they are qiute capable of a shock result today.

16:05 | We're about to get underway in Camp Nou.

16:00 | Just 15 minutes to go now...

15:50 | What odds on a Barça goal from the penalty spot this afternoon? Poor old Javi Varas has faced seven already this season and is the division's most-breached keeper from 12 yards.

15:45 | The teams are out on the Camp Nou baize now, going through their paces. The home side will be eager to put the pressure on Real Madrid with a win today to cut the gap to two points before Zinedine Zidane's side travel to the Sánchez Pizjuán on Sunday.

15:35 | The much-mocked and thoroughly under-appreciated Oracle is off to a winning start for the week after the early kick-off. He has not exactly gone out on a limb for this one, predicting a home win.

15:30 | So, Luis Enrique has opted for a slightly weakened side for today's game, with Aleix Vidal also a surprise inclusion. Can Quique Setién take advantage? It's a pretty attacking line-up from the Las Palmas boss, who does not compromise his style against any opposition, and the key battle today will be between midfielders Sergio Busquets and Roque Mesa, who has completed more passes this season than any player in the league.

15:20 | The big news from the Barça camp is that Neymar has been left on the bench for today's game, with Arda coming in to form the TMS (one for cricket fans there). The wily Turk has been in excellent form of late and deserves a start. Andrés Iniesta also starts from the bench today, alongside Ivan Rakitic, whose situation at the club is far from clear...
---
Barcelona - Las Palmas: team news
15:15 | The official teams have been announced!
Barcelona XI:
Ter Stegen, Aleix, Mascherano, Umtiti, Alba, Rafinha, Busquets, Gomes, Messi, Suárez and Arda.
Bench: Cillessen, Rakitic, Iniesta, Neymar, Paco Alcácer, Digne and Mathieu.
Las Palmas XI:
Varas; Michel, Lemos, D.García, Hélder; Roque Mesa, Vicente; Viera, Tana, El Zhar and Boateng
Bench: Raúl Lizoain, David Simón, Montoro, Livaja, Momo, Aythami and Mateo.
---
Barcelona - Las Palmas: latest news
14: 50 | Las Palmas have a bit of an unwanted record hanging over them at Camp Nou today: Quique Setién's side have not won a game away from home since the opening day of the season against Valencia.

14:30 | Las Palmas are the only current Primera División side that Leo Messi has not scored against... Will the Argentinean complete the set today?

14:15 | However, in their last season in Primera in 2001-02 before a spell in the lower divisions, Las Palmas took a point of Barcelona home and away, although that wasn't enough to avoid the drop that year.

14:00 | Both fixtures between the sides last season ended 2-1 to Barcelona and that is the likeliest score today according to the pre-match prognostics in Spain.

13:40 | The AS Oracle has wisely held off booking a flight to the Bahamas for next week. If you want a glimpse into the future to see how this weekend's Liga games are unlikely to finish then this is for you.
13:05 | Being the kind fellows we are, here is a guide to how and where you can see the game...although we know you'd much rather read Rob's chat here.
12:20 | Although there has been some negativity aorund the Catalan club, the Copa del Rey comeback midweek - with a goal a-piece from the Messi, Suárez and Neymar - was a positive sign.
11:30 | So, if you're heading down to the Camp Nou you'll want to know what the outlook is. We can tell you that it's going to be a pleasant 10 degrees and sunny. Shades required.
10:45 | The big news to get us going today are the absences from the home side squad of Gerard Piqué and Sergio Roberto. This could see Luis Enrique start with a back three.
---
Barcelona - Las Palmas: match preview
Barça come into this game knowing that there is no margin of error, already five points off league leaders Real Madrid after having played a game more. Messi has, as is often the case, been the main man for Luis Enrique recently but Las Palmas are the one team that he's not been able to score against.
Barcelona
It's certainly been an interesting week for the Catalan giants with much of the headlines being written about their iconic defender Gerard Piqué and his comments about refereeing decisions. Then yesterday, Barça sacked a La Masia executive for disparaging Messi remarks he made. Club and fans alike will be hoping that a good win today can get the narrative, and title challenge, back on track following a 1-1 draw with Villarreal in their last league game. With the two teams ahead of them in the league, Sevilla and Real Madrid, playing off tomorrow at the Ramón Sánchez Pizjuán Stadium, Barcelona will make ground up on one or both of them with three points today.
Las Palmas
Los Amarillos always have a plan and on a pitch with the dimensions of the Camp Nou - and against an opponent who wants to keep the ball, the idea is simple. Steal back possession at every opportunity and when they have it, keep it for as long as possible in an attempt to control significant periods of the game. Of course, this is easier said than done when the Blaugrana are in full flow but, as has been seen this campaign, this is not always the case.
The team from Gran Canaria currently sit a respectable eighth in the league and with the likes of Boateng - who has already played here with Milan - and Viera, they have some very capable players, who will be looking to shine on the big stage.
---
Barcelona - Las Palmas: possible line-ups
Barça XI: Ter Stegen, Umtiti, Mascherano, Mathieu, Alba, Rakatic, Busquets, iniesta, Messi, Neymar, Suárez
Las Palmas: Javi Varas, Lopes, Aythami, Lemos, Michel, Mesa, Boeteng, El Zhar, Gómez, Viera, Livaja
---
Barcelona - Las Palmas: live build-up