"Ramos is an example; the most emblematic Spanish player"
The Real coach asked for respect towards his club captain: "Sevilla have requested the same: maximum respect for Ramos and everyone else. People just want to see football".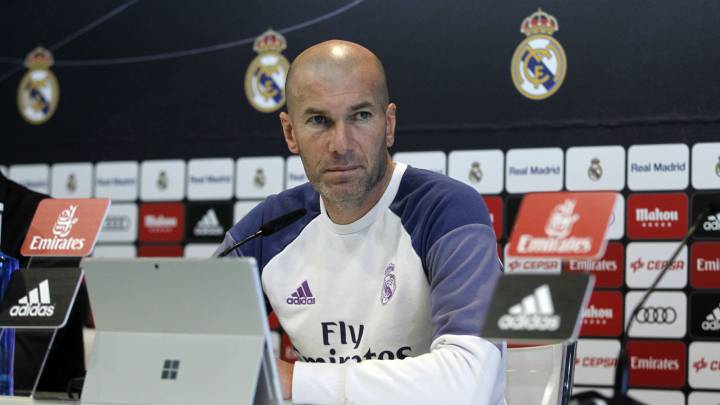 Zinedine Zidane spoke at a press conference ahead of Real Madrid's upcoming game in the Sánchez Pizjuán against Sevilla (Sunday 20:45, CET), just three days after Thursday's hot-blooded tie in Copa del Rey tie in Seville, which was marked by Sergio Ramos's gestures towards the Sevilla fans after scoring a penalty to make it 3-2.
The return with Ramos the focus
The game at the Pizjuán: "There's no doubt it will be a tough game, similar to the one the other day. It's a high-pressure atmosphere and for sure the game won't be easy, perhaps even more difficult than the game in midweek".
What did you feel when you heard "Ramos, die"? "Above all else, Ramos is our captain and an example for everyone, not just in the dressing room. Without doubt he's the most emblematic Spanish player. I'm not going to speak about it that much today because it's in the past. Sevilla have requested the same as us: maximum respect towards the players. People just want to see football, and the matter is over. Sevilla think the same - to play a great game of football; that's what we all want to see".
No easy game and the league title at stake
Are Sevilla the rivals that worry you most in LaLiga? "Tomorrow's game worries me. I'm only concentrating on the game".
Would a win clinch the league? "I don't think winning this game means winning the league. It'll be tricky and won't be definitive, whatever happens".
Ronaldo's return
Cristiano Ronaldo: "He'll be back in the team and is in good shape. In fact he's in really good shape. He's worked hard this week because he was rested in Thursday".