Dortmund agree to open talks with Madrid over Aubameyang
Watzke, Borussia Dortmund's general manager, told Bild: "Everyone has their price. If a good offer comes in for him, we'll negotiate and discuss it..."Borussia Dortmund vs Bayern Munich live online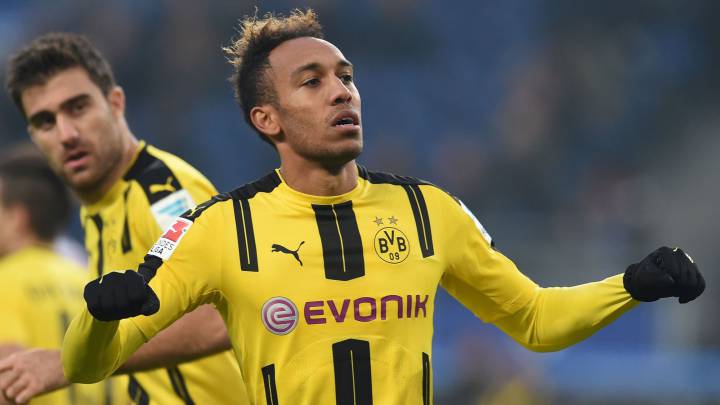 "Everyone has their price"
Borussia Dortmund have agreed to negotiate with Real Madrid over a potential deal to bring Pierre-Emerick Aubameyang to the Spanish capital. Dortmund's general manager, Hans-Joachim Watzke, told Bild: "I don't think there are many clubs Aubameyang wants to join. There has been a lot of talk of a move over the past two or three years but he's still at Dortmund. Everyone has their price in football, no matter who were are talking about. But we're not even thinking about a transfer. If a good offer comes in for him, we'll sit down and discuss it, but that doesn't mean he'll definitely be going. Auba still has a long-term contract".
Zidane's doubts
The 27-year-old striker is under contract with the German club until 2020 but has never hidden his desire to wear the Real Madrid jersey one day. Los Blancos have had the Gabonese forward on their radar for some time, although, as also published in Bild, Zinedine Zidane is not convinced he fits the bill for his current squad. The French coach doesn't want any transfers until the summer and has faith in his current striking trio of Benzema, Morata and Mariano.
Alternatives for Aubameyang

Aubameyang has already received offers to leave the Bundesliga. The Chinese Super League is trying to seduce him by potentially making him the best paid footballer in the world with 41 million euros per year. But Sport Bild is clear that the Asian option is not one that has yet entered his plans.
If faced with a Real Madrid refusal, French champions PSG seem to be best positioned for his signature with Manchester City another interested, and financially viable, option.