English press: Bravo the worst keeper in the Premier League
The media are pointing fingers towards Manchester and many of them are in the direction of Claudio Bravo after his nightmare against Everton conceding four goals on six shots.
Claudio Bravo endured a horrid time on Sunday afternoon when he let in four goals from six shots on target and the English media are pointing fingers. Not only are they pointing them at Bravo, but at Pep too, for sending "fan favourite" Joe Hart to Torino while splashing close to €20 million on a keeper who has the worst stats in the Premier League.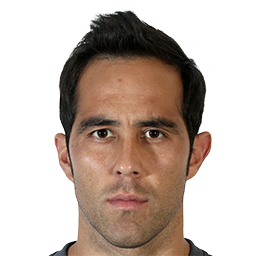 "The worst goalkeeper in the league"
The Mirror say that the Chilean "looks vulnerable in every game" and show the "horrific statistics" to back up their claim that he is the worst keeper in the entire league. They also insist that Pep must be aware that signing Bravo was not his best decision.
Manchester Evening News are in the same boat as the Mirror as they hammer Pep for the reasons behind signing Bravo. "The use of Bravo's feet" and  while they say that he is capable of playing like Pep wants him to, until he starts producing the kind of saves that Hart did in the Manchester City, the criticism will remain.
Stats
The stats they are referring to might include Bravo's save percentage. Of goalkeepers who have played 15 games or more this season, Bravo is ranked 20th with a 57.4% save percentage. Brave has conceded 14 of the last 22 shots he has faced and this stat is another one that Bravo leads the league in. The next player behind him is Artur Boruc, who has conceded 11 in his last 22 shots faced.