NAPOLI
Maradona puts Higuaín behind Messi and Dybala on Napoli visit
The Argentine spoke about his compatriots when in Italy recently and was not slow at having a go at the man who left his old club Napoli for Seria A giants, Juventus, last summer.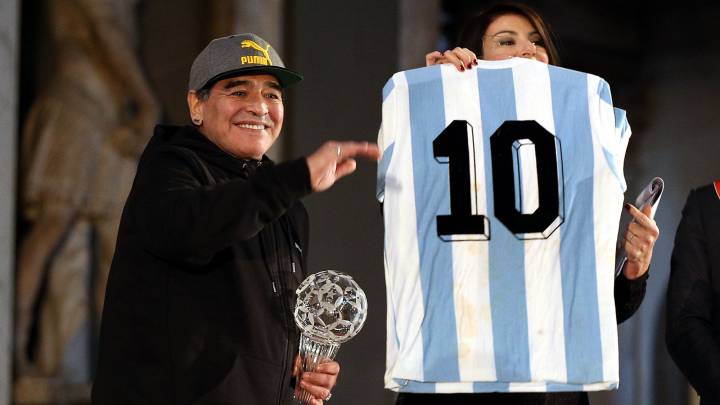 The Argentine legend, Diego Maradona, doesn't seem to stop these days. After his performance of Three times 10 - a one-night show - at the Teatro Napoles di San Carlo yesterday evening, this morning he was in Florence at an Italian Football Federation Hall of Fame event. And, the man famous for his Hand of God, as well as being one of the best ever to put on a pair of boots, is never shy at getting his point across to the waiting media.
Maradona making up with Napoli
Speaking about his old club Napoli, the 56-year-old opened up that some bridges were being built between them after previously being critical of the manager, Maurizio Sarri at the start of last season and would be attending the upcoming Champions League game against Real Madrid thanks to the club president:
"Yesterday I spoke with [Aurelio] De Laurentiis and he invited me to watch it [the game]. We will see what can be done and if I can collaborate with the club. I like Sarri, it was my mistake to criticise him at the start."
Higuaín just a goal-scorer
El Pelusa, as he's known, also went on to talk about some of the current crop of Argentina's stars:
"Messi, Dybala and Higuaín are three great players. Messi is the best, with the ball at his feet he's untouchable. Dybala will develop, while Higuain will continue to only score goals, he is in a different category. I'm not overly impressed by his ball control."