Real Madrid - Celta Vigo: Copa del Rey 2017 report, goals, action
Real Madrid - Celta Vigo live online commentary minute by minute, quarter final first leg, Spanish Copa del Rey, today, Wednesday 18 January from the Santiago Bernabéu, 21:15 CET on AS English.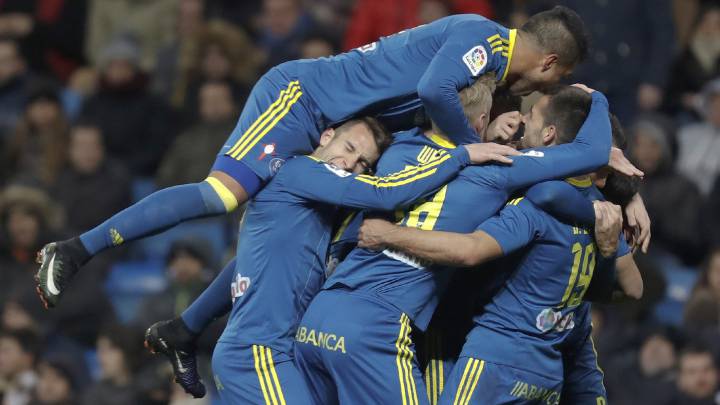 Real Madrid 1-2 Celta Vigo: Full-time
Real Madrid were beaten for the second time in as many games as they lost to a very slic, composed and well-drilled Celta Vigo side at the Bernabeu on Wednesday night. The first half passed without incident but Celta Vigo did look lively on the break. After the break it was all Madrid and it seemed as though the visitors from Vigo had lost their way. That was until Theo Bongonda broke and swung a cross in that landed at the feet of Iago Aspas, who buried it beyond Casillas in Real Madrid's net. Marcelo responded within minutes with a volley that took a nick of Roncaglia on its way towards Sergio's goals. We barely had time to count how it affected the away goals when Celta Vigo were on the break again. This time the ball fell to Johny and he slotted beyond Casilla to give Celta a lead they would not relinquish. Real Madrid have not been beaten at the Bernabeu since February of 2016 when Atletico travelled across town and defeated them. The return trip with the LaLiga clash in the middle of it, this one is far from over.
Real Madrid 1-2 Celta Vigo: Second half
Min 90 + 3 | Celta corner now as time expires.
Min 90 | Morata lets his frustration be known as he clips Pablo Hernandez. Celta doing an excellent job of keeping the ball. Disregard my last comment about them looking nervy - they are in complete control of this one.
Celta Vigo substitution - Guidetti is coming on for Daniel Wass.
Celta Vigo substitution - Pione Sisto comes on in place of Theo Bongonda.
Min 86 | Real have improved and look slightly more dangerous but I'm not sure whether that is just the time on the clock or if they have improved. Celta getting a little more nervy now too.
Min 83 | What a miss! Morata does so well to get a header to a ball that looked like it was going out for a goalkick. It falls to Benzema but he blazes straight over the crossbar. Not too dissimilar to his chance against Sevilla.
Celta Vigo substitution - Sergi Gomez comes on for Iago Aspas.
Min 81 | From the ensuing corner, Varane gets a header to it but it goes just wide.
Min 80 | Marcelo with another long range shot that takes a deflection. Close call!
Real Madrid substitution - Zidane sacrifices Danilo for Benzema. The Real Madrid manager is going down swinging.
Min 78 | Casemiro with a pop. All too often tonight, Real Madrid have been reduced to long range shots. They will have to do better at breaking down an, admitedly, stingy Celta defense.
75 minute update - So, a relatively dull first 60 was just the warm-up act as we were treated to three goals in the space of six from the 64th to the 70th. Real Madrid have to make a decision now as to whether they want to try and draw this up or leave sleeping dogs lie. Celta are attacking with precision once again and could easily get another if the hosts are not careful.
Min 74 | Ramos catches Aspas with a hand as they compete in the air for the ball. Aspas was waiting for it but Ramos probably was a little aggressive in trying to win it. He's not happy about it though.
Min 73 | Ronaldo throws his leg over the ball, cuts inside and curls one straight into Sergio's breadbasket.
Real Madrid substitution - Zidane responds with a move. Kovacic comes on for Lucas Vazquez, who saw plenty of the ball but had a number of chances he might have done better with.
GOAL! Just moments later, Jony streaks up the field unmarked and is found with a through ball. He slots beyond Casilla like a seasoned striker.
GOAL! GOAL! GOAL! Marcelo responds with a volley that takes a deflection Roncaglia and beats Sergio. We are all square at the Bernabeu as Real Madrid level matters just five minutes after conceding.
Min 67 | Roncaglia takes Morata down on the right and Kroos' corss proves too long to cause any real damage.
Min 65 | Ronaldo looks for a free on the edge of the square but ref isn't budging. The ball eventually makes it way back into the box to a waiting Ronaldo but it bounces off his head and goes wide.
GOAL! Aspas with the goal. Bongonda with a lethal counter-attack before a cross to Wass. It doesn0t reach the target but it lands to the man of the moment in Iago Aspas and he makes no bones about it as he buries it in the back of the net.
Min 61 | The game is opening up now but out of what looks like pure tiredness. Ronaldo breaks, gets it to Morata on the right but the young striker's cross is blocked.
60 minute update - Poor start to the second half that sees Real Madrid very much on top. Celta Vigo have had a few chances to break but are not moving with the fluidity or incision they did in the first half. Real have failed to punish them on the couple of occasions where they have been given chances in behind.
Min 59 | Vazquez with another effort from range but this one flies over the bar too.
Min 58 | The substitue, Morata, is put through by Kroos and he blazes over . Lookin for a corner but he's not getting it.
Min 57 | A Toni Kroos cross-field pass is far too ambitious and it ends up out for a throw almost before it bounces onthe field.
Min 55 | Vazquez with a teasing cross that is headed away by Roncaglia. The ensuing corner is cleared by Wass.
Min 53 | A very laborious start from both sides here to the second half.
Real Madrid substitution - Morata coming in form Asensio as he fails to recover from that knock.
Min 51 | Asensio comes back on but is holding his arm in an awkward fashion.
Min 50 | Ronaldo has a snapshot but it rolls safely into Sergio's gloves.
Min 47 | Roncaglia in a footracr with Asensio and as the latter loses his balance, the former seems to catch him with a boot on the top of the head - it did look like an accident as it is no free. He is down and holding his wrist but he is okay.
Min 46 | Back underway at the Bernabeu with no changes for either side.
---
Real Madrid 0-0 Celta Vigo: First half summary
Celta Vigo have looked dangerous on the break while Real Madrid look to break down the visitors with more sustained pressure, as you might expect. Real have had four shots at goal to Celta's three and los Blancos are currently enjoying a cool 61% of the possession. Aside from a penalty shout from Ronaldo and a half decent effort from Lucas Vazquez, Real have been quite tame in front of goal while the same can be said for Calte Vigo up the other end despite looking lively in the build-up on the counter.
---
Real Madrid 0-0 Celta Vigo: First half
HT: And they have it. First 45 under the belt now.
Min 45 | Pablo Hernandez booked as he chops Ramos down as he is on his way out of defense with the ball. Both teams seem to be begging for the half-time whistle now.
Min 43 | Varane very lucky not to get the same shiny yellow that Marcelo Diaz was just shown as he impedes Aspas on the break. Despite Aspas' protestations, Varane remains card-free.
Min 42 | Marcelo Diaz takes Kroos down and gets a shiny yellow card for his efforts.
Min 40 | Casemiro, who is putting in another towering performance - the kind we have come to expect from him - has a shot from distance and you can tell by the look on his face just how close that was.
Min 40 | Ronaldo with a penalty shout, and it looks to be a real one. He was half-grabbed by Roncaglia as he passed him but the ball wasn't really in the vicinity. That might have bought the defender some leeway.
Min 39 | Another counter-attack comes to nothing as Wass' effort hit a Real Madrid defender and bounces up into Casilla's gloves. They won't be too disheartened, however, because at least they are getting the chances.
Min 36 | Modric finds Ronaldo at the back post but he was offisde by a yard and a half.
Min 34 | Ramos, way up the field again, chips a cross towards Ronaldo but he is in an awkward position and can't get enough purchase on the half-volley.
Min 34 | Lucas Vazquez wiggles his way into a shooting position but Cabral does well to block his effort as he was closing him down.
Min 32 | After Aspas is fouled a country mile from the goal, Wass has a shot that Casilla can only punch away. There was venom on that one and Casilla knew it.
Min 31 | Some neat keep-ball on the edge of Celta's penalty area results in a Toni Kroos bending effort by Sergio read it by the way he lined it up and makes it to the ball before it reaches it's target.
30 minute update - Still not really much to report. The song remains the same as Real Madrid continue to push forward as Celta Vigo are searching for that one counter-attack. The speed and mobility of Vazquez and Asensio proving troublesome for Celta's back four and that is worth keeping an eye on.
Min 30 | Celta Vigo break and Real are short at the back again. the result is a failed shot by Bongonda before Marcelo Diaz tries his luck but Casilla cradles it in his arms.
Min 29 | Lucas Vazquez lets a cross into Ronaldo but Cabral reaches it before the Ballon d'Or winner.
28 | Hugo Mallo fouls Marco Asensio and the Real Madrid man looks to be in some discomfort. He jumps back up after some brief treatment, however, and gets back to business!
Min 25 | Asensio wins a corner off Roncaglia as Real Madrid try to put some sustained pressure on Celta. the result is a ball into the box that Ramos gets his head/shoulder to. Sergio again collects.
Min 23 | Casemiro looks for Marcelo with a pass but the left-back had given up on it before it left his teammate's foot as it trickles out for a throw to Celta. Marcelo points that it was his fault but there is no explanation as to why he stopped?
Min 21 | Varane looks for Ronaldo with a through ball but the French man overcooks it and Sergio is thankful for that.
Min 19 | Real Madrid win the ball back in the middle and Lucas Vazquez finds himself on it as he bears down on goal. He has a shot that forces Sergio to stretch way out to his right, and he proves that he is long enough to make the save.
15 minute update - Real Madrid have had the more sustained pressure with little by way of chances while Celta have broke now on a couple of occasions. This might be cause for concern for Zidane but as it stands, they haven't given any shots away from those breaks. It is a very open game woth Celta looking to use every inch of the Bernabeu turf. Hard to tell who looks more like winning at this stage but there should be goals and that's always a positive on this end!
Min 15 | Asensio was fouled by Roncaglia and Ronaldo chips the free towards Ramos at the back post but there's too much on it and Real's captain can't reach it.
Min 13 | Celta Vigo break and Real Madrid are left extremely short-handed at the back. Aspas has Wass in the middle but he skies a cross out for a throw-in. Not entirely sure what Aspas was trying there but it was feeble in the end.
Min 11 | Modric with a cheap foul on Radoja and the referee blows the whistle. The home crowd enjoyed that one!
Min 10 | Vazquez is sure he is impeded as he is bocy checked but referee says no...or as they say in Spain... no!
Min 9 | Bongonda takes a low shot but it's always dragging wide.
Min 8 | Wass swings one towards the danger zone but Casilla collects. Aspas lurking, as always.
Min 5 | Marcelo skips past Roncaglia but his cross is cleared by Cabral. Celta attack with Aspas all on his lonesome up front but Ramos fouls him, receives a booking and the away side have a free kick out on the right hand side.
Min 4 | Real Madrid really struggling to keep possession at the moment. Celta look right at home in Madrid as they throw the ball around, looking for a crack in Real's defence.
Min 3 | Lucas with the first shot on target. It pops up nicely into Sergio's hands though as Celta slow things right down.
Min 2 | Hugo Mallo decides to take up the attacking mantle but Casemiro puts paid to those plans with a well-times sliding tackle.
Min 2 | An early attack down the right by Bongonda is halted by a Danilo tackle.
Min 1 | Vamos! We have action at the Bernabeu.
---
Real Madrid - Celta Vigo: Team news
Real Madrid confirmed XI: Casilla, Ramos, Varane, Danilo, Marcelo, Kroos, Modric, Casemiro, Vazquez, Asensio, Ronaldo.
Celta Vigo XI: Sergio, Hugo Mallo, Cabral, Roncaglia, Jonny, Marcelo Diaz, Radoja, Pablo H, Wass, Bongonda, Aspas.
---
Real Madrid - Celta Vigo: Latest news
21:13 | Celta Vigo in their away strip, which, upon consulting the colour expert here at AS, I can inform you is cobalt blue.
21:12 | Just minutes away now as Real Madrid greet each other in tunnel wearing all white on the night.
21:06 | No Dani Carvajal tonight. It is now breaking that he will miss a month with a hamstring injury.
21:04 | Iago Aspas is Celta Vigo's top scorer this season. He has been on fire in the league and has one goal in one game in the Copa with an assist thrown into the mix for good measure. Can he make it two in two tonight at the Bernabeu?
20:59 | Not as baltic as we had expected but chilly nonetheless. The current temperature is 2 degrees here in Madrid. It is set to drop, but hopefully at that stage we will be well warmed up with the football on display!
20:48 | Keylor Navas, as we said earlier, has been slightly under-fire recently but Iker Casillas has leaped to his successor's defense.
20:43 | I'm sure I speak for everyone when I say that if we get 50% of the kind of football we witnessed furing Sevilla and Real Madrid's trilogy then we will all be happier!
20:39 | As a 27th birthday gift, Nacho Fernandez is given a start by Zinedine Zidane.
20:35 | With a relatively experimental front three, Zidane has opted for his very best midfield to make sure there is no shortage of supple or support if they find themselves in trouble up top.
20:31 | Part of me wonders whether surrounding Ronaldo with lightening quick youngsters is a way of hiding his own fading speed. He was found wanting a couple of times against Sevilla and maybe this will help him to re-find his very best form.
20:26 | Celta Vigo line up as expected. Quite a solid and balanced looking front three. Radoja, who has been in excellent form, in midfield and Jonny comes back in at left-back having not started Celta's victory over Alaves at the weekend.
20:19 | As we await Celta Vigo's news, we can have a look at how Zidane might try to line up. He has opted for Danilo at right back despite the defender scoring an own-goal in his last start against Sevilla. It also appears Cope were on the money when they mentioned a front three of Vazquez, Asensio and Ronaldo. Business as usual in the middle with Modric, Kroos and Casemiro acting as the link between defense and attack.
20:07 | Keylor Navas has been under fire recently and David de Gea, Thibaut Courtois and Gia Donnarumma have all been linked with a move to the Santiago Bernabeu.
19:37 | Just in case you were wondering where Fabián Orellana is tonight, he has been told by his manager that he will never play for Celta Vigo again. He scored against Real Madrid last time the two met.
19:31 | Some more Real Madrid news with Martin Odegaard's Norweigan coach saying he should not go back to Madrid.
19:27 | It's freezing in Madrid tonight but Toni Kroos was born and raised in the frozen thundra that is Griefswald in East Germany so the cold matter not to him. He is wearing a t-shirt in this chilly conditions.
19:00 | Real come into tonight's game unbeaten in five years at home in the Copa del Rey - and, of course, having just seen a 40-game undefeated run in all competitions end. Meanwhile, Celta are on a streak of their own, having won each of their last five matches.
18:30 | Real Madrid defender Nacho Fernández, who is in line for a place on the bench this evening after starting in Seville on Sunday, is 27 today.
17:25 | Remember that report earlier from COPE? Well, some conflicting stories coming to us that it'll be Morata with Cristiano up top. Maybe we should just wait for the teamsheets!
16:33 | Needing some extra cash after your festive splurge? Well, gambling is not the responsible way to do it. But if you were tempted then back a Celta win tonight and get around 15 times your stake. Even the draw at 8/1 may pay off that unnecessary automated cider pourer that you got yourself!
15:54 | Spanish news station COPE are reporting that Cristiano is going to start as a number nine tonight with Asensio and Lucas Vazquez either side.
15:11 | Our Madrid round-up earlier highlighted that there are players in both teams who will miss the second leg if booked tonight.
14:24 | Anyone reading this in Madrid will know this but as the Spanish phrase goes, "Cuando el grajo vuela bajo, hace un frío del carajo...y el grajo esta andando hoy!". Basically it's bloody freezing!
13:30 | As is the norm in the Copa, Kiko Casilla will deputise for Keylor Navas tonight, but following his poor performance against Sevilla on Sunday, there are rising calls for Keylor to be dropped altogether. Our resident medic, Dr. Jose Gonzalez, asks whether the Costa Rican's ankle operation has had anything to with his sub-par showing this season.
12:25 | "Enough with rotations!" writes Tomas Roncero. "Rusty Ronaldo should play against Celta." But will he? And is Roncero right?
12:07 | Real Madrid and Celta have met seven times in the Cup with Madrid advancing six times and the Galicians eliminating Los Blancos just once - in 1940-1, winning 5-4 on aggregate. And Celta have never won an away tie, in the Cup, at the Bernabéu.
11:15 | Zinedine Zidane, rather uncharacteristically, has named the vast majority of his first-choice team in his squad for a midweek cup game. That is with the exclusion of Carvajal, who's carrying fatigue and is rested. View the full squad here.
10:30 | The buildup to this Madrid-Celta game has been marked by two quite surprising decisions (in two different ways): Berizzo's permanent exclusion of Orellana from his squad, and the inclusion of Cristiano Ronaldo in Zidane's. Alfredo Relaño explains.
09:15 | Good morning! Stay right where you are to read live buildup all throughout the day ahead of our online minute-by-minute coverage of tonight's match at the Bernabéu.
---
Real Madrid - Celta Vigo: match preview
It has been a long time since Real Madrid have had to dust themselves off after a loss, 283 days to be precise, but that is exactly what they must do when they welcome Celta Vigo to the Santiago Bernabeu on Wednesday night in the Copa del Rey. The last time the pair met was in LaLiga in the third matchday and Real were put to the pin of their collar but escaped with a 2-1 victory thanks to a Toni Kroos strike.
Real Madrid
Ronaldo is welcomed back to a Copa del Rey squad for the first time in two years as Zinedine Zidane selects the Portuguese to help his side rebound from the loss at Sevilla. Meanwhile, Zidane has a full strength midfield to chose from but it remains to be seen whether he uses it in Modric, Casemiro and Toni Kroos. The only attacker he is missing is Gareth Bale, who is out indefinitely with an ankle injury.
Celta Vigo:
The big news coming out of Vigo is that Fabian Orellano has been told he will never play for Celta again after disrespecting the team. The Chilean responded but it seems his time at the club is over with Valencia waiting in the wings for a cut-price deal. The 30-year old has been removed from Berizzo's squad. Following losses at the hands of Sevilla and Athletic Bilbao, Celta Vigo have gone on their own winning streak with five in a row against UCAM Murcia, Valencia (2), Malaga and most recently Alaves. Their main man tomorrow night will be Iago Aspas
---
Real Madrid - Celta Vigo: possible starting line-ups
Real Madrid XI: Casilla, Danilo, Nacho, Marcelo, Casemiuro, Kovacic, Isco, Lucas Vazquez, Morata, Asensio.
Celta Vigo XI: Sergio, Mallo, Cabral, Roncaglia, Jonny, Radoja, Marcelo Diaz, Wass, Sisto, Iaso Aspas, Bongonda.
---
Real Madrid - Celta Vigo: live build-up