Abelardo writes off €4m as coach leaves Sporting Gijón
The manager, who had been in charge for two and a half years, handed in his notice on Tuesday but refused to take a payoff: "Loyalty comes first."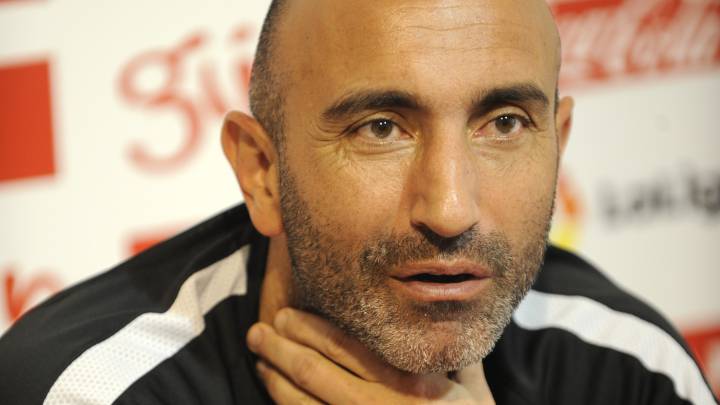 Abelardo Fernández bade a tearful farewell to Sporting Gijón on Wednesday morning after two and a half years at the helm of his home town club. "I cry for these people, for this club and for the fans, who I love so much," the 46-year-old said as he brought down the curtain on his tenure at El Molinón.
Fernández: "He will always be in the fans' hearts"
The president of the struggling Primera side, Javi Fernández, had warm words for the outgoing coach and thanked Aberlardo for refusing to take a payoff for the remainder of his contract, which ran to 2020. "Yesterday was a difficult day for me and the club. We tried to maintain the status quo and maybe we shouldn't have. It's extremely difficult for the club. There has been very harsh criticism [towards Abelardo]. It is unfair that he has suddenly been painted as a different person. He is the same as he has always been and he will always continue to be so. We agreed that that if at any time either one of us wasn't comfortable we would come to an arrangement and he has refused to take the club's money, including what he was entitled to for this season, as it was the only way we could bring in another coach. Our relationship will not change and he will always be in the hearts of Sporting fans."
Abelardo, who came through the ranks at Sporting and spent five season in the first team before moving to Barcelona, went on to thank Fernández for his faith: "It has been my fault, not the players. I could see that what I wanted on the pitch wasn't being transmitted to the players. That's why I spoke to Javi and decided to leave. My family, and particularly my son, have had a rough time during this. I want to thank the players. If it wasn't for them I wouldn't have been able to be here for two and a half years."
Four million euros
"As a Sporting fan, even though I had a contract until 2020, I couldn't do that to the club I love. I did the same at other clubs and it wasn't going to be any different here. I don't have a problem writing off the money. There are more important things, loyalty to my club above all," Abelardo said of his gesture.
Abelardo also suggested that he may take on another role at Sporting if the club was in agreement. "I'd like to carry on coaching. I have told Javi that I'm at his service."
Barcelona vs Sporting Gijón coverage | LaLiga Santander