Casillas: Real Madrid legend defends under-fire Keylor Navas
In a Twitter Q&A, Iker Casillas discussed ex-Real Madrid mate Navas, former boss José Mourinho, Champions League and World Cup wins...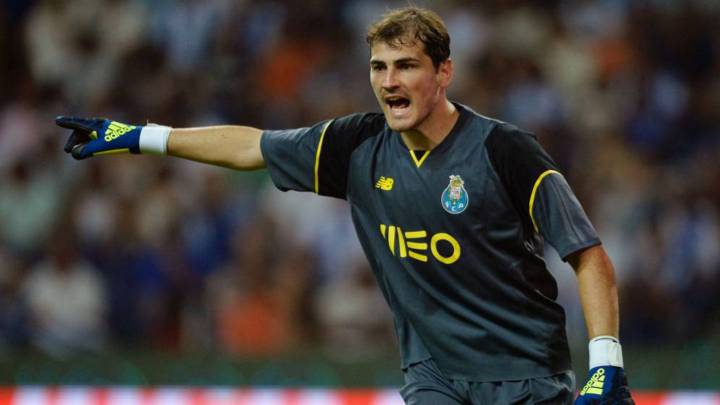 FC Porto goalkeeper Iker Casillas took part in a Twitter Q&A with his followers on Wednesday, taking the chance to defend ex-Real Madrid club-mate Keylor Navas.
Real keeper Navas has struggled to recreate the form he produced last season, coming in for particular criticism for his failure to keep out Sevilla's late winner in Los Blancos' weekend LaLiga defeat to the Andalusian outfit.
Meanwhile, with Porto preparing to take on Juventus in the Champions League last 16 next month, Casillas said he'd relish the opportunity to go on and face Real - who meet Napoli in the first knockout round - should both clubs advance.
Iker Casillas' Twitter Q&A session:
Would you like to return to the Bernabéu to face Real in the Champions League?
"Of course! It'd be a good sign for both [Porto and Real]! Possibly more so for us!"
The most memorable moment of your career?
"Paris in 2000 [when Real Madrid won their eighth European Cup] and Johannesburg in 2010 [when Spain won the World Cup]."
Your favourite player in Real Madrid history?
"Don Alfredo [Di Stéfano]."
Gianluigi Buffon or Oliver Kahn?
"That's a really difficult question! We're talking about two fantastic goalkeepers!"
David de Gea or Thibaut Courtois?
"They're both very good."
How do think Porto are doing?
"We've finished the first half of the league season four points behind Benfica. Draws are really damaging and we've had several... We can't drop any more points!"
Do Spain have a shout of winning the World Cup in Russia?
"Of course, but there's still a long way to go until it starts... We'll have to see what nick the players are in going into it..."
Which Champions League win with Real Madrid was the sweetest for you?
"La Octava [in 2000]."
What's your opinion on Keylor Navas right now? Do you think he should be dropped?
"He's done quite enough already to prove he's a keeper who deserves respect. He and Kiko [Casilla, Real's second-choice keeper] are performing to a really high level!"
Which was the most difficult game when you won the 2010 World Cup?
"Paraguay made life really difficult for us! They were tough quarter-final opponents."
Would you like to be a coach when you hang up your gloves?
"I'm sure I'll remain connected to football..."
What did it feel like to win the 2010 World Cup? And to go out in Euro 2016?
"In sport, you've got to be aware that you can win and lose, and you have to be able to deal with both moments. Everyone wants to win..."
How would you describe your relationship with Óliver Torres?
"A cracking lad. He's going to be a really good player."
Mourinho or Del Bosque?
Del Bosque.
What would you choose as the best moment in your career?
"Every time I've been lucky enough to win a trophy and give the fans something to shout about."
Can you imagine a Champions League final between Real Madrid and Porto? Would it be difficult for you to play that game?
"Where do I sign? Of course it would be difficult, but..."
How much longer will we see Iker Casillas between the sticks?
"As long as I keep on enjoying it... I'm not setting a date..."