LALIGA SANTANDER
LaLiga stadia: A rough guide (II)
From Athletic Club to Villarreal, the second of six detailed looks at all twenty clubs in the Spanish top flight and a look at their respective football grounds.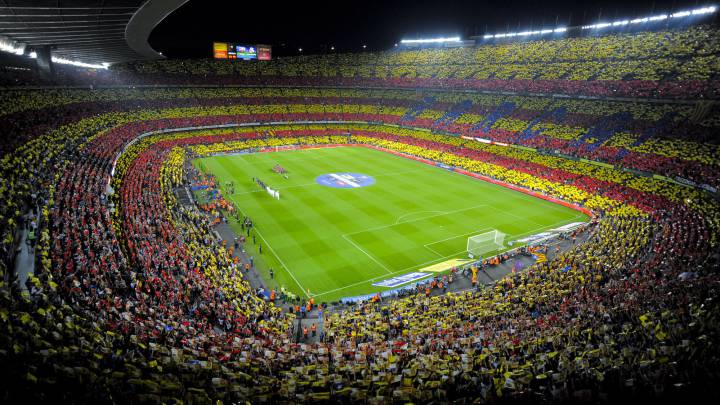 Barcelona - Real Sociedad live
Part II of our look at all 20 LaLiga team's stadia takes us to Cataluña, Andalucia and Galicia as we look at the Camp Nou, Benito Villamarin and Balaidos home to FC Barcelona, Real Betis Balompie and Celta Vigo respectively.
Barcelona
The home of Catalan giants FC Barcelona is one of the biggest football stadiums in the world with a capacity to house more than 99,000 spectators and has been awarded the prestigious UEFA five star certificate. The Camp Nou was inaugurated on September 24 1957 and hosted the opening game in Spain's 1982 World Cup when it had a capacity of holding 115.000 spectators. With the change to an all-seater arena, the capacity of the ground has decreased. Barcelona have been exploring at upgrading the ground with the intention to increase the VIP area at the ground. Ahead of the with the Santiago Bernabeu the Camp Nou ranks at the top of highest match attendance in Spanish football.
Betis
The Benito Villamarín stadium ranks number five in terms of capacity in Spain. With room to house 51,700 spectators, the stadium was constructed in 1928 and in 1961 was acquired by the club after a deal with local Seville council in a transaction overseen by then president of the club Benito Villamarín. The club was named after the former president through to 1997 when then president Manuel Ruiz de Lopera decided to name the stadium after himself. After much campaigning from the "Verdiblanco" support base the name reverted back to the Benito Villamarín. At present work is on-going on the south stand and the new sector will be open for business as of the 2017/18 season with increased capacity.
Celta Vigo
The Estadio Municipal de Balaídos was inaugurated on December 30 1928 with an initial capacity of 22,000. after a series of upgrades the stadium can now house 31.800 spectators. The Vigo ground underwent a face-lift ahead of the 1982 World Cup where Italy staged their three group stage games: Italy vs Poland, Italy vs Perú and Italy vs Cameroon.