Roger Federer v Rafa Nadal: Grand Slam finals
Roger Federer meets Rafa Nadal on Sunday in the Australian Open final, their 9th Grand Slam final together. Here's how the previous eight unfolded, with Nadal having a 6-2 lead...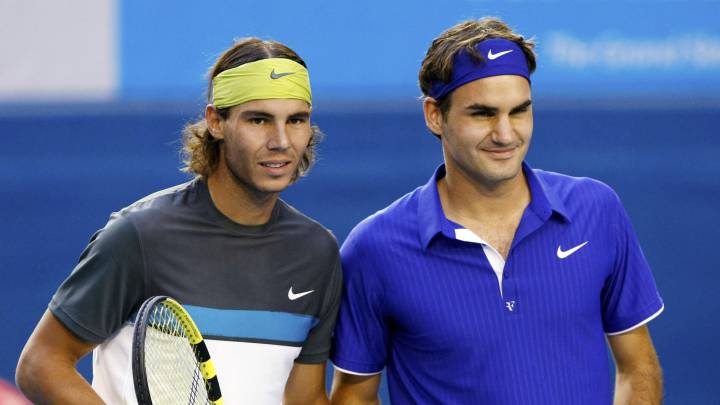 Roger Federer and Rafael Nadal will clash in their ninth Grand Slam final in Melbourne at the Australian Open on Sunday morning. The previous eight Slam finals have been nothing short of scintillating, here's how they unfolded:
Roland Garros 2006
Playing in his first Roland Garros final, Federer was attempting to become the first player since Rod Laver in 1969 to win four straight Grand Slams while Nadal, 20, was out to be the youngest to defend the title since Bjorn Borg.
The Swiss master broke twice in the first set to race to a 5-0 lead. But then Nadal began to dominate with his crushing forehand, and Federer started to struggle.
Nadal did not drop serve again until he tried to close out the match at 5-4 in the fourth. He clinched the match soon after in the tiebreak, winning his 14th consecutive final.
Nadal won: 1-6 6-1 6-4 7-6(4)
Wimbledon 2006
The pressure was on Federer as top seed and a three-time defending champion, riding a 47-match grass court win streak against someone who had struggled previously on the surface.
Federer started strongly, breaking Nadal in the second, fourth and sixth games to take the set 6-0. The Spaniard managed to strike back with a break in the first game of the second set but failed to close it out.
Federer then narrowly took the second set in a tiebreak 7-5 but lost the third, also in a tiebreak. In the tense fourth, Federer took early control, breaking twice for 4-1 before capturing his 39th career title and eighth Grand Slam crown.
Federer won: 6-0 7-6(5) 6-7(2) 6-3
Roland Garros 2007
The stakes were high in Paris once again, with Federer attempting to become just the sixth man in history to win all four Grand Slam titles and only the third man to hold all four majors at the same time. Nadal was looking to win three consecutive Roland Garros crowns.
The Swiss legend took the fight to the Spaniard early, earning 10 break points over three consecutive Nadal service games. But the tough Spaniard refused to buckle and he doggedly fought to win the first set.
Although Federer rebounded to win the second set, Nadal's ability to fight off break point opportunities and his high-kicking left-handed forehands were the telling factors and too much for Federer to handle.
Nadal won: 6-3 4-6 6-3 6-4
Wimbledon 2007
In a repeat of the 2006 final, a never-say-die Nadal pushed four-time champion Federer to five sets for the first time in his 34-match winning streak at the All England Club.
Federer, who had never lost a match at Wimbledon after winning the first set, claimed the crucial first set tiebreak despite Nadal's gallant efforts. But Nadal's blistering passes and serve and volley kept him in the match.
It was a close contest until Federer claimed a decisive break in the sixth game of the fifth set to equal Borg's record of five consecutive Wimbledon titles.
Federer won: 7-6(7) 4-6 7-6(3) 2-6 6-2
Roland Garros 2008
In their 17th career meeting, much was expected of Federer but it proved to be the most one-sided encounter between the pair.
Nadal broke Federer's serve in the first game and from there he didn't look back with the Swiss hitting too many unforced errors and failing to take his opportunities.
The third set lasted just 27 minutes as Nadal broke serve three times and hand Federer his first bagel set since June 1999.
Nadal won: 6-1 6-3 6-0
Wimbledon 2008
Federer was looking to clinch his 13th career Grand Slam title and sixth straight Wimbledon trophy in one of the most eagerly anticipated matches of their long rivalry.
Nadal won the first set and trailed Federer 3-0 in the second but he fought back to silence the crowd. The third set was interrupted by rain with Federer eventually clinching it on his third set point 7-5.
The fourth set also moved into an inevitable tiebreak with Federer rallying to take it to fifth. Rain hit the match in the decider and as darkness fell Nadal finally converted his fourth match point in the longest Wimbledon final in history, lasting four hours, 48 minutes.
Nadal won: 6-4 6-4 6-7(5) 6-7(8) 9-7
Melbourne 2009
History was again at stake with Federer looking to equal Pete Sampras' all-time record of 14 Grand Slam titles, while for Nadal it was a chance to become Spain's first Australian Open champion.
Nadal had beaten Fernando Verbasco in five hours and 14 minutes -- then the Australian Open's longest-ever match -- in the semis, while Federer had 24 hours more to recover.
But Nadal proved he was mentally and physically stronger, punishing a poorly-serving Federer to become the first man since Goran Ivanisevic in 2001 to win a Grand Slam with five-set victories in the semi-finals and final.
Nadal won: 7-5 3-6 7-6(3) 3-6 6-2
Roland Garros 2011
This was Nadal and Federer's eighth and last meeting in a Grand Slam final and having ended Novak Djokovic's 41-match unbeaten run in the semi-finals, the Swiss was hoping his form would be enough to dethrone Nadal.
He made a strong start as he raced to a 5-2 lead but Nadal then reeled off five straight games to take the opener. He capitalised on his momentum and kept his composure in the tie-break to take a commanding two-set lead.
A resilient Federer delighted the crowd in a tough third set as he clawed his way back into the match, but he squandered break point opportunities on Nadal's opening serve in the fourth and from there the tide swiftly turned.
Nadal won: 7-5 7-6(3) 5-7 6-1