Real Madrid 3-0 Real Sociedad: Goals, match report, how it happened, reaction
A work-man like performance from Zidane's side with goals from Morata, Ronaldo and Lucas Vazquez seeing off the Basque visitors.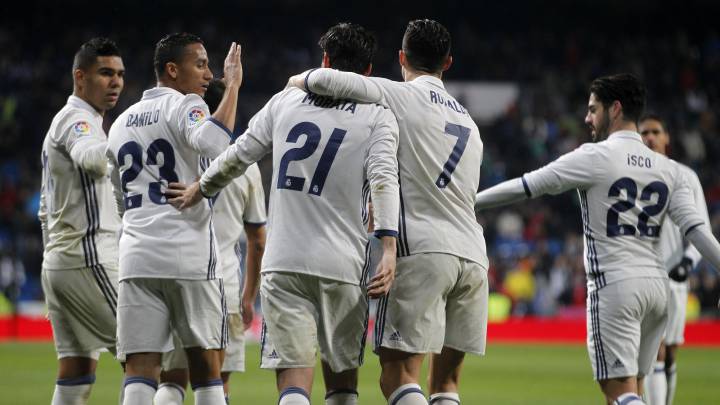 Real Madrid 3-0 Real Sociedad: full time
Not a game that will go down in the club's history books for its fine flowing football or standout edge-of-the-seat action but when the end of the season comes about, it's games like tonight's that will be key in deciding who will be proclaimed LaLiga champion come May after Barça dropped points against Betis and Sevilla came up short against Espanyol in Cornella.
As was the case in game at the Bernabeu against Celta Vigo, Sporting Gijon, Villarreal and Depotrtivo, for much of the game Madrid were out-played and out-passed by the visitors, and certainly so in the first thirty minutes of proceedings.
There was an edge about the Bernabeu crowd this evening and the Kovacic goal late in the first period had a soothing effect on the ire of the home fans who had honed their sights on Karim Benzema.
The game as a contest ended on the 51st minute as Kovacic turned to provider, feeding Cristiano and the Portuguese striker finished with a deft lob over the onrushing Rulli in the La Real goal. Eusebio's side subsequently withered and lost any ambition which was compounded by the sending off of Iñigo Martinez in the 74th minute.
Alvaro Morata who was alleged to have complained about a lack of playing time earlier this week bagged Madrid's third following a fine-flowing move which started with Keylor Navas who had little to do all evening.
Zidane will be encouraged with the win but will demand more from his side as they now face a tricky away trip back to Balaidos to face Celta next Sunday.
Real Madrid 3-0 Real Sociedad: live coverage
Min 92 | That's it. Three points for Zidane in a pragmatic performance.
Min 91 | 2 minutes of added time
Min 90 | Madrid's thoughts now turn to their return trip to Balaidos next Sunday. The scene of their Copa del Rey ko earlier this week.
Min 89 | Fans leaving the stadium in droves now but happy knowing that the points are secure.
Min 87 | It hasn't been pretty but it's been effective and does reestablish a 4 point cushion for Madrid at the top of the table.
Min 84 | Asensio on for Lucas Vazquez who provided the fine assist for Morata's goal.
Min 83 | Morata make it 3 !
Min 81 | The second goal really has taken the wind from Real Sociedad's sails and Eusebio's side have never come close to scoring since Cristiano's goal.
Min 79 | Marco Asensio warming up
Min 77 | Lucas Vazquez cared for a trip as Isco come son for Lucas Vazquez. Granero on for La Real with Canales off.
Min 76 | Isco ready to enter the fray
Min 74 | Iñigo Martinez sees red, second yellow for the defender after a reckless lunge at Casemiro. No complaints from the Basque player with that decision.
Min 73 | Morata has the ball in the net from a Cristiano free-kick but is adjudged to be off side when the ball was delivered. A correct decision incidentally.
Min 71 | Kevin picks up a card on his debut after a trip on Lucas
Min 69 | Madrid break with Morata and Cristiano thrusting forward, Ronaldo dinks a right foot chip but it's easily headed away from Morata and away from danger.
Min 66 | Change for Madrid as Morata comes on and Benzema makes way for the former Juve player. Initial whistles smothered out by applause for the French striker.
Min 61 | Benzema breaks into the box and is intercepted by a Real Sociedad defender, once again the whistles ring out for the French forward. A demanding fan-group at the Bernabeu state the Spanish commentators...
Min 58 | Xabi Prieto and Carlos Vela come on for Real Sociedad, Willian Jose and Oyarzabal making way
Min 56 | Real Sociedad somewhat shell-shocked from the Madrid goals seem to have lost some of their earlier self-belief. The score-line is not quite reflective of what we've seen at the Bernabeu but give Madrid two chances ....
Min 51 | Returning the favour with the assist on this occasion was Croat Kovacic, Cristiano still had plenty of work to do and executed the move with a perfectly weighted chip into the corner of the net.
Min 51 | Gooooool. Cristiano makes it two with a deft chip over Rulli, fine finish from the player from Madeira.
Min 49 | Danger as La Real try two long range drives but on both occasion the ball has gone crashing into a man in white
Min 46 | La Real starting with a neat passage of play
Min 46 | Second half is underway with Madrid starting proceedings.
Real Madrid 1-0 Real Sociedad: half-time wrap
As has been the case on many's an occasion this season, Real Madrid have not played well and have even been outplayed at times by Real Sociedad but find themselves ahead after Kovacic bagged the opener in the 38th minute to quell the nerves of a very edgy Santiago Bernabeu crowd. Karim Benzema has been the subject of their ire with whistles aimed at the French player growing as the game wears on despite a pre-match call from Cristiano Ronaldo for the supporters to get behind the team. La Real have looked neat and composed with Kevin Rodrigues impressing on his first team debut. Still a long 45 minutes of football ahead in a soggy evening in the Spanish capital tonight.
Real Madrid 1-0 Real Sociedad: live coverage
Min 45 | Nothing of added time as we head to the break at the Bernabeu with Madrid a goal to the good.
Min 44 | So close from La Real with an exquisite build-up starting with Kevin (who is having an excellent debut). Juanmi just pulls his shot wide of Keylor's post. A candidate for Goal of the Season had that gone in !
Min 41 | A goal somewhat against the run of play but has at least calmed the nerves of the edgy Bernabeu crowd.
Min 39 | Kroos second name into the book tonight for a foul
Min 38 | Gooooool. Delightful assist from Cristiano threading the ball through to Kovacic who slides the ball home past Rulli.
Min 37 | The rain lashes down on the Bernabeu surface and apart from the Willian Jose free-kick, nothing has troubled either goal-keeper.
Min 34 | Shots on target: Madrid 0-2 La Real
Min 31 | A game lacking a spark presently at the Bernabeu. Zidane's players seem excessively nervous and the home crowd are on edge too it appears.
Min 29 | A poor ball from Cristiano finds Benzema who fails to control the ball and immediately boos sound aimed at the French international.
Possession: Real Madrid 49% Real Sociedad 51%
Min 26 | Lucas Vazquez tries a spectacular (rather unsuccessfully) over-kick after the ball breaks to him following a free-kick.
Min 23 | Benzema misplaces a pass and a few whistles ring out at the Bernabeu. Just a few ....but very much aimed at the French player.
Min 20 | La Real over complicate things at the back with Zurutuza bundled off the ball. Good pressing from the home side.
Min 17 | Real Sociedad starting to impose themselves and Madrid look a tad nervous. Incredible how a string of defeats can ingest a fragility on what was a team who recorded a 40 game unbeaten run.
Min 16 | Willian Jose tries his luck from the resulting free-kick and forces a finger tip save from Navas.
Min 15 | Debutante Kevin (Rodrigues) looking very composed in his first team debut for Real Sociedad as Ramos fouls Iñigo Martinez and is lucky to escape without a card.
Min 12 | Great work from Lucas Vazquez weaving his way through the blue shirts but just failed to find a team-mate with his pull-back. Better from the home side.
Min 11 | Ten minutes in and neither team has been able to stamp their authority on proceedings. Madrid having the better of possession but La Real looking solid at the back.
Min 7 | Illa Illa Illa Juanito Maravilla belts out in the 7th minute from the Fans RMCF
Min 6 | Iñigo Martinez carded for an elbow challenge on Ronaldo.
Min 4 | Danger as La Real launch a counter as Zaldua crosses (after barging Ramos out of the way) but fails to find a team-mate.
Min 3 | First wave of attack for Madrid as Benzema fires a dangerous ball into the area which La Real deal with admirably. Not a full house tonight at the Bernabeu with 4.000 tickets remaining unsold pre-match.
Min 1 | Off we go, Melero Lopez sounds his whistle as Real Sociedad get us underway
20:44 | Cristiano has asked for the Bernabeu to get behind the time even in adversity. No apparent whistles aimed at Benzema or Danilo when their names were announced....
20:42 | The teams are in the tunnel. Madrid in their classic, iconic all white kit and tonight La Real sporting an elegant navy kit with light blue trimmings.
---
Hello and welcome to our live coverage of Real Madrid v Real Sociedad in LaLiga, matchday 20. The game is taking place at the Santiago Bernabéu stadium in Madrid, with kick-off at 20:45 (CET).
---
Real Madrid v Real Sociedad: latest news
20:40 | A win would see Zidane's men four points clear at the top of the table with an all important game in hand (an away trip to Mestalla in February)
20:38 | Tonight does present itself as a massive opportunity for Madrid to regain authority at the summit of LaLiga with Sevilla losing and Barça dropping points earlier against Betis.
20:35 | It's a dank, misty evening in Madrid tonight with light rain falling and a temperature in the Spanish capital of 7C. Will there be more dark clouds hanging coach Zidane come the end of the match?
20:30 | One has to go back to May 2005 for the last La Real win at the Bernabeu. Figo was on target for Madrid as they fell 1-4 to the Basque side.
20:25 | In the corresponding fixture at the Bernabeu last season, Madrid ran out with a 3-1 win, Cristiano bagging two on the night.
20:20 | Real Sociedad are certainly one of the form teams in LaLiga at present with just their 0-4 loss at home to Seville blotting the copy book of 5 wins from 6 LaLiga encounters.
20:05 | Big night for Rodrigues (Kevin) who makes his first team debut for La Real tonight at the Santiago Bernabeu.
19:50 | So despite the wishes of the Bernabeu faithful and with a resounding of 88% of fans who participated in an AS.com survey wanting him benched, Karim Benzema starts tonight.
19:38 | Real Sociedad confirmed XI just in:
Rulli, Illara, I Martinez, Juanmi, Willian Jose, Canales, Zurutuza, Oyarzabal, Zaldua, Raul Navas, Rodrigues.
19:35 | Team news alert! Confirmed Real Madrid XI:
Keylor; Danilo, Ramos, Varane, Nacho; Kovacic, Casemiro, Kroos; Lucas, Benzema & Cristiano.
19:00 | Former Galactio David Beckham spoke this morning on Desert Island Discs. This is what he had to say about his time at Madrid.
17:51 | Espanyol are 3-1 up over 10-man Sevilla with just over 10 minutes left in Barcelona, meaning that almost certainly, no matter what happens at the Bernabéu this evening, Real Madrid will sit atop LaLiga table at the end of this round of matches.
17:13 | Did you know? Real Sociedad's current point tally of 35 points is the most since the 2003-04 season when they finished second to Valencia. They beat Real Madrid 1-0 at the Anoeta but were hammered 1-4 at the Bernabéu that year.
16:53 | With reports emerging of Morata wanting to leave the club, Zinedine Zidane might chance the Spanish striker tonight. Karim Benzema has had a rought time of it recently and 88% of fans want him to be dropped for La Real's visit to the Bernabéu tonight. Morata responded almost immediately to those reports and might have earned himself some credit from Zizou.
16:25 | Everything going Madrid's way so far on Sunday. Sevilla currently trail 1-0 away at Espanyol and Pareja has been shown a red card. There's just 10 minutes gone.
15:03 | Dani Carvajal won't be playing tonight but he has given Real Madrid fans a boost posting a video of himself training and declaring his is almost ready to return to the fold for Zinedine Zidane.
13:51 | The full-time whistle has just blown in Seville and Madrid fans will be pleased at the scoreline with Betis holding Barcelona to a 1-1 draw. From the sounds of things the home side had much the better of the game.
13:37 | Danilo has his doubters but this video shows that the Brazilian has quality.
12:24 | AS Editor Alfredo Relaño had his say about the under-pressure Benzema and Danilo in today's paper.
11:10 | Eusebio in confident mood ahead of the game: "We have the potential to do something big at the Bernabéu"
10:37 | Big day for Zidane who'll know by the time they kick-off at the Bernabéu how closest rivals Sevilla and Barcelona have faired. (The Barca game is also live here)
---
Real Madrid v Real Sociedad: preview
Zinedine Zidane knows that recent performances have not been good enough to keep the fans happy and today, in front of those supporters is a chance to turn the negative feeling at the Bernabéu, and start a second push towards their title run, potentially defining the last couple of weeks as a blip. La Real arrive knowing that a win would lift them above Atlético into fourth place in the table, and likely targeting some potential weak areas in the Madrid defence.
Real Madrid
The general mood around the league leaders is somewhat grey. The black clouds of misery being held back with the knowledge that the team sit atop LaLiga table. Following the defeat to Sevilla, however, the unconvincing home win over Granada, and the Copa del Rey exit to Celta, the pressure is on Zidane to get things back on track. Team selection beng as much a talking point as anything.
Man to watch: Benzema. Over the years, the striker would be a man for any defence to keep an eye on with his intelligent movement and lethal finishing. Even when games were tight, he could be the difference with just a sniff of a chance at goal. But things aren't going so well for the Frenchman right now and many eyes will be focused on him at the Bernabeú today to see if he can continue to justify a starting place in Madrid's front line. With a lot to prove, today's could be a watershed game for Karim.
Real Sociedad
Eusebio Sacristan arrives in the Spanish capital with an impressive first half of the season behind him. Sitting in fifth place, just one point behind Madrid's other major club, with this game in hand, Champions League football looks a potential dream goal now for the team from San Sebastian. Ex-Madrid player Illarramendi will look to get some sort of foothold in the middle of the park although hitting Los Blancos on the break is a more likely scenario for success.
Man to watch: Willian José. After a goal against Barcelona midweek, his 11th in 23 appearances this campaign, the Brazilian will be the main danger for Madrid's back line. With a very able supporting cast, he is going to get chances to bring more recent gloom to Los Blancos, but how much
---
Real Madrid v Real Sociedad: possible line-ups
Real Madrid: Keylor, Nacho, Ramos, Varane, Danilo, Casemiro, Kroos, Kovacic, Vázquez, Cristiano, Benzema.
Real Sociedad: Rulli, Zaldua, Navas, Martínez, Kevin, Zurtuza, Illarra, Vela, Prieto, Oyarzabal, Willan José.
---
Real Madrid v Real Sociedad: live match build-up