Atletico - Barcelona
Atletico 1-2 Barcelona Copa del Rey: Full-time report and goals
Join us for live online coverage of Atletico Madrid vs Barcelona, the first leg of the first semi-final of the Copa del Rey 2017, to be played at the Calderón in Madrid at 21:00 (CET)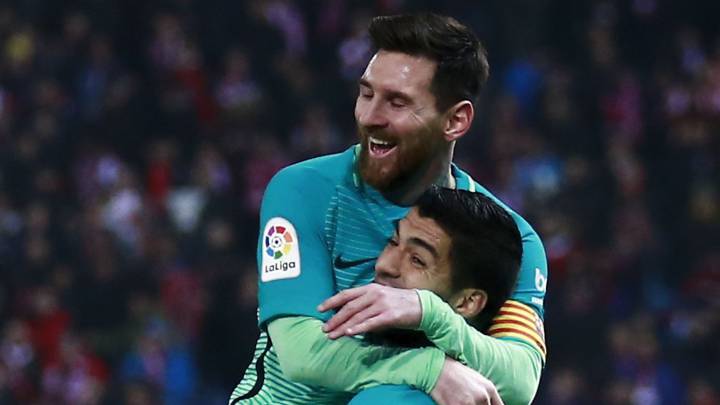 Atletico Madrid 1-2 Barcelona: full-time summary
In a game that could have turned into a trouncing, Atletico kept their heads and pushed Barcelona to the limit in the second half. An early Luis Suarez goal, followed by a Lionel Messi wondergoal shocked Atletico Madrid early on and forced them into a number of uncharacteristic errors. Atletico came out in the second half and from the first whitle to the last, they pushed and prodded Barcelona's weaknesses including a tiring Javier Mascherano and their lack of a first choice midfield. They got their rewards after Griezmann scored a header and from that point on, Atletico continued in their quest for that leveller. It would not come but Diego Simeone can be proud of his charges and Luis Enrique will be delighted to bring an away goal 2-1 lead back to the Camp Nou next Tuesday night.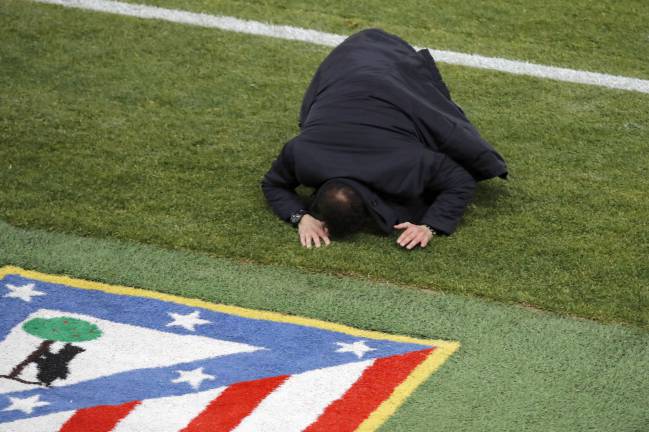 ---
Atletico Madrid 1-2 Barcelona: second half
Min 90+3 | Game over!
Min 90+3 | Gaitan pulled to the ground by Mascherano as the ball is floated in. Atletico want a penalty but referee says no.
Min 90+2 | Mascherano booked now.
Min 90+1 | A high cross by Filipe Luis is punched in the direction of Gameiro, who drags his shot across the goal and wide.
Min 90 | Messi goes in on Filipe Luis and gets himself a booking.
Min 89 | That was the chance! Griezmann rifles one towards Cillessen but it goes just inches wide. Madre Mia!
Min 88 | Atletico work it around the box and get a shot away. Cillessen fumbles and collects but he nearly fumbles again. This is some finish!
Min 86 | Another chance for Atletico but they can't get a shot away. This is scintillating stuff from Atletico and Barcelona and very much hanging on for dear life here.
Min 85 | Mascherano has pocket picked by Gabi at the edge of his own box and Torres shoots wide! That was the chance of the game.
Min 83 | Torres looked to be through on goal but Piqué goes down as his compatriot looked to have clipped his heel. Simeone pleads with the referee on bended knee but it's not changing the decision.
Min 82 | They create yet another one. Filipe Luis with one of those liquid-whip-like crosses and Torres get a heel on it but it is off target.
Min 81 | A really poor Cillessen clearence allows Atletico win possession in Barcelona territory. Griezmann clips it to Gameiro, who tries a chilena and whiffs on it. What a chance that was, yet again. Atletico have created plenty of chance to draw this one level.
Min 80 | Messi lets Neymar take it and he puts it well over the bar. Someone needs to tell Lionel to be a little more selfish.
Min 79 | Time for another Messi free-kick as Griezmann catches Neymar's knee as he looks to make his way into Atletico's penalty area.
Min 77 | Messi makes one of his trademark runs but Neymar fluffs the chance and puts it into row K.
Min 76 | Messi with a delicious free-kick. Hits the post and onto Moya's hand. It lands to Piqué but he can't move his leg in a way to get enough purchase on a shot.
Min 75 | Late tackle by Griezmann breaks up a Barcelona attack. Rafinha the one caught and Griezmann receives a yellow.
Barcelona substitution - Andre Gomes is replacesd by Rafinha.
Min 71 | Filipe Luis with a first time cross that catches everyone, including his own teammates flat-footed.
Atletico Madrid substitution - Carrasco goes off and is replaced by Gameiro. Simeone showing he means business now and has three strikers on the field.
Min 67 | Torres with a cross that Piqué clears straight into his own box. The ball falls for Carrasco and he tries a chilena that goes over Cillessen's post.
Min 65 | Messi dispossessed after an awakward pass to control by Mascherano. Gabi gives it to Griezmann but the Frenchman drags his shot wide.
Min 63 | Atletico Madrid have Barcelona well and truly rattled. Filipe Luis crosses and Griezmann fires at Cillessen's legs. Reaction strike from the striker and reaction save from the goalkeeper. So close to a draw game.
60 minute update - It was now or never for Atletico Madrid as they pushed hard for an equaliser and manage to get it through Antoine Griezmann. It makes the game more interesting, for sure, but it depends on what Barcelona do at this point. Simeone has changed tact and swapped Vrsaljko with Torres and Juanfran goes back to right-back while Gaitan and Carrasco occupy the wings.
GOAL! Griezmann headers home as he rises higher than Mascherano and gives Atletico a flicker og hope.
Atletico Madrid substitution - Saul Niguez is replaced by Nico Gaitan. Another game that passes Saul by, whose form must be concerning at this point to Diego Simeone.
Barcelona substitution - Denis Suarez replaces Ivan Rakitic, who strolls off without a worry in the world.
Min 56 | Mascherano caught with a late shoulder on the jaw. Looked like a veyr sore one. One of those hits you won't fully feel until the morning.
Min 55 | Javier Mascherano trying his best to replace Messi as the M in MSN as he streaks forward and drives a shot with his left foot at the feet of Moya.
Min 53 | Some good pressure from Atletico now as they land another corner.
Min 52 | Really good chance for Atletico again. A long free reaches the far post but neither Godin or Savic can get on the end of it. It looked like both central defenders were waiting for the other one to go and get a head on it.
Min 50 | Gabi through on goal. He hesitates just fraction of a second and Jordi Alba gets in front of him. What a chance! he took too many touches.
Min 48 | Atletico have started in the same vein as they did in the first half. Plenty of energy but nothing to show from it yet in terms of chances.
Min 46 | We are underway for the second half. Atletico hoping to put up a fight, score, and not concede anymore or this one is a wrap.
One change for Atletico: Sime Vrsaljko off for Fernando Torres
---
Atletico Madrid 0-2 Barcelona: first half summary
Atletico Madrid started this game with plenty of intent but they were undone early and this has been the worst performance by them in a big game that this particular minute-by-minuter has ever seen. They are sloppy in and out of possession and seem to have allowed their shoulders to slump. Barcelona have not been overly impressive but in possession, they are precise and incisive. They soaked up Atletico's early surges and caught them on the counter time and time again. THis one could get ugly for Atletico if they continue to chase the game.
---
Atletico Madrid 0-2 Barcelona: first half
Min 44 | Gomes crosses but Godín gets to it before Suárez. Corner Barcelona that comes to nothing.
Min 42 | Koke has a pop at goal but it goes over Cillessen's bar. The closest Atletico have come so far.
Min 41 | Luis Suarez tries a curler but it hits an Atletico defender and skids out for a corner.
Min 40 | This Messi guy is human after all. He just skied a free-kick.
Min 39 | Stefan Savic booked for a late tackle on Lionel Messi. Very poor.
Min 36 | Neymar skips past no less than three Atletico tackles before being pulled down. Barcelona looking lethal on the break. That break came from a short free by Griezmann in a very dangerous area for Atletico.
Min 35 | Gomes catches Griezmann a she winds up for a shot and Atletico have a free in a dangerous position.
GOAL! GOAL! GOAL! Messi pulls back his left foot and absolutely buries a shot into the back of the net. Moya had no chance.
Min 32 | And that is our first yellow of the game. Saul booked for a late tackle on Messi.
30 minute update - Atletico Madrid have obviously decided to overload the right hand side with Vrsaljko and Juanfran pushing very far forward. Possible in an effort to expose Neymar's defensive weakness but they have been caught out a number of times now down that side. Barça have not capitalised yet but they will if this continues.
Min 30 | Juanfran with another cross that Piqué meets and clears.
Min 28 | Neymar and Suárez through on goal after a neat one-two. Suárez looking for the number three in the passing move by playing it back to Neymar but he should have gone alone. Atletico clear and will be delighted the Uruguyuan didn't decide to shoot himself.
Min 27 | Messi the latest to have his legs clipped. Gabi the culprit this time and still no yellow.
Min 26 | Gabi kicks one out for a throw this time in search of Vrsaljko. Atletico looking to play it wide but often playing just a little too close to the edge.
Min 24 | Nervy moments for Atletico fans. Neymar running at Vrsaljko and makes it into a position he fances before rifling a shot low and towards Moya. Atletico's goalkeeper saves, fumbles but gathers at the second attempt.
Min 23 | Savic having a night to forget so far. He kicks it out for a throw under minimal pressure.
Min 21 | Neymar has his legs taken from under him by Koke. Still no card but he does get an earful from the referee.
Min 20 | Carrasco with a long run before playing it to Saul, who is dispossessed with ease. This game is end to end now as Barcelona attack with Neymar. Very exciting opening 20.
Min 17 | Filipe Luis breaks freee down the left and crosses but a stretched-out Piqué puts it out for a corner.
15 minute update - Atletico Madrid have started at an electrifying pace but they were undone early by Luis Suarez and the visitors look far more dangerous now that Atletico have to attack the game and come out of their shell more than they might like. Atletico have had some chances but nothing concrete and will need to do more if they want to trouble Cillessen and his back four.
Min 14 | Carrasco with a low and fast cross but Mascherano, who has been everywhere early on, gets a foot to it and clears for a corner.
Min 12 | After a hectic first 12 minutes, Barcelona slowing things down and trying to control the tempo of this one. Atletico trying to prevent them from getting comfortable with a very effective effort to win it back.
Min 10 | Deep cross by Juanfran makes its way to Filipe Luis and back across to the right midfielder and eventually out for an Atletico throw. Godin headers it goalwards but it is high and over Cillessen's goals.
GOAL! GOAL! GOAL! After just six minutes, Barcelona take the lead. Griezmann dispossessed by Mascherano and Suárez picks up the ball before rounding Savic and toe-poking it beyond Moya. Really poor by Atletico... but Suárez did really well from the moment he picked up the ball close to halfway.
Min 5 | Messi picks up the ball in the hole and drives towards Atletico's goal. He holds, holds, holds and then releases Neymar but his squared cross is cleared by Savic for a corner.
Min 4 | Stefan Savic with a really late tackle on Andre Gomes. He is lucky it is so early or that would have surely been a yellow. the Portuguese midfielder looked to have a clear path to goal if he broke free.
Min 3 | Neymar down holding his ribs after a collision with Juanfran. he seems okay though and I use the word collision in the loosest sense.
Min 2 | Very early chance for Atletico as Griezmann races onto a chance behind Barça's defence. Cillessen reaches it first though and clears.
Min 1 | We are underway at the Vicente Calderon as the home fans sing their team into the game.
---
Atletico Madrid vs Barcelona: starting lineups
Atletico Madrid starting XI: Moya, Vrsaljko, Godin, Savic, Filipe Luis, Gabi, Koke, Juanfran, Saul, Carrasco, Griezmann
Barcelona starting XI: Cillessen, Piqué, Rakitic, Suárez, Messi, Neymar, Mascherano, Alba, S.Roberto, André Gomes, Umtiti
---
Atletico Madrid vs Barcelona: live updates
20:56 | After reaching out for opinions on the colour of Barça's kits, I have very light turquoise, pistacchio green and my very own suggestion of light cyan, I have decided on my option. They are light cyan. Atletico? A very no nonsense RED AND WHITE.
20:47 | A very warm welcome to our followers in the UK. It's a shame that there is no coverage of the Copa there but rest assured, it will be just like being in the Vicente Calderon with the coverage I plan on carrying out. I'm loadeed up on coffee and here at your service. Vamos!
20:45 | Barcelona fans have not travelled well as their away section of the Vicente Calderon is only about half-full. Still 15 minutes to kick-off so they could be outside finishing off their cañas.
20:34 | Barcelona out and warming up in their illuminous green training gear. Their plan to arrive incognito and try to fly under the radar, up in flames before the game has even begun.
20:32 | Another reason Simeone has opted for a Juanfran/Vrsaljko combo down the right might be to combat Neymar's influence. The Brazilian has not been as prolific in front of goal as his attacking partners but the damage he tends to cause down Barça's left can be devastating.
20:25 | Atletico have kept clean sheets in three of their ties with just one coming in a home tie against Guijuelo. They conceded twice in their last home game in the Copa during a 2-2 draw with Eibar.
20:23 | In six Copa del Rey games this season, Barcelona have kept clean sheets in two. A 7-0 drubbing of Hercules and the 0-1 victory over Real Sociedad in the first leg of the quarter-final against Real Sociedad.
20:20 | Jasper Cillessen is preferred instead of Ter Stegen as the Dutch keeper has been Luis Enrique's Copa number one all year. Atletico forced into using their second choice goalkeeper too with Miguel Angel Moya deputising in place of the injured Jan Oblak.
20:15 | Javier Mascherano appears to have been selected at defensive midfield against Atletico with Juanfran chosen to play on the right for Simeone. Both managers look like they are preparing for a defensive war with Simeone packing the midfield and Enrique choosing the Argentine centre-half instead of someone like Arda Turan, Denis Suarez or Rafinha.
20:07 | Team news is very much in and as expected, we have some surprises in midfield.
19:48 | We are just over an hour away from kick-off at the Calderon and expecting team news imminently. Both sides have midfield issues BUT Barcelona have Luis Suarez and they simply do not lose when he scores.
19:22 | MSN will be delighted they get the chance to play Simeone's side given their good form against them. Atletico's attacking trio of Griezmann, Gameiro and Carrasco have been relatively poor now for quite some time. Will they break that poor run of form tonight?
18:34 | There is still plenty of chat about goalline technology here in Spain. Barcelona had a perfect goal that was not given against Real Betis last weekend, and Neymar took to Instagram to display his disapproval. Hopefully, nobody is robbed tonight but we wouldn't say no to a little controversy.
17:30 | After Atletico fans gave their team a stirring welcome at their hotel last night, it was the turn of Madrid-based Culés to cheer their players on arrival ahead of the game.

16:30 | Will there be a "phantom" goal incident this evening at the Calderón? The Liga honchos had better hope not after the backlash from Barça's disallowed goal in the Benito Villamarín last weekend.

15:30 | He won't be on show this evening but a player to lok out for in next year's Copa del Rey could be Santiago Bueno, the Uruguay under-20 international who signed for Barcelona on deadline day.

14:30 | Barça's trident of Messi, Neymar, Luis Suárez "resolve 80% of all of their moves" says Diego Simeone who is expecting "the usual Barça we all know" even while the Blaugranas are without Iniesta and Busquets.
13:45 | Atletico striker Griezmann has been told by another French frontman that he would suit the Premier League.
12:54 | Lionel Messi can expect a veciferous welcome as he takes to the pitch tonight, but could he leave to a standing ovation from the Calderón? It's happened before. Oh, yes it has, lookie here.
12:22 | Former Barcelona star Ronaldinho has been speaking to ESPN Brazil and believes that the front three he was part of at the Camp Nou were better than those in the shirts today.
11:35 | This is the 48th time that these two sides have met in the Copa del Rey.
10:48 | AS editor Alfredo Relaño believes this game is a crossroads for Atleti and calls on Simeone to refind his outer Caesar.
10:15 | As usual, we've prepared a little guide to support our captivating min-by-min word updates.
09:40 | We're expecting some light drizzle through the afternoon but this should have cleared up by kick-off leaving a slick surface for the beautiful game. Lumping it forward remains an option.
09:15 | Excitement levels in the Spanish capital are already high and even last night fans were in good voice for the arrival of Atletico to the team hotel.
---
Atletico Madrid vs Barcelona: preview
A tight, tense, equal battle can be expected in this Copa del Rey semi-final duel. Atletico come into the game after dropping points at Alavés, and realistically the Copa is their best hope for silverware this season, so they'll be more than fired up. Barcelona also missed out on three points in LaLiga at the weekend, drawing with Betis (thanks in part to some rather dodgy officiating), but they'll be looking to keep their fine Copa form going, having battered Real Sociedad 5-2 at home in their last outing.
Atletico Madrid team news
Simeone will be expected to put out his strongest Atletico Madrid side. In LaLiga Atleti have fallen a full 10 points behind Real Madrid, meaning the Copa is a major focus for Cholo and his men. Don't be surprised if Atleti go out somewhat adventurously, as they will want to take something to the Camp Nou in the second leg.
Simeone was forced to start his preparation for the tie without Correa, who took a knock against Alavés, and without Giménez, who will be out for several weeks. From the team the Atleti coach tried out at training it looks like neither Gameiro nor Torres will start up front, with Carrasco and Griezmann the goal-getters to be relied upon.
Atletico Madrid man to watch: Antoine Griezmann
Three games, three goals in the Copa del Rey. The striker is one of the main men up front for Atleti, but he needs to take full advantage of his opportunities if Simeone's men are to hurt Barça.
Barcelona team news
Luis Enrique's side came through their quarter-final against Real Sociedad with a thumping, confidence boosting 5-2 win, but their Liga form has been somewhat dodgy of late. The team head to the Spanish capital after a tough draw with Betis, in which, goal-line boo-boos from the officials aside, Luis Enrique admitted his side had not performed to the standard he, or the fans, expect.
For the first leg in the Calderón, Barcelona may bring in Rafinha, who was back in training with his team-mates last Monday. On the other hand, Busquets and Iniesta look almost certain to still be out through injury, though Luis Enrique is hopeful they will be back for the return leg.
Barcelona man to watch: Leo Messi
Sorry to pick such an obvious 'man to watch' but Messi really is the main doer and shaker for Barcelona (some have even argued the side have an excessive Messi-dependency). He's scored three goals in his four games played in the competition and nobody would bet against him wheeling away in celebration as Moyá's net ripples and the tears well up in the Atleti fans eyes.
---
Atletico Madrid vs Barcelona: potential line-ups
Atletico Madrid:
Moyá, Juanfran, Godín, Savic, Filipe Luis, Saúl, Gabi, Koke, Gaitán, Carrasco Griezmann
Barcelona:
Cillessen, Alba, Umtiti, Piqué, Sergi Roberto, Denis Suárez, Mascherano, Rakitic, Neymar, Luis Suárez, Messi
---
Atletico Madrid vs Barcelona: match build.up