Celta Vigo - Alaves
Celta Vigo - Alavés: Copa del Rey full-time report and action
Neither team could get the crucial goal as conditions made denied either team the chance to exert themselves on the Copa semi-final.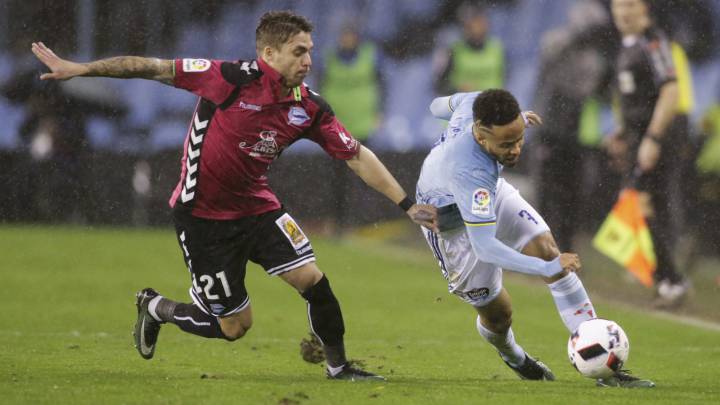 Celta Vigo 0-0 Alavés: full-time
The rain won out in the end at Balaídos as neither Celta Vigo or Alavés could manage to get the crucial 1st leg goal that would set them up nicely for the 2nd leg next Wednesday. Alavés will be the happier of the two with a trip to what has become a fortress in Mendizorrotza. there were very few chances in this one and the ones that did happen to fall, fell to Celta Vigo and Iago Aspas but a combination of the poor weather and mediocre finishing resulted in none of them chances being taken. Hopefully the return leg will be a little drier and with both sides able to inflict a gameplan on proceedings.
---
Celta Vigo 0-0 Alaves: second half
Min 90+3 | Another late free for Alavés as Deyverson is fouled. This is the last chance now. Sergio gathers and the ref blows the final whistle.
Min 90 | The last couple of minutes now Alavés seem to have killed off Celta's late push for a goal. They have a free now and are slowing things all the way down. The free comes in and Deyverson ends up getting a foot to it but Sergio bats it down to himself as the ball stops dead in the mud that has gathered in front of his goal.
Min 87 | Sisto swings in a cross and Hernandez gets a foot to it as he stretches. It goes under Pacheco but can't beat the post. A quick scramble after and Alavés can rest easy again.
Min 85 | Celta Vigo pushing for a late goal and have a free in a relatively dangerous position. If Lionel Messi played for Celta, it might be dangerous, but sadly, he is busy in Barcelona. Guidetti lines it up and hits the target with Pacheco almost missing it. He gets a hand to it and manages to push it away though.
Min 82 | Aspas tries an outside of the boot effort and it all goes horribly wrong. Well wide.
Celta Vigo substitution - Sergi Gomez replaces Cabral.
Min 79 | Deyverson waiting inside as Vigaray marches into the box and shoots against Sergio. the angle was too tight and that was a real chance for Alavés.
Celta Vigo substitution - Local legend John Guidetti comes on for Daniel Wass.
Alavés substitution - Ibai Gomez is replaced by Carlos Vigaray
Min 75 | The ball pops up just lovely to Aspas, who catches the ball on the chilena. It creeps just inches wide.
Min 74 | Sisto the only lad who packed the six inch studs as he shakes a couple of Alavés defenders out of their boots before being fouled.
Min 73 | Manu down trying to get rid of some cramps. He has bene everywhere today to his credit.
Min 70 | Aspas with a glancing header but he doesn0t get enough on it. He lifts his hands in the air to ignite the crowd again.
Celta Vigo substitution - Pione Sisto replaces Theo Bongonda.
Min 69 | Camarasa so close to getting in on goals but Cabral steals it off him with a strong challenge.
Min 67 | By far the best move of the game. Long ball by diaz is headed down by Wass to Aspas and he absolutely demolishes the ball with a half-volley and nearly breaks the crossbar in two with the impact. So close to a goal...and serious tekkers by Aspas. Balaídos is alive again!
Min 61 | Conditions have deteriorated to the point that it's like watching a game of football on an ice rink.
Min 60 | Marcos Llorente booked for a foul on Pablo Hernandez.
Min 58 | Save! Pacheco saves from Aspas from point blank range. He gets a hand to it and taps it over for a corner that Alavés clear.
Min 55 | Theo Hernandez cruises past Mallo and cross parallel to the goalline. It hits a Celta defender and straight into the hands of Sergio. That could have gone anywhere.
Min 54 | Alaves corner. The chances of this one being decided by a set-piece is high. Not from this set-piece though as LaGuardia gets his angles wrong with his header.
Min 51 | Long ball by Roncaglia meets the same fate as his previous one. Out of the sideline. The rain is destroying any tactics or possibility of any slick passing.
Min 49 | Hugo Mallo with, literally, a sliding tackle as he collides with Manu Garcia. No yellow but it looked like a sore one.
Min 47 | Conditions have not improved, as theo Bongonda finds out. He slips as he tries to turn and gives away a throw. The rain is actually getting heavier.
Min 46 | Go for launch at Balaídos
---
Celta Vigo 0-0 Alaves: first half
HT: Referee blows it up as the clock strikes 45. He wants to get in out of the rain for a cup of tea and a biscuit.
Min 45 | Theo is fouled by Manu Garcia. Balaídos want a card as he might have prevented a very good attack but referee isn't budging.
Min 42 | Celta win a corner. After it bounces around like a beach ball for a second or two in the box, Alavés get it away.
Min 40 | Really good move by Alavés results in an equally impressive save from Sergio. Camarasa broke, played it to Femenia, who played it back to Camarasa and swung a lethal cross into Manu Garcia but Sergio gets a hand to it and deflects it out for a corner.
Min 38 | Not quite sure if it it the conditions or the pressure being put on them by Alavés but Celta have failed to hold possession in this half and build like they might have liked. Aspas has provided very little up front and there could be merit in bringing in Guidetti to win the ball and hold it up for the home side.
Min 36 | Referee not happy with the ball and halts play to change it.
Min 34 | Aspas with a sniff at goal but Feddal comes across and covers well. Corner to Celta that Toquero heads away at the front post.
Min 33 | We didn't have to wait too long for our first yellow as Theo Bongonda gets his name in Jose Luis Gonzalez' black book. He does in his on Laguardia as he tries to clear.
Min 32 | Radoja goes in hard on Manu Garcia. He caught the top of the Alavés captain's foot with his studs. No yellow, but it very well could have been.
Min 30 | Rain is playing havoc with some defenders' clearances. Second time an Alavés defender slices the ball and allows Celta to build.
Min 28 | Feddal with a fluffed clearence. The cross arrives in from Hernandez but Aspas whiffs first and then Bongonda does the same. First time Celta have troubled Alavés in over ten minutes.
Min 26 | Wass clotheslines Camarasa with Alavés on the break. Free to the visiting side.
Min 24 | Alavés really growing into this game. Manu Garcia dispossesses, passes to Ibai Gomez and he does the same to Deyverson. He can't turn into a shooting position though. Celta under slightly more pressure now as Alavés come out of their shell.
Min 22 | Toquero tries a long pass over the top but he mishits it and it lands at the feet of Deyverson. He is offside though. Alavés certainly stepping it up in the last few minutes.
Min 20 | Alavés press up on Celta (well, Deyverson does) and Cabral hits a pass to Roncaglia that is too short. Camarasa nearly intercepts it but it just inches away. He was through on goal if he could have gotten a foot to that.
Min 18 | Johny with a high header back to his goalkeeoer with Deyverson chasing it down but Sergio grabs it before Deyverson can get close enough.
Min 16 | Camarasa with a good run towards Celta Vigo's goal. He plays the ball to Deyverson but the striker meets a dead-end, turns and tries to chip it back from where it came but Celta have all angles covered.
Min 14 | Long, cross field ball into the penalty area by Theo Hernandez but it can't find its target and goes out for a goal-kick.
Min 11 | There hasn't been a foul yet but Toquero pulls down Theo and Celta have a free. They are dominating possession now. Alavés seem happy enough with that provided they don't start to move forward. They have the ball in very neutral positions of the field.
Min 8 | Alavés sitting in a deep block as Celta vigo continue to play around at the back. No massive urgency from either side yet but at times Celta have pressed Alavés and have caused problems.
Min 6 | Celta Vigo press Alavés and win the ball back deep in the visitors' half. Aspas crosses but Alavés clear. That was a two-on-three break. Very close to having an opener after just six minutes.
Min 4 | Bongonda looking to make his way into enemy territory but is repelled and turned back.
Min 2 | After an initial bust by Alavés, Celta now holding the ball and throwing it around at the back. No urge to move forward yet as they looking to be eyeing up their prey!
Min 1 | We are underway at Balaídos.
---
Celta Vigo vs Alavés: team news
Celta Vigo starting XI: Sergio, Hugo Mallo, Cabral, Roncaglia, Jonny, Marcelo Diaz, Radoja, Pablo Hernandez, Wass, Bongonda, Aspas
Alaves starting XI: Pacheco, Femenia, Laguardia, Feddal, Theo, Llorente, Camarasa, Manu Garcia, Ibai Gomez, Toquero, Deyverson
---
Celta Vigo vs Alavés: latest news
20:59 | Balaídoes is bouncing tonight. The fans are in full voice. I wonder did the party ever stop since the Real Madrid game last week?!
20:50 | Vigo typically gets around 162 inches of rain every February. They are certainly getting some of that 162 tonight. It's wet at Balaídos, making conditions fairly slick.
20:39 | The general sentiment here is that they are two very different styles but two excellent managers. Not too dissimilar to last night's Atletico Madrid - Barcelona game in terms of styles.
20:37 | He loves them back just as much.
20:34 | We are just 25 minutes out now from the second semi-final in two days. Both sides are out and warming up to what sounds like John Guidetti's techno song. Check out this rendition by vigo schoolkids on the day the Swede showe up at their school. He is really loved at the club.
20:22 | On the other hand, Pellegrino has changed nothin from their game against Atletico and picks the same eleven. Similar tactics? Keeping Celta scoreless is key for them as a trip to Alaves is not a nice place to have to go in search of goals. They have conceded just one goal at home in the Copa del Rey this season (six games).
20:11 | If ever there was a sign that Celta Vigo were saving themselves for the Copa, it was last weekend against Leganes. They make seven changes for Alaves' visit to Balaidos tonight. Do they think they can put this one to bed in the first leg? The Mendizorrotza is not an easy place to go, as Atletico Madrid found out last weekend, and maybe Berizzo is thinking of getting a couple of home goals to bring with them on the bus journey across the roof of Spain next Wednesday.
19:58 | Celta Vigo team news is in and Berizzo rings the changes. Guidetti does not start but Aspas does!
19:10 | Celta Vigo have made it to three Copa del Rey finals in the past. They were beaten by Real Zaragoza in the two most recent and beaten by Sevilla in their first.
17:00 | Celta may be the favourites going into the tie but history is not smiling on the home side: Alavés have knocked out the Galician side on the five previous occasions they have met in the Copa.

16:30 | Nice touch by Alavés, who are footing the bill for their travelling fans this evening. Football at its most community minded.

16:00 | There is talk on weather networks of a "temporal" (major storm) arriving in Galicia this evening around the time of kick off
14:10 | If the favourites, Celta, do prevail in this tie then they'll be aiming to prevent a fourth consecutive cup final defeat.
13:05 | If you fancy a flutter you can get Celta Vigo 4/6 with Alavés at 9/2 with Bet365. Our Oracle says 2-0 Celta with an opening goal from Aspas.
12:13 | Our man in Galicia has his umbrella up and will not be putting it down for some time.
11:29 | Tonight's game should be the perfect contrast of styles: Celta known for their attacking desires while Alavés have proved themselves to be defensively solid.
10:54 | One player who will be absent from tonight's clash is Orellana who left Celta at the end of the January transfer window to join Valencia.
10:10 | Celta's next league match is on Sunday evening at home to Real Madrid, the team they dumped out of the cup in the quarter finals.
09:27 | This game can also be seen around the world on various formats. Here's a handy guide which can be ignored as you choose to stay with our live feed here.
08:50 | These two sides know that if they make it through to the final they'll have a rather tough final. Barça have the edge in the other semi-final although it's not over just yet.
08:10 | Good morning! We'll be bringing you live build-up throughout the day, so stay right where you are...
---
Celta Vigo vs Alavés: Copa del Rey 2017 semifinal 1st leg preview
Celta will be eager to provide their fans with yet more joy – after eliminating Real Madrid from the cup last time out – in a match that will serve as an appetizer to the LaLiga meeting with Zidane's table-topping side on Sunday. As they welcome the visit of Alavés, Celta remain the only team left in the completion to win their previous league match, having overcome Leganes on the weekend.
Celta Vigo
Berizzo boys are enjoying quite a ride in this competition and were rewarded for their run with the easiest draw on paper after Barça and Atletico were picked to pay each other in the first semifinal. With two weeks remaining till the return of the Europa League, the Vigueses set their sights on the domestic cup final in this two-legged tie against Alaves.
Player to watch: Wass. The midfielder was the author of the goal that saw Celta advance at the expense of Real Madrid, his second of the competition so far.
Alavés
Mauricio Pellegrino's side have reached this stage on a slightly easier path than Celta, given that their quarter final opponents were the only team left not from the Spanish top-flight. Alaves have the advantage of playing the second leg at home, nonetheless they'll be vying to take a win back to Mendizorroza. However, the team from Vitoria has drawn three games of their last three games, meaning they'll have to improve their fortunes in front of goal.
Player to watch: Ibai Gómez. The midfielder carried his team to the semi-final, scoring the two goals that gave them victory versus Alcorcón.
---
Celta Vigo vs Alavés: probable lineups
Celta Vigo XI: Sergio Álvarez, Hugo Mallo, Cabral, Roncaglia, Jony, Marcelo Díaz, Radoja, Wass, Aspas, Guidetti, T. Bongonda
Alavés XI: Ortolá, Vigaray, Alexis, Zou, Raúl García, Daniel Torres, Krsticic, Katai, Toquero, Rubén Sobrino, Christian Santos
---
Celta Vigo vs Alavés: match build-up