Napoli going like a rocket: undefeated since October
Real Madrid's next opponents in the Champions League are on fire. Mertens has filled Milik's spot to perfection, having already scored 20 goals.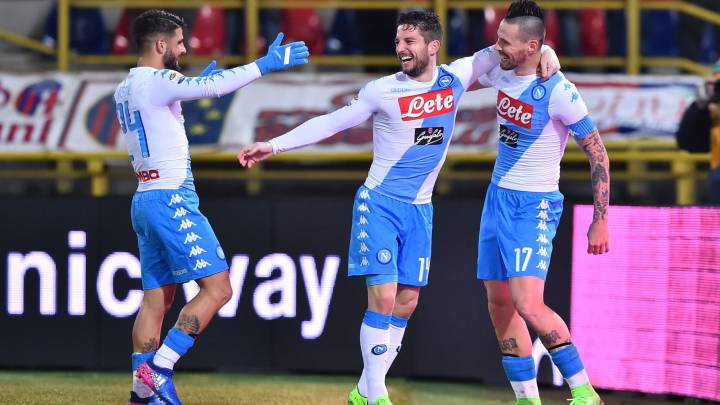 Napoli on fire with Real Madrid up next in the Champions League
Napoli, Real Madrid's opponents in the Champions League, are on fire. They thrashed Bologna 1-7 on Saturday, and Sarri's side (in their changed strips, for superstitious reasons) now haven't lost since 29 October 2016 (against Juventus).
Since then Napoli have recorded 11 wins and six draws, and can be considered to be a huge threat to the possibility of Zidane's Real Madrid side retaining the Champions League title. The two meet in two weeks at the Bernabéu in the first leg of the last 16.
Napoli's last defeats a long time ago
Napolo were beaten three times between 2 and 19 October (Atalanta and Roma in the league and by Besiktas in the Champions League). Just after came the slip up to Juventus.
Since then the team has been firing on all cylinders, with two players standing out: Belgian striker Mertens, who has scored 20 goals in 28 games, and former Real Madrid player Callejón, who has notched 10, and set up 12, making him the side's main provider. Hamsik is the third pillar of the team, and scored three on Saturday against Bologna, just as Mertens did.
Mertens takes over from Higuaín
The fast Belgian Mertens, standing just 1.69 metres, has become the unlikely replacement for Higuaín. Playing as an attacking midfielder or out on the wing for most of his career, and signed by Napoli four years ago for paltry sum of 10 million euros, he's turned himself into an out and out goal grabber.
"He's having fun and you can see it", said Sarri after the Bologna match. Mertens has done exactly what Napoli needed with Milik out - the Polish striker brought in to replace Higuaín, but who has been out injured for four months. Milik was in the squad for the Napoli game, and will be ready for the Bernabéu. Before he was injured he'd scored seven in nine.
Five goals or more for Napoli
In addition to the seven scored against Bologna, Napoli have scored five twice more during this honeymoon spell: against Cagliari and Torino. And since 23 November they've scored in every match they've played. Real Madrid, you have been warned.