Callejón: Napoli fear Real Madrid, they're the best team in the world
In an exclusive interview with AS, former Real Madrid forward José Callejón talks about his "dream" return to the Bernabéu with Napoli in the Champions League next week.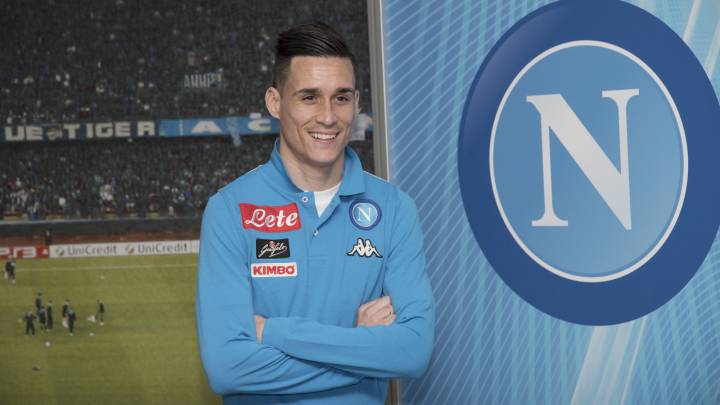 AS spoke to Napoli striker José Callejón ahead of next week's Champions League match against Real Madrid which will mark an emotional Santiago Bernabeu return for the 29 year old forward.
Real Madrid-Naples. Was it the Champions League draw you dreamed of?
The truth was yes, I dreamed of going back there. I did not expect it to be now, in the Last 16, it's a bit early to play Real Madrid! But the draw is like that sometimes...
How did the dressing room react?
Well, it's a challenge for everyone. But until Saturday we can't talk about Madrid, the boss gets angry (laughs)!
What do you fear about this Real Madrid?
Well, everything. It's the best club in the world, you have to look out for practically everything.
Have you talked to any of your ex-teammates?
I'm in contact a lot with Ramos and with Morata. I also congratulated Cristiano for the Ballon d'Or.
"It's not every day you work with the best in the world"
What kind of teammate is Cristiano?
He is an absolutely normal, modest person. He's great worker: first to come in and the last one to leave. When I trained with him, I always tried to learn. It's not every day you work with the best in the world.
Your coach at Real Madrid was Mourinho. Have you talked to him about the tie?
I still have a great relationship with him, but no we haven't commented on the match.
What's your opinion of Zidane as a manager?
He's doing great, but I'm not surprised. He was a spectacular player and as a coach it was not going to be any different.
Lucas Vázquez is doing well in role that could have been yours…
I'm very happy for him, the Madrid reserve team is for that: to develop good players. I am happy for him and for Zidane, who's given [Lucas] confidence.
What youth product has impressed you the most?
There have been many, Lucas, Morata ... they are doing thing very well.
Can Morata be the number nine of this Madrid side?
I think so, he's a great centre-forward. He deserves it.
Why is it so difficult for a Blancos youth player to find space in the first team?
The philosophy of Madrid has always been to have the best players in the world, and for that you have to go and sign them. However, now you see many young talents that are gaining prominence with the first team and that can only be good.
When did you feel it was time to leave Madrid?
I was very happy, but I felt that I had to take a step forward in my career. Rafa Benítez called me and told me things were going to be good there [in Napoli]. I didn't hesitate for a second.
Rafa said "this guy is going to score 20 goals", and he was right...
I put pressure on me that did, but it worked (laughs)! I was very happy with him [at the club], he taught me a lot, we won two titles and I got my first callup to Spain. I can only thank him.
Why didn't it work out for Rafa at Madrid?
- I do not know, honestly. To manage Real Madrid is very difficult and these things can happen, but he is still a great coach. I'm really glad things are going well in England, he deserves it.
When did Rafa left, did you have offers to return to Spain?
- No, I hoping to meet [Benitez's Napoli replacement] Maurizio Sarri, I never had any offers. With the boss I regained my spark…
How come?
He connect with the group, we loved his style of play. He told me he was going to depend on me, explained his ideas, and hooked me up right away. You can see the results...
He arrived from Empoli and had never trained a big team. What's surprised you about him?
He transmits a lot face to face, says what he thinks and is a great virtue. We love his methods: he always wants us to keep possession, attack, and have a lot of fun.
How did the squad take Higuain's departure to Juve?
He was a very important player, he scored 36 goals, and it's normal that people don't like seeing him in the Juve shirt. But we just keep moving forward.
In fact, you scored more goals last year!
We're doing great, and the concepts of the boss after a year and a half are now maturing.
"The 2nd leg in San Paolo, which will be spectacular..."
The trident with you, Mertens and Insigne is working well…
We're enjoying ourselves. We complement each other very well, hopefully we will continue like that.
What should fear the Madrid about Napoli?
Many things. We are in a good moment right now, we on a great streak of games without losing, and we have the 2nd leg in San Paolo, which will be spectacular...
The 2nd leg sold 40,000 tickets in one day!
It's incredible, since the day of the draw there's been talk of nothing else. There's a lot of hope, the Neapolitans deserve happiness.
And now Napoli only wear white...
Well, I like it a lot! The club decided to use this colour and the results since then have been great. Let's see if it continues…