Osasuna - Real Madrid: match report and goals, LaLiga week 22
Goals from Cristiano Ronaldo, Isco and Lucas Vázquez earn Zinedine Zidane's side three points in Pamplona against a dogged home side.Marseille - PSG live online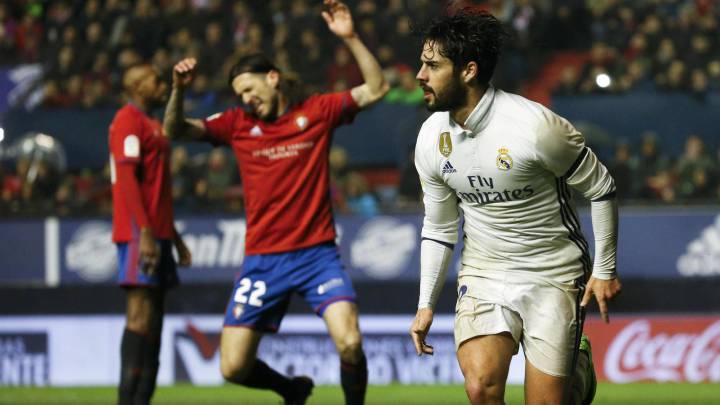 Osasuna 1-2 Real Madrid: match summary
Real Madrid re-assumed leadership of LaLiga after Barcelona has briefly moved to the top of the pile with a 3-1 win over Osasuna at El Sadar on Saturday night.
Goals from Cristiano Ronaldo, Isco and substitute Lucas Vázquez sealed victory against an Osasuna side who played to their strengths and were often threatening on the break. Sergio León continued his excellent recent run of form with a well-taken goal after springing Real's offside trap and the Osasuna forward kept Keylor Navas on his toes all evening with some stinging shots that the Real keeper did well to keep out.
Zidane elected to play an unfamiliar 3-5-2 formation in Pamplona with Danilo and Marcelo out wide but was forced into a reshuffle when the former went off injured in the second half. Osasuna were also forced into two changes after Tano suffered a horrific broken leg in the first half in a period of play when Osasuna were having the better of the game. Juan Rafael Fuentes followed in the second half and Real were able to capitalize on the home side's misfortune when Isco popped up to slot home from the area vacated by the left back a few minutes earlier.
Vázquez sealed victory in stoppage time with a well-taken goal after the canterano found space at the far post.
---
Osasuna 1-2 Real Madrid: as it happened
Min 90+2 | Gooooooooal! Vázquez sneaks in behind the Osasuna back line on the left and lifts the ball over Sirigu to make it 3-1. And there's not even enough time to bother with the restart. All over in El Sadar and it's three points for the visitors, who were made to work extremely hard for them by Osasuna.

Min 90+1 | Osasuna come forward again and Ramos clears the danger. Another ball into the area is gathered by Navas as the home side crank up the pressure.

Min 90 | Vázquez! The canterano skies the ball from two yards out but he was under considerable pressure from a defender. Penalty-worthy pressure, the winger informs the ref, but he's not impressed.

Min 89 | Uffff! A nicely worked move from Osasuna is scooped up gratefully by Navas. The home side carved themselves out a nice chance there.

Min 88 | Casemiro hammers the ball from his half up to Sirigu as Real dig on for the final few minutes.

Min 86 | Isco is the man to make way, and he gets the treatment from the El Sadar crowd. He can take that as a compliment though.

Min 85 | Mateo Kovacic is preparing to come on as Zidane looks to hang the "closed for business" sign on this game.

Min 84 | A couple of loose passes from James and Vázquez in midfield gifts possession to Osasuna but Varane is across to thwart a counter-counter, if that's a thing.

Min 82 | Navas again! The keeper makes another smart save from Sergio León, who had an almighty crack from the edge of the area.

Min 80 | Ufffff. Ronaldo does a couple of stepovers, earns himself a yard of space and then shanks his shot high into the stands to a chorus of jeers.

Min 79 | Isco has been excellent this evening and he wins a free kick shielding the ball in midfield.

Min 77 | Ronaldo appeals for a penalty but it's waved away. There was a bit of contact as he controlled on his chest and went for the shot but he was fishing for it and the ref wasn't in the mood for biting.

Min 76 | Madrid are trying to put their foot on the ball and control the tempo while the clock runs down but Osasuna are still about them like a pack of wolves in midfield.

Min 75 | Nice ball from James! The Colombian threads a pass through the defence but it's just too long for Ronaldo, who was flagged anyway.

Min 73 | Close! Ronaldo controls a ball over the top with the deftest of touches and steers a shot towards goal. Sirigu throws out a leg and it could have gone anywhere really but bounces just in front of his far post.

Min 72 | A potential headache for Osasuna as Jaime heads to the touchline with the team physios. The home side have no substitutes left.

Min 70 | Benzema is off now and Lucas Vázquez is on on his place.

Min 69 | Uffff. Loé plays a ball into space behind the Real defence but there isn't a red shirt within a country mile of it.

Min 67 | Ronaldo is called offside and makes fews friends in El Sadar by continuing his move with a flick. He makes the "didn't hear the whistle" gesture to the lino and then the "keep talking" gesture to the crowd. Pure pantomime from everybody's favourite villain.

Min 65 | Real look happy enough to keep the ball at the moment and have slowed the pace down to a walk while they try and pick a way through the Osasuna defence.

Min 63 | Osasuna have used up all their subs already so will have to chase the game with what they have on the pitch.

Min 61 | And it does not work...! Isco strokes in a shot from an acute angle to make it 2-1 after Benzema was bundled off the ball in the area. Good anticipation from the midfielder there.

Min 59 | It looks like Osasuna are looking to protect the score now as defensive midfielder Raoul Loé comes on for Fausto. James goes in the book for a challenge on David García in midfield. Not ideal as he's only been on for three minutes.

Min 58 | Berenguer intercepts Isco's attempted pass to Nacho and drives into the opposition half but takes a heavy touch and the ball rolls out of play ahead of him.

Min 56 | It is James who comes on to replace Danilo.

Min 55 | Danilo is also leaving the field on a stretcher, it looks like he's got an ankle problem and won't be able to continue. Looks like James Rodríguez is coming on, which is a little odd as Dani Carvajal is on the bench.

Min 54 | Real make a quick break through Marcelo, who feeds Benzema. The Frenchman lays off for the onrushing Ronaldo but Sirigu is alert to the danger and smothers the ball at the Portuguese's feet. Danilo is down after a heavy challenge and it's not looking good for the Brazilian.

Min 52 | Fuentes is off now for Osasuna, and it looks like another forced change as the left back goes off wincing. Clerc is on in his place.

Min 51 | Real are knocking on the door but Osasuna are not at home to any defensive mistakes this evening. The red wall holding firm for now as the visitors probe for weaknesses.

Min 49 | Marcelo skips a couple of challenges and puts Benzema through on the left but the Osasuna cover is good and the Frenchman is bundled off the ball for a goal kick.

Min 47 | Navas! Another wonderful save from the Real keeper denies Sergio León, who is having quite the game. The Osasuna striker again got in behind the Real back three and unleashed a fizzing shot that Navas was at full stretch to guide round the post.

Min 46 | We're back underway in El Sadar, where the rain is hammering down now.
---
Osasuna have been good value for the half-time result, attacking with verve and keepng Real's chances at the other end to a minimum. Will Zidane change his tactical set-up for the second period? We're about to find out.
Min 45+2 | Danilo lobs one into the area but it's bread and butter for Sirigu and the whistle goes for half time.

Min 45 | Two minutes added as León is called offside as he gets around the back of the Real defence again.

Min 43 | Isco again getting stuck in at the back as he brings Jaime's jinking run to a halt on the edge of the Real area.

Min 42 | Navas! What a save from Riviere's low shot, which arrived through a crowded area.

Min 40 | A good piece of defensive work from Isco as he nips the ball from between two Osasuna players making progress down the right. Ronaldo shanks a left-footer horribly at the other end after Benzema teed him up, to the amusement of the home fans.

Min 39 | If Osasuna had an eight-foot striker they'd be four goals to the good by now. Another high cross is pinged in and it eventually drops into the paws of Navas after clearing a red shirt running onto it by a distance.

Min 37 | Fuentes is down now and looks to have landed awkwardly in an aerial challenge with Benzema. He's off for the moment...

Min 36 | Fausto goes in the book for nipping at Sergio Ramos' heels as the Real captain was bringing the ball out.

Min 34 | Sirigu! The Osasuna keeper makes a point blank save from Benzema after the Frenchman had been played in by Ronaldo. Benzema was about a foot from the goal line and looked certain to score!

Min 33 | That was León's seventh of the season and Real try to immediately get forward and redress the balance but a move between Ronaldo and Benzema breaks down and Osasuna regain possession.

Min 32 | Goooooooooal! And the home side have deserved it. Sergio León finds himself clean through and lifts the ball over Navas with a cool finish. Real's high line failed them there.

Min 30 | Osasuna win another corner as Ramos guides a ball into the box behind. It comes to nothing though. Real break and Benzema tries to feed Ronaldo again but the Portuguese doesn't quite have the speed to get on the end of it.

Min 28 | It's sent in to the back stick and plenty of red shirts are there to meet it but the ball eventually loops skywards and is plucked out of the Pamplona night by Navas.

Min 27 | Berenguer sells Luka Modric a dummy and the Croatian goes in the book for using his elbow to prevent the Osasuna man from getting round him. Another free-kick in a dangerous position for the home side...

Min 25 | That's a blow for Osasuna, who have had the best of the first half so far. It was a lovely ball from Benzema, taking out the entire defence and leaving Ronaldo to do what he does best.

Min 23 | Gooooooooal! And so of course Madrid go and score against the run of play! Ronaldo runs on to Benzema's perfectly weighted through-ball and hammers a shot through Sirigu's legs. 1-0 to Madrid.

Min 22 | Osasuna are first to everything at the moment and bossing Madrid in midfield.

Min 20 | Jaime has a pop with the free-kick but its high and clears Navas' bar.

Min 19 | Sergio León leads the Real defence a merry dance and the ball eventually finds its way out to the right, where Nacho concedes a free kick.

Min 18 | Osasuna are pressing Real well and not allowing them any time on the ball. The visitors do not look comfortable with this formation: nobody seems to know who's supposed to be where or doing what.

Min 16 | Navas! The Real keeper gets down well to a deflected shot. He won't have seen that one until it was almost on him. Decent save.

Min 13 | The look on Marcelo's face says it all... that looks like a really bad one for Tano. He's off and David García is on.

Min 12 | Ouch! Tano is down in a lot of pain after a horrific clash with Isco in midfield. The stretchers are out and it doesn't look like he'll be able to continue.

Min 11 | Osasuna are staging an aerial assault on Real's area but thus far a white shirt has been on hand to head the danger clear. The home side's plan is pretty clear: hit on the break, get crosses in and put Real under pressure.

Min 9 | Fuentes is the first name to find its way into the referee's book after the Osasuna defender took Ronaldo out with a challenge we are obliged to describe simply as "robust."

Min 8 | Ronaldo's run is cut short and his pass backwards is then picked up by an Osasuna player, to howls of derision from the stands. Osasuna carve out an opening at the other end but Real manahe to snuff out the danger.

Min 6 | Osasuna are looking threatening on the left and come forward with intent but Real scrable it out for a corner.

Min 5 | There's a bit of a mix-up in Real's packed defence and when Ramos comes over to take charge of the situation he's rewarded with a crunching challenge and goes down in a heap looking not very happy at all.

Min 4 | Benzema almost wriggles through the home back four but Oier gets a boot in and Real win a corner. Marcelo swings a cross over after the corner was taken short and it falls to Benzema on the edge of the area, the striker hitting a decent volley just wide of the post.

Min 3 | First foray forward from the home side and Navas is down well to an inviting low cross.

Min 2 | The home fans in good voice and give Navas a bit of treatment for dwelling on a clearance.

Min 1 | And we're underway! Isco gets himself into a spot of bother in the corner and after a few shimmies and feints shins the ball into the crowd, to their evident delight.

20:42 | And it's confirmed that Zidane is actually starting with a 3-5-2 in Pamplona... There's a minute's silence for the victims of a stadium stampede in Angola earlier on Saturday.

20:40 | The teams are in the tunnel and about to step out on to the turf at El Sadar, which was imported from Portugal this week for tonight's game. We can only imagine the cold snap gripping Spain at the moment is the reason for that.
---
Osasuna vs Real Madrid: team news
Osasuna XI:
Sirigu; Berenguer, Tano, Oier, Vujadinovic, Fuentes; Fausto, Causic; Romero, Rivière, Sergio León.
Real Madrid XI:
Navas; Nacho, Varane, Sergio Ramos; Danilo, Casemiro, Modric, Isco, Marcelo; Benzema, Ronaldo.
---
Osasuna vs Real Madrid: latest news
20:30 | Real Madrid have certainly not had it all their own way in El Sadar over the years. Both José Mourinho and Carlo Ancelotti dropped points in Pamplona during their tenures at the Bernabéu.

20:15 | All the team news on the line-ups for tonight's game is right here for your perusal.

20:00 | After Barcelona's thumping 6-0 victory over Alavés the culés have moved temporarily to the top of the table, two points clear of Real Madrid, who have two games in hand.

19:40 | It seems Zinedine Zidane is planning on starting with a variation of 3-5-2, while Osasuna are looking to shut up shop with five at the back.

19:10 | Osasuna are currently on their worst-ever winless run in the top flight. The Rojillos have gone 13 games without tasting victory, losing nine and drawing four of those fixtures. Their last win came on October 17, against Eibar, and that remains their only three points of the season to date.

18:40 | Real Madrid captain and stalwart Sergio Ramos will reach the milestone of 500 games for the club if he features tonight in El Sadar.

18:15 | According to ESPN, Miami will play host to a first-ever pre-season friendly Clásico between Real Madrid and Barcelona this summer.

17:40 | The AS Oracle has had a particularly intense look in his eye this week in his attempts to hit the jackpot. Have a gander at his prediction for tonight's encounter.
16:58 | One player looking to keep out of the spotlight is Álvaro Morata, whose curious choice of attire upon leaving a Madrid restaurant raised more than a few eyebrows this week.
15:55 | Ronaldo will also return to El Sadar. The Portuguese striker has faced Osasuna on nine occasions, bagging 10 goals. That said, only two have come in Pamplona.
14:45 | Tonight will see Madrid return to El Sadar 1,155 days after their last visit, in December 2013.
13:45 | Talking of Napoli, former defender for the Italian side, Ciro Ferrara, says Zinedine Zidane has embraced the Italian philosophy for defending in order to make Real Madrid successful again.
12:30 | Looking ahead to Real Madrid's Champions League tie on Tuesday for just a moment, opponents Napoli have now gone 18 games unbeaten after their win over Genoa last night. Are they unstoppable?
12:00 | Marco Asensio and Mariano have been left out of Zidane's squad for the Osasuna trip. See the full squad here.
11:10 | AS Real Madrid editor, Tomas Roncero, is just one of the many people who think giving Benzema a new contract is a "mistake". Do you agree?
10:15 | ICYMI: We broke the news yesterday that Real Madrid will be offering under-fire striker, Karim Benzema, a new deal in June. It's a story that was greeted by, let's say, a mixed reaction.
09:00 | Good morning and welcome to live buildup of this evening's game between Los Rojillos and Los Blancos. We'll be bringing you all the latest news ahead of kick-off so stay right where you are!
---
Osasuna vs Real Madrid: match preview
Ahead of the weekend's fixtures, LaLiga's top team travels north to Pamplona to play bottom side Osasuna knowing the importance of keeping distance between them and their rivals, but with one eye on what could be a very challenging Champions League first leg against Napoli on Wednesday. For the hosts, survival is the name of every game and although improvements in their performances have been seen in recent weeks under new manager Petar Vasiljevic, they haven't taken three points from a game since last October.
Osasuna
It's February and the team that was promoted to the Primera last year is now three points adrift at the foot of the table and eight points from safety after picking up just 10 points in 21 games. But, following the appointment of Vasiljevic to replace Joaquín Caparrós at the turn of the year, the light that had disappeared at the end of tunnel has just started to twinkle in the distance, with improved performances in recent weeks. Three draws in their last five league games, the other two being losses to high-flying Sevilla and Real Sociedad 3-4 and 2-3 respectively, suggest there is a momentum building. Captain, Oier Sanjurjo, spoke ahead of the game:
"We have begun to show that we are competing. What we want is for all that to come together for once and be rewarded in a win. We are strong." If it can come together on Saturday, it could send ripples out at both ends of the table.
Real Madrid
Although on paper this should be an easy three points for the league leaders, manager Zinedine Zidane was quick to point out in his pre-match press conference on Friday that El Sadar remains a tough place to go. And certainly from a Real Madrid perspective this is true with the team drawing in their last two visits. Depending on results elsewhere Los Blancos could arrive behind rivals Barcelona in the table and, even with games in hand, will not want to lose even a psychological advantage at this stage. The ideal situation for Zidane will be to start strong, have the game won early, allowing him to rest players with the European test just a few days away.
One player that will not want to be rested is captain, Sergio Ramos, who'll be playing his 500th match for the club. And there will be plenty of others in the dressing room that will be wanting game time, with the manager aiming to get those that have been out injured back to full sharpness - Modric and Carvajal included. Two players not lining up in midfield are Toni Kroos, who serves his suspension, and Gareth Bale, who is close but not yet ready for his long-awaited return.
---
Osasuna vs Real Madrid: probable teams
Osasuna XI
Sirigu, Oier, Garcia, Bonnin, Clerc, las Cuevas, Fausto, Causic, Berenguer, Leon, Kodro
Madrid XI
Navas, Carvajal, Ramos, Varane, Marcelo, Modric, Casemiro, Kovacic, Vazquez, Ronaldo, Benzema
---
Bet on Osasuna – Real Madrid now
---
Osasuna vs Real Madrid: match build-up