Real Madrid vs. Espanyol: as it happened, result, reaction, goals
A comfortable win for Real Madrid against a below par Espanyol side who offered little resistance at the Bernabeu. Gareth Bale bags a goal on his return.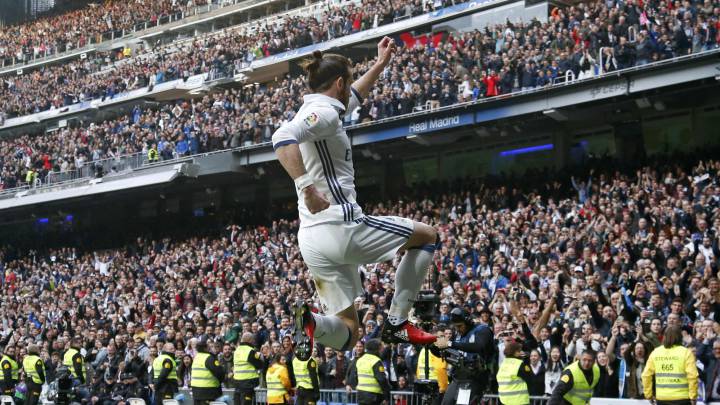 A result which disguises the one sided nature of this afternoon's contest at the Santiago Bernabeu as rarely has an away side offered so little in terms of fight and determination at the iconic football arena.
Statistics rarely lie and a possession level of 72-28% for the home side coupled with 13 corners awarded to Zinedine Zidane's men against Espanyol's two, go some way in showcasing how one sided this afternoon's LaLiga game was.
The French coach rang the changes after the Champions League exertion and conscious of a packed few weeks where games come thick and fast for the league leaders as a new look side struggled initially to create fluidity in their play as any spark from Espanyol dimmed after just ten minutes.
Morata was on hand to open the scoring, latching perfectly on a exquisite Isco assist and the surrender offered from the men in charcoal grey was surprising.
The second half was deja-vu with Real Madrid in complete control as Espanyol failed to create anything resembling a threat on Kiko Casilla's goal.
Gareth Bale made his long awaited return from injury and after just 11 minutes on the pitch announced his comeback with a finely taken goal after good counter attack work from Isco. Good news for Zidane and indeed Chris Coleman as Madrid now face four games in a condensed two week period that will go some way in dictating just where the LaLiga trophy will be heading mid May.
---
Min 92 | That's it as time is called at the Bernabeu.
Min 92 | Cristiano appeals for a spot kick but Undiano calls offside.
Min 91 | 2 minutes of time to be added.
Possession: 66-34 (%). Total dominance from the home side.
Min 84 | 88 days after his serious ankle injury ...Bale is back with a neatly taken left footed goal, placing the ball to perfection past Diego Lopez. Good build up play from Isco as Madrid countered with velocity.
Min 84 | Bale scores !
Min 83 | Casemiro booked for a trip on Perez.
Min 82 | Jurado the Espanyol player making way for No. 22, striker Vazquez.
Min 80 | Aaron booked for Espanyol pulling back Lucas Vazquez as Marcelo comes on for Real Madrid, with Nacho making way for the Brazilian international.
Min 79 | Alvaro Vazquez set to enter the fray for Espanyol
Min 77 | A busy schedule ahead for Real Madrid with first port of call being a trip to Valencia on Wednesday to play the LaLiga match cancelled in December due to Zidane's side being involved in the Club World Cup in Japan.
Min 75 | A more subdued performance in this second half from Madrid acutely aware that their opponents on the day are suffering from an impotence in attacking play.
Min 71 | Best news of the day for all Madrid (and indeed Wales) fans as Gareth Bale makes his return. Morata the player who makes way for the Cardiff born player.
Min 69 | Great work from Morata as he finds Cristiano but the No. 7 is unable to get his header down and on target.
Min 68 | Diop into the book for a foul on Casemiro. The midfielder will now miss Espanyol's next game against Osasuna at the RCDE Stadium next weekend.
Min 65 | Hernan Perez arrives late and reminds Nacho of his presence with a clumsy challenge. Indignation from the Bernabeu for the lack of a card for the Espanyol player.
Min 64 | A look of frustration on Quique Sanchez Flores' face seeing his side unable to thread a minimum of two to three passes together.
Min 62 | Espanyol finally get a shot on target as Hernan Perez drives a right footed half volley at Casilla who palms away.
Min 61 | Change for Real Madrid and it's Kovacic who makes way for Casemiro.
Min 60 | Casemiro set to make an entrance with the Brazilian receiving instructions.
Min 58 | Espanyol launch a counter but Hernan Perez fouls Varane and the move comes to nothing.
Min 57 | Another corner for the home side with it being just a question of time before the home side double their advantage.
Min 56 | Kroos tries his luck from long range with a right footed drive that was always rising.
Min 54 | The Portuguese player fires the ball straight into the Espanyol wall. Far from vintage from the striker from Madeira.
Min 53 | Javi Fuego stops a Cristiano run and is carded for his trouble. CR7 range !
Min 51 | As we were, Madrid dominate, Espanyol on the back foot !
Min 49 | Isco carded for a tug on a rival as Gareth Bale starts to warm-up to applause from the home fans
Min 48 | Madrid have now gone 42 consecutive LaLiga games finding the target and are two behind the current record of 44 (held by Barça)
Min 47 | Kovacic now sporting a discreet plaster instead of the large bandage following the first half clash with Diop.
Min 46 | Off we go with just one change at the break: Reyes off with the masked Hernan Perez on for Espanyol.
Zidane's men took their time to find the rhythm at the Santiago Bernabeu this afternoon with tinges of Champions League euphoria still hanging around the iconic arena. The new faces in the home side slowly but surely started to gel and managed to get a strangle-hold on the contest as any early Espanyol sparkle quickly dimmed with the men in charcoal failing to manage the simple but complicated art of passing and possession football. The goal was just a question of time and just after the half hour mark, Isco found Alvaro Morata with a pinpoint header and the 24 year old towering majestically to nod home. Easy for the home side and difficult to see how the "Budgies" can turn things around.
Min 46 | That's time on the half with Madrid firmly in control at the Bernabeu.
Min 44 | Madrid in possession as Espanyol chase shadows. What can Quique Sanchez Flores' side offer in the second half as Morata calls for a penalty. Correct decision from the official as he waves the striker away.
Min 42 | Piatti taken out by Kovacic and the Croatian is the second player to make it into Undiano's notebook today.
Min 41 | Corners: RM 7-1 Espanyol
Min 39 | The home side looking totally comfortable now with the goal rattling the visiting side who seem incapable of retaining the ball and seem to wither as the match progresses.
Min 38 | Morata goes close again as Kroos find the striker who failed to get his left foot shot on target.
Min 33 | Superb assist from Isco with a pinpoint pass to find Morata who ghosts in and nods home. It was coming ....
Min 33 | Morata opens the scoring!
Min 32 | Real Madrid turning up the heat now at the Bernabeu and for the visiting side it will be a question of keeping things scoreless through to the break.
Min 30 | Madrid almost open their account as Cristiano feeds Morata, in the follow up action, Cristiano has the ball in the net but the No. 7 was a fraction off-side as the ball was played. Correct decision by the linesman.
Min 29 | Just coming up to the half an hour mark and it's been a quiet, quiet afternoon so far from Kiko Casilla with the visitors yet to register a shot on target.
Min 27 | Cheeky skill from Cristiano just as Moreno is booked for Espanyol for a trip on the now back on the pitch Kovacic.
Min 26 | Kovacic able to make an exit from the pitch on his feet but concern about the impact just below the player's eye. Madrid down to 10 as Casemiro warms-up.
Min 25 | Kovacic down with an injury following a collision with Diop. Blood flowing from the Croatian players face as the stretcher is called.
Min 22 | Despite their clear domination in terms of possession, nothing resembling a clear-cut chance generated by the home side so far in the first period of the game.
Min 20 | Plenty of shirt tugging going on from Javi Fuego as Madrid float over a corner. Fortunately for the Asturian his attempt to remove Morata's shirt were not spotted by the match official.
Min 18 | Clear domination from the home side in terms of possession this afternoon. 65/35% for Zidane's men
Min 14 | Gerard Moreno breaks free for Espanyol and is adjudged to be off-side, a very very tight decision as Quique Sanchez Flores remonstrates with the fourth official about the decision.
Min 13 | Great work from Morata in the area with two cut-backs and his shot at goal is deflected for a Madrid corner.
Min 12: Lucas Vazquez looking lively today as Pepe latches on to a header and just fails to direct the ball on target. Madrid eeking ahead in terms of pressure.
Min 10 | A subdued Bernabeu today with possible memories of Wednesday's pulsating Champions League tie against Napoli still hanging in the air.
Min 7 | The corresponding fixture between both sides at the RCDE Stadium in September (2016) ended 0-2 for Madrid as "Ila Illa Illa Juanito maravilla" rings out from the Bernabeu.
Min 5 | Early probing from both sides with nothing to trouble either keeper at present.
Min 3 | Madrid in their classic all white kit with Espanyol sporting their away kit (black with pink trimming)....made by Joma since you should ask
Min 1 | Real Madrid looking to consolidate their grip at the top of the table whilst the visitors anxious to keep in touch with a Europa League position with Espanyol currently in ninth.
Min 1 | Undiano Mallenco sounds his whistle and Espanyol get us under way
---
16:14 | A mild mid February day in the Spanish capital with a temperature of 12C and 0% probability of precipitation during the match.
16:11 | Both teams make their way from the players tunnel to a reasonably packed but not sold out Bernabeu,
16:05 | A 17/1 price for an unlikely away win seems to be a very poor price from the bookmakers.
16:02 | Real Madrid warming up in their Adidas training kit. If speculation is to be believed, the LaLiga club are set to make a change in their playing kit supplier.
Confirmed line-ups:
Real Madrid: Casilla; Carvajal, Pepe, Varane, Nacho; Kovacic, Kroos, Isco; Lucas Vázquez, Morata and Cristiano.
Espanyol: Diego López; Diego Reyes, David López, Ó. Duarte, Aarón; fuego, Diop; Jurado, Reyes, Piatti; Gerard.
15:25 | The teams are confirmed, read all about the major changes for today's game employed by Zidane here
14:25 | Espanyol have not won at the Bernabeu on their past 22 trips to the Spanish capital. The last "Perico" win was back in 95/96 when a Jordi Lardin brace secured three points for the visitors.
13:20 | The referee for today's game will be Undiano Mallenco who knows these teams very well. He's very familiar with the two sides having officiated in 45 Madrid games and 31 where Espanyol were involved.
12:45 | As we told you before, with almost his full squad to pick from, Zidane is likely to make several changes. Here's a thought on how they'll line up.
12:20 | Comfortable home win thanks to an almost fully fit squad to choose from, so says AS Oracle in his latest round of predictions. It's worth noting that he's still working here for tuppence a month, so factor that into your thinking if having a flutter today.
11:35 | Remember that there is an earlier kick-off today in LaLiga to get you in the mood for our main event. Sporting host Madrid's neighbours Atlético with the game underway at 13:00 CET. What's that? Yes, of course we have a preview for you.
10:50 | The very stylish Quique Sanchez Flores said in his presser that the constant objetive is "to compete as best as possible" and has also asked his players to play with a freedom from nerves that can sometimes drain energy. Good advice, and we'll be telling live-feed Paul to heed those words ahead of his equally nervy 90 minutes.
10:25 | With Madrid a point clear of nearest rivals Barcelona and with two games in hand, many think the title is their's to throw away. But one Barça star has other ideas.
09:45 | It's good to see the banter flowing on the Madrid training ground after Casemiro's wonder goal (as in "I wonder where the hell that came from?") against Napoli. Chances of the home crowd shouting "Tira" every time the midfielder is within range today?
09:20 | In case you missed it, the first of LaLiga's weekend games took place last night in Granada where the home side put in a blistering first half-hour to secure a vital three points in their quest to play in Spain's Primera next season. It was disappointing for Real Betis but, hey, they've got a new celebratory kit to focus on.
09:05 | Zidane spoke to the press yesterday and confirmed a few things regarding today's team. The word you'll hear a lot is 'rotation': no Benzema, Modric, Keylor or Ramos for starters.
08:50 | It's Saturday and that means we have a big day of football. Coffee is flowing and we're already gearing up for the game that is being dubbed by some as "The Return of Bale". Clearly there is a lot more going on around this match.
---
Welcome to our live coverage of Real Madrid vs Espanyol as The Santiago Bernabeu hosts Saturday's LaLiga Santander clash that will kick off at 16:15 (CET).
This promises to be an entertaining match as Espanyol arrive at the Bernabéu with European place ambitions while Madrid aim to put further pressure on the chasing teams in the title race by extending the gap between them.
With an injury-plagued and stuttery first half of the season looking to have resolved itself, Los Blancos find themselves sitting top of LaLiga and in a strong position to qualify for the Champions League quarter-finals, Zidane must be feeling rather pleased. One piece of his jigsaw still to return - and a big piece at that - will do so against Espanyol although how many minutes Gareth Bale gets is uncertain. Cristiano Ronaldo is still leading the team's goal-scoring charts, and pushing for the Pichichi, while Toni Kroos will hope to add to his impressive tally of 37 assists.
Rotation is guaranteed though today with Keylor Navas, Luka Modric and Karim Benzema getting some rest after their European exerts. This means that Morata will get a much needed chance to prove himself up front from the start and Isco could be asked to provide the creative spark in a supporting role. Sergio Ramos will not be featuring either as a precaution to a muscle pull on Wednesday evening. Pepe will likely partner Varane while we may see the much derided Danilo at right-back, an opportunity to prove his many doubters wrong. Carvajal though is hard to leave out.
Quique Sanchez Flores arrives at the Bernabéu with his team sitting in ninth place in the table but knowing that a win could have his side just one point off sixth, the final Europa League qualifying position, depending on other results. And with an in-form Pablo Piatti returning to the team, and a host of changes being made to the Real Madrid XI, he will be targeting an upset against the league leaders.
Missing for the Blanquiazules today will be Marc Navarro (hamstring) which will mean more adaptation for a coach looking for consistency in performances. But there have been positive signs - the 3-1 victory over title contenders Sevilla being an example - which, if they can be harnessed correctly, could see a strong push over the final months of the season. The last ten games has seen four wins, four losses and two draws. Most in the Espanyol camp would accept keeping a balanced scorecard after this weekend's match.
---
Real Madrid XI
Casilla, Marcelo, Pepe, Varane, Carvajal, Casemiro, Kovacic, Kroos, Isco, Cristiano, Morata
Espanyol XI
Diego López, Aarón, Duarte, David López, Reyes, Diop, Fuego, Reyes, Piatti, Jurado, Caicedo
---
Bet on Real Madrid - Espanyol now
---
Real Madrid - Espanyol: match build-up