Real Madrid keen to avoid repeat of recent Mestalla nightmares
The club's last two visits to the home of Valencia have resulted directly in the sacking of Rafa Benitez and the end of Carlo Ancelotti's side's 22-game win streak -- a result which caused the Italian coach to fall out with Florentino Perez.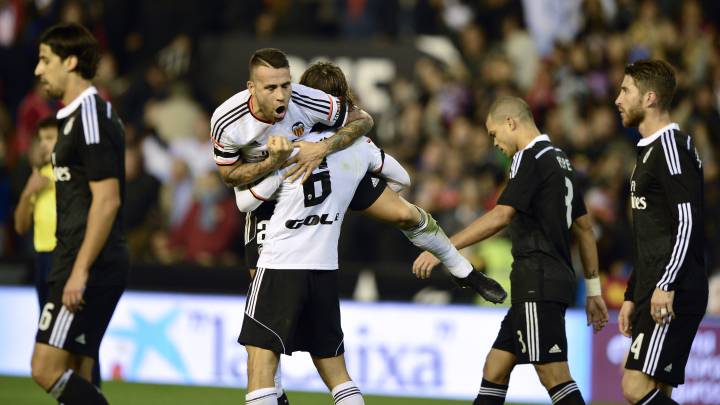 Follow the coverage match: Valencia vs. Real Madrid
Real Madrid visit the Mestalla on Wednesday night – a stadium which will bring back some bad memories from the previous two seasons.
Indeed, Los Blancos' last two trips to Valencia have resulted in the very foundations of the club being rocked, one way or another.
Jan 2016 - Benitez sacked after Valencia draw
After the team led by Rafa Benítez travelled to the city on Spain's eastern coast on January 3 2016 for a game that would end 2-2, Madrid president Florentino Perez decided he'd seen enough and duly dismissed Benitez from his post, replacing him with Zinedine Zidane the following day.
The decision was taken after the draw saw Madrid fall four points behind neighbours Atletico and two behind Barcelona in LaLiga.
Jan 2015 - 22-game win streak ends, Perez rages at Ancelotti over Bale
Almost exactly 12 months prior to that on January 4 2015, Madrid had yet another dramatic Mestalla visit, as the club's consecutive 22-game winning streak was brought to a halt, falling to a 2-1 defeat.
Florentino also vented his anger at the situation on this occasion, though without taking such drastic action as he would a year later in firing Benitez.
This time the president reproached then-coach Carlo Ancelotti for taking off Gareth Bale in the 70th minute, allegedly storming down to the dressing after the game to rage that replacing the Welshman was the wrong decision. Ancelotti was dismissed a few months later after failing to win the league or defend the Champions League crown.
Feb 2017? No drama, whatever the result
While a loss at Mesalla on Wednesday will see Los Blancos lose the opportunity to increase their lead at the top of LaLiga, Madrid still have the advantage of two-games in hand, so in the event of another slip-up in Valencia, do not expect to see a similar over reaction this week.