McLaren's Honda engine fails for second day in a row
The McLarens had experienced problems in the warm-up lap. Stoffel Vandoorne managed 29 laps before his engine lost power again. Warriors @ Cavaliers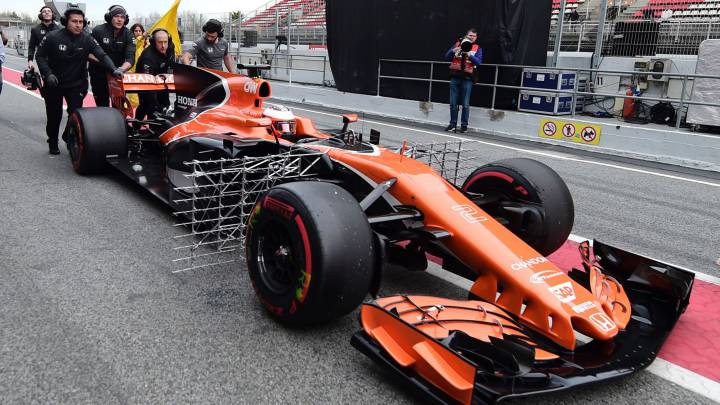 At just after nine on Tuesday morning the excitement grew as McLaren's mechanics prepared to roll out Stoffel Vandoorne's MCL32 on the second day of testing in Barcelona.
Honda engine problems
But after only a few metres the Belgian's car stopped at the head of the pit lane. Once again the Honda engine was causing problems and the mechanics swiftly returned it to the garage. Day two began much as the previous session had when Fernando Alonso was forced off the track after one warm-up lap with his MCL32 reporting oil system issues. The Spaniard later returned to complete 29 laps with a new power unit fitted as he ended the day with the fewest number of laps and 10th out of 11 in terms of lap times. "It was definitely not the perfect start," the double world champion noted.
Vandoorne setback
On Tuesday matters did not improve when Vandoorne set out. After completing a couple of laps without issue he too had to return to the garage after 29 laps after his Honda-powered MCL32 lost power. McLaren sources have admitted they have been unable to identify the problem or its extent.
Hamilton sets the early pace
Other teams fared little better on Tuesday. Renault failed to get a car out at all during the morning session and Williams encountered apparent mechanical problems. Lewis Hamilton set the fastest lap time of the session on super soft tyres in a Mercedes he ominously described as "a thousand times better than the rest." Ferrari's Kimi Raikkonen was the Briton's closest challenger, posting a time a couple of seconds slower than the Mercedes driver.
Morning times from day 2
1. Hamilton, Mercedes 1:20.983 (66 laps) SS
2. Raikkönen, Ferrari 1:22.831 (47) M
3. Ocon, Force India 1:23.045 (27) S
4. Magnussen, Haas 1:23.200 (36) S
5. Verstappen, Red Bull 1:23.212 (31) S
6. Kvyat, Toro Rosso 1:25.012 (44) M
7. Stroll, Williams 1:26.040 (12) M
8. Vandoorne, McLaren 1:26.201 (29) S
9. Giovinazzi, Sauber 1:33.741 (5) M
10. Palmer, Renault Sin tiempo (1)