Bellew reveals concern for Haye after winning brutal battle
As David Haye shipped heavy punishment and grappled with an injured ankle, Tony Bellew was keen for their grudge match to come to a close.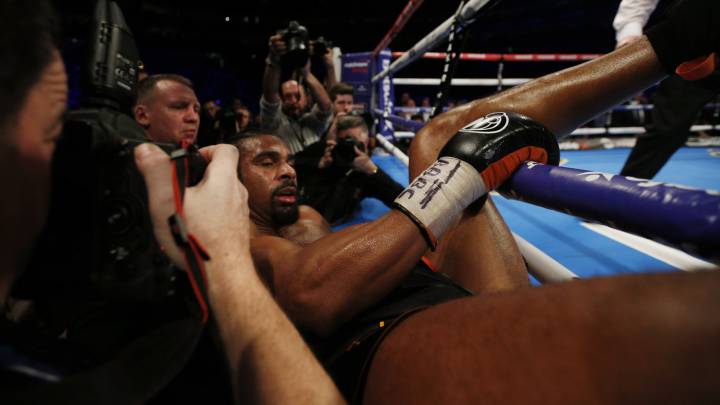 Surprise compassion after bitter build-up
Tony Bellew showed compassion towards fallen foe David Haye after a huge upset victory in Saturday's thrilling heavyweight showdown at the O2 Arena. Bellew, the WBC cruiserweight champion, was fighting in the highest weight class for the first time in a professional career that now reads 29 wins, two defeats and a draw.
A heavy betting underdog, the 34-year-old Liverpudlian started impressively, timing left hooks to steady an over-eager and ring-rusty Haye. The former WBA heavyweight king settled into the contest but suffered an ankle injury during a rough-and-tumble sixth round, when a frenzied Bellew forced him to take a count. It was then an exercise in survival for the Londoner, who spoke gruesomely about how he was a threat to Bellew's health during a build-up laced with bad blood.
"Not here to hurt him"
But when the time came to put Haye out of his misery, Bellew was imploring his opponent to leave bravery aside.
"Just before the stoppage came, I looked at David and said 'stop now'," he said. "He shrugged and I said, 'please, stop', then looked at Shane [McGuigan, Haye's coach] and said, 'stop it, lad'. I'm not here to hurt him. I know he said all through the build-up how he wanted to put me in hospital and leave me on a stretcher. That was never my intention. I just wanted him to get up."
Last message is just say thank you to @mrdavidhaye and hope he is fit and well and goes home safe! Great fight champ your a great fighter! 👊

— Tony Bellew (@TonyBellew) 5 March 2017
Talk of Haye retirement
It was Haye (28-3) requiring medical attention after he hobbled away, suggesting rumours of him nursing an Achilles injury were perhaps true. The 36-year-old had designs on an all-British superfight with Anthony Joshua, an engrossed spectator at ringside, but defeat in this manner hints towards retirement.
"I've got too much respect for him to make that call," Bellew said. "That's not my place to say. "I respect him as a fighter. I've looked up to David Haye nearly my whole career."
The future for champion Bellew
To the victor, the spoils and, as Bellew reflected with satisfaction upon earning a life-changing purse for his partner and three sons, promoter Eddie Hearn eyed further pound signs by possibly tangling with current heavyweight beltholders Deontay Wilder and Joseph Parker. The contrast in attitudes between Hearn and David Coldwell, Bellew's trainer and long-time friend, in the aftermath of battle was telling.
"I would be happy if he walked away," said Coldwell, acknowledging stark risks of boxing that Haye crassly turned into punchlines. "For me, the dream was to win a world title at cruiserweight.
"That's checked off and I wanted him to secure his family's future. Now we've ticked that box. If he turned around and said, 'that's us done', I'd be over the moon."