Ramos: top scorer behind Cristiano, Benzema and Morata
With a double against Napoli, which put to bed any chance of a comback from the home side in San Paolo, the Real Madrid captain hit 10 goals for the season.Real Madrid v. Málaga live online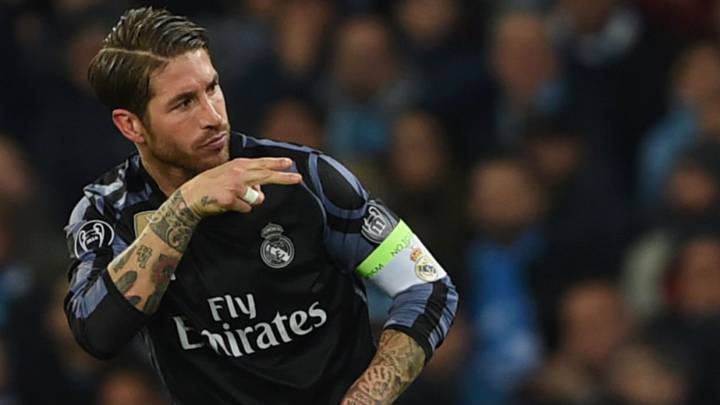 Sergio Ramos turned Real Madrid's fortunes around in Naples, scoring at the start of the second half against Napoli in the Champions League last-16 second leg, with Real Madrid trailing 1-0 on the night and looking nervous with just one more goal for the Italians being enough to see them through at that point.
Ramos to the rescue for Real Madrid
With Real Madrid level and their nerves settled, Ramos then headed goalwards again just five minutes later, his effort hit Mertens and nestled in the back of net, and Real Madrid, and Napoli, knew the tie was over. Real Madrid's second was credited to Mertens as an own goal, but the artifice was Ramos. He'd single-handedly turned a match round, in which Real Madrid were looking very, very shaky.
Ramos has scored 10 goals in 16/17
With his two goals tonight Ramos has now scored 10 in total in 2016-17, many of them utterly vital. He's only behind three Real Madrid players this season in the scoring charts: Morata (13, with one tonight, Real Madrid's third), Benzema (15) and Cristiano Ronaldo (25).
Ramos level with Roberto Carlos
Sergio Ramos is now level on goals with Roberto Carlos, both having notched 68 times for Real Madrid. They are in third place on the defender goal-scoring charts for the club. Pirri leads, with 172, while Hierro bagged 127.
Real Madrid vs Real Betis live stream | LaLiga



Champions League
Leaders
Messi

10

Goals
Verratti

488

Passes
Felipe Monteiro

90

Steals
*Update 7 de marzo de 2017