Real Madrid vs Real Betis LaLiga: As it happened, match report, goals, action
A late Sergio Ramos goal saved Real Madrid late on as Real Betis pushed the Zinedine Zidane's side to the limitIreland - Denmark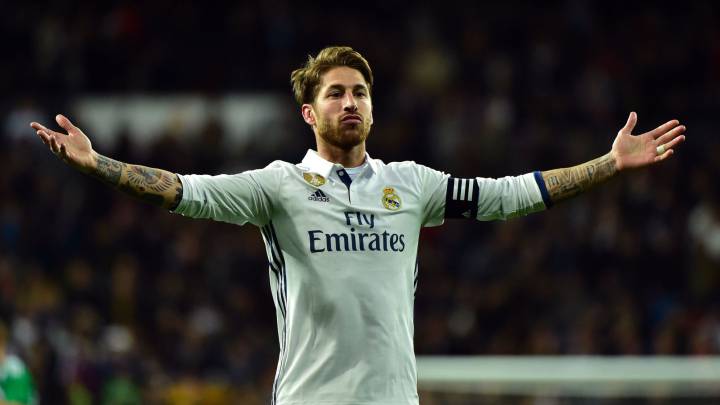 Real Madrid 2-1 Real Betis: full-time match report
Sergio Ramos was on hand to rifle a header beyond Antonio Adan in the 81st minute to give Real Madrid all three points and the top spot in LaLiga after Barcelona slipped up against Deportivo earlier in the day.
The home side were let off the hook in the first half when Keylor Navas came out to header a ball outside his area, only to miss the ball entirely before catching Darko Brasnac with his hip preventing a sure goal. Antonio Mateu, the refere, decided it was not even a free and Real Madrid breathed a sigh of relied. Minutes later, however, Keylor Navas was undone when another Antonio, this time Antonio Sanabria drove a shot in a comfortable position for him to save. He dived to his left before scooping the ball into his own goal. Sarabia celebrated but it would go down as a Navas own goal. Regardless, Real Madrid found themselves behind with 25 minutes played.


Real Madrid were failing to create anything substantial but were having luck down the left hand side. That changed, however, when Marcelo delivered a perfect cross on 41 minutes and it found an unmarked Ronaldo at the back post with the Portuguese having to just hit the target in order to score. He did and Real Madrid were level going in at the break, having now gone 48 consecutive games scoring.
Instead of coming out with momentum having swung for the second half, Real Madrid looked like they would concede again as the visiting side had chance after chance. They did look susceptible on the break but Real Madrid's attack was blunt on the night.
The introduction of Lucas Vazquez was sure to change that and it did, decisively on 78 minutes when he broke free and Cristiano Piccini pulled his shirt back before toe-poking the ball away. He didn't pull the speedy winger down but the intent was there are Mateu showed the right-back a second yellow for the infraction. Real Betis were down to 10 men with 12 minutes to hold out against an increasingly confident Real Madrid side. Mission impossible.
That was proven when Sergio Ramos popped up and headed home to give his side the lead with just under ten to play and while Sanabria forced a world class save out of Navas in stoppage time, they were spent and spent most of the last ten minutes chasing Real Madrid players who were intent on ensuring their opponents did not attack.
Real Madrid go back to the top of the league while Real Betis return to Andalusia having given an excellent account of themselves and will rue what might have been if Navas was sent off in the first half.
---
Real Madrid 2-1 Real Betis: second half
FT: Mateu blows the full-time whistle as Sergio Ramos saves Real Madrid bacon yet again with a late goal.
Min 90+2 | Keylor Navas redeems himself with an excellent save from a Sanabria header. World class save as he was at full stretch.
Min 90 | Asensio manages to drive the ball out of danger. Real Betis back in possession but can't make anything of it. The home fans and players and management praying for a full-time whistle.
Min 89 | Could be the last chance for Real Betis as Ceballos is fouled by Marcelo too far out for a shot but too central for a cross. Corner is the result.
Min 85 | Real Madrid trying to take the sting out of this one now as they sit back and defend. Real Betis exhausted, it seems as they haven't attacked since the goal.
Real Betis substitution: Alegría comes on for Aissa Mandi.
Min 81 | GOAL! GOAL! GOAL! GOAL! Ramos again. This man is unstoppable as he headers the home side ahead.
Min 80 | The resulting free lands to Ronaldo but he chests it to an opponent, Mandi, who clears.
Real Madrid substitution: Isco runs off and is replaced by Asensio
Min 78 | RED CARD! Piccini send off for a slight pull back on Vazquez. Real Betis down to ten men. Looked really harsh but the intent was there even though he didn't pull him down.
Min 77 | Real Betis nearly break through but Ceballos can't get his shot away after good work by Piccini. Corner to Real Betis.
Min 76 | Ronaldo put through by a lovely Isco pass by he blazes wide with all the time in the world. Tosca covered well and made it difficult for him but he should have hit the target.
Min 74 | Many believe that Real Madrid are much better when they press and force the issue. It seems that with Benzema on the field now they are ready to start taking the game to Real Betis. Corner is the result for a start. Can they get the goal though?
Min 73 | Ronaldo with a lovely finish but he was offside. The replays suggest he was, in fact, not offside.
Real Madrid substitution: Benzema comes off the bench to replace an ineffectual Alvaro Morata.
Min 70 | Into the last 20 now and neither side able to take the lead. Both managers have made attacking substitutions in an effort to affect the flow of this game, but nothing doing just yet. Real Madrid seem to be coming to life now.
Real Madrid substitution: Lucas Vazquez replaces James Rodriguez.
Min 68 | A quick corner by Real Betis almost results in a second. Ruben Pardo can't make clean enough contact on his shot as it half-bounces in front of him. Real Madrid clear again but they are growing increasingly shaky at the back. Real Betis growing in confidence.
Min 65 | James with what looked like it was going to be a cross before it's half-blocked into the path of Adan.
Real Betis substitution: Ruben Castro comes off for Dos Santos.
Min 64 | Toni Kroos thinks it's time to unleash his right foot to settle matters here but his shot drifts high and wide of Adan's post. Not a bad effort though.
Min 62 | An expertly-timed tackle by Pezzela on Ronaldo that could have gone either way but the ref rightly rules that he got the ball. Would have surely been a red if he missed that. Ronaldo not happy but it looks like the right call was made.
Min 60 | A rare Real Madrid chance as Modric drives low and hard to Adan's left but it's straightforward save for the keeper.
Min 59 | Betis on the break again. but Castro can't get a shot away. It makes its way back to Castro and he hits this one too soon as it goes over the bar!
Min 58 | Another Durmisi cross is caught by Navas.
Min 56 | Modric gives the ball out to Marcelo but he takes his eye off it and it goes out for a throw.
Min 55 | Ramos fouled after a few nervy moments for Real Madrid at the back. Real Betis giving an excellent account of themselves.
Min 53 | Marcelo with a cross and Adan comes out and absolutely cleans Morata out of it. Ball bounces to Isco but he can't geta shot or cross away. Corner.
Min 51 | Durmisi swings a left-footed shot into the box and Sanabria nearly gets a shot away after Ramos mistimes his jump Marcelo headers back to Navas. The start of this half has been all Real Betis.
Min 50 | Modric with a late tackle at the ankles of Ceballos but avoids a booking. Lucky chap.
Min 49 | Durmisi swings in a cross after his corner fails to beat the first man, and it is met by the head of Tosca. Navas saves.
Min 48 | Piccini makes it into enemy territory but Nacho blocks his cross and puts it out for a corner. Some slick passing there by Real Betis.
Min 47 | Modric finds Marcelo with an inch perfect pass but cover arrives and it goes out for a corner to Real Madrid.
Min 46 | We are back underway of the second half.
No changes for either side.
---
Real Madrid 1-1 Real Betis: first half report
A hard game to break down with both sides going forward with relative impunity. A crazy few minutes from Keylor Navas the result of Real Betis' goal but they have looked promising going forward and shaky at the back. Real Madrid have created plenty of chances and are looking even more dangerous going forward and just slightly less shaky than Betis at the back. Real Madrid need all three points in their effort to jump Barcelona in the league table as a draw won't do it. Just like during the Depor - Barça game, we are in for an enthralling second half!
---
Real Madrid 1-1 Real Betis: first half
Min 45 | Not as much as a second of added time as the referee blows the whistle on the stroke of 45:00.
Min 43 | Durmisi breaks free down the left and clips a ball into the penalty area. Ramos heads away but only to Ceballos, who is fouled by Kroos. The ref has a long look but decides against whipping out the yellow card.
Min 42 | Ronaldo looking for a double but he is offside and Adan saved anyway. Real Madrid with their tails up now too.
Min 41 | GOAL GOAL GOAL! No, they can't hold out is the answer as Marcelo chips a lovely cross into the box for Ronaldo to header home. Very poor marking from Real Betis as two defenders go to close down Morata and leave Ronaldo free at the back.
Min 38 | Marcelo called for offside with Real Madrid trying to build an attack. Mental lapse there with Real Betis taking every stoppage to kill a few second before the half. They have seven minutes to hold out.
Min 36 | This game has really opened up. A ball in behind Betis' defense is cut out with a swinging leg before Carvajal stops a Real Betis attack. end to end stuff.
Min 33 | Marcelo gets a cross in low, but it is turned away again and makes its way back out to where it came. Marcelo turns back and Real Madrid try to go a different route in search of an equaliser.
Min 31 | Marcelo pulled down again and Kroos lofts the free in from out on the left. Ramos in the mixer again but he can't get his header on target.
Min 30 | Yellow card for piccini after giving Marcelo a big cuddly hug as the Brazilian runs by him.
Min 28 | Sergio Ramos, almost to the rescue, but his left-footed shot goes over. He wasn't expecting it to fall to him as Ronaldo mistimed it, or was pushed in the back. He appeals for a penalty and has a laugh when the ref runs away.
Min 26 | Sanabria will claim that but there's no way he is getting out of the Bernabeu with that goal. Navas threw it into the net.
Min 25 | GOAL! GOAL! Navas makes a pig's ear of a show by Sanabria and knocks it into his own goal. He is absolutely livig with himself and rightly so. That was a howler.
Min 24 | Morata hits the ground now but Mateu not blowing that one either. Very little in it.
Min 21 | Navas comes out and cleans Brasnac out of it! And not even a free. It would have been a red card and Mateu decides not to whistle it. He was the last man and Navas tried to header the ball. That would have madethings very interesting.
Min 19 | James caught with a late tackle as he goes down grabbing his ankle.
Min 18 | Sanabria in a race with Nacho as the defender makes up enough ground to make the Betis attacker think twice. Real Betis just happy to be in possession as they turn back and recycle.
Min 16 | Castro almost through on goal, and hits the ground under a challenge from Ramos, but no penalty.
Min 14 | Mix-up at the back by Betis and Ronaldo could have a case for a penalty but he didn't hit the ground. Then, Morata does but Mateu doesn't flinch. Play on!
Min 12 | Modric plays it to Isco in the middle of the field and he unleashes a shot at goal. Very close to the opener but it is just a couple of inches to the wrong side of the post.
Min 10 | James fancies a curler from outside the box. He can't get it far enough away from Adan though and the goalkeeper collects it in his chest.
Min 9 | Morata filling the left wing role now as he crosses but it's far too deep. So deep, in fact, that it goes out for a throw.
Min 8 | Plenty of Ronaldo early on as he chests another one down and blasts low at Adan, who knocks it out for a corner.
Min 7 | Morata put through by James, but instead of going alone, he looks for Ronaldo on the other side of the goals. Ronaldo can't stop himself from getting under it and it goes well over and wide. Thumbs up for Morata from Cristiano, who like the idea.
Min 5 | Real Betis looking nervous early on in the penalty area as Ronaldo tries to make another run inside. They clear again but unconvincingly. This will be a long 90 minutes for them if this continues.
Min 3 | Ronaldo falls in a heap in the penalty area but Mateu has a look on unimpressed, as Ronaldo picks himself up off the ground complaining. Probably lucky he wasn't booked for diving.
Min 2 | Isco chases down a lost cause and makes it before the ball goes out over the endline. He squares, or tries to, but Adan collects.
Min 1 | James dropping deep and is fouled bt Ceballos.
Min 1 | We are underway at the Santiago Bernabeu as Antonio Mateu gets us going.
---
Real Madrid v Real Betis: team news
Real Madrid: Navas, Carvajal, Ramos, Nacho, Marcelo, Kroos, Modric, Isco, Ronaldo, Morata, James
Real Betis: Adán, Piccini, Mandi, Pezzella, Tosca, durmisi, Pardo, Brasanac, Cabellos, Sanabria, Castro
---
Real Madrid v Real Betis: latest news
20:37 | Just a couple of minutes out now from kick-off. Just one last stat: Ronaldo has failed to score at home against three Spanish sides. Those sides are Tenerife, Leganés and real Betis.
20:25 | Despite the loss to Depor, Gerard Pique remains adamant that Barcelona are not giving up on the title and will fight until the end. He did say, however, that Depor deserved their victory.
20: 20 | Real Betis really enjoying themselves during the warm-up. Ceballos having a light chuckle with teammates. Very little expectation on them tonight. A point and they might be over the moon. Real Madrid will be keen to take back control of LaLiga though after giving up that control when they lost to Valencia a few weeks back.
20:12 | Real Madrid are also unbeaten at home this season with 10 wins and just three draws.
20:07 | If you are hoping for a goalless draw (I don't know why anyone would do that), I wouldn't because Real Madrid have scored in their last 47 games in all competitions. That is the best ever streak for a LaLiga side.
19:53 | Real Betis are not involved in the relegation battle per se, but if they take their eye off the ball, they could find themselves in it! Osasuna have been cut off from everybody while Granada and Sporting are showing signs of life. Real Betis have a game in hand but a point (or three) could really put their minds at ease regarding plans for next season!
19:49 | Zidane must be expecting a very defensive Real Betis tonight as he leaves Casemiro out in place of Isco. It's rare to see Isco and James on the field at the same time as each other.
19:45 | The team news is in and Casemiro is rested with Isco taking his place. James plays instead of Bale, who is still suspended and Karim Benzema has been replaced by Alvaro Morata. Ruben Castro is reinstated into Real Betis' team at the expense of Ryan Donk butr Sanchez' 3-5-2 remains in tact with Durmisi and Piccini are deployed as full-backs.
19:20 | Gareth Bale serves the last of his two-game suspension tonight at the Bernabeu and Pepe is also missing from Zidane's squad. With Pepe also missing, it appears as though Nacho and Ramos will play at the heart of the hosts' defense. The last time they played alongside each other, however, Real Madrid drew with Las Palmas and conceded three goals.
19:05 | Real Madrid, known for their Galaticos approach in recent years, are looking to bring Monchi to the capital this summer according to reports. That could turn Real Madrid's whole recruitment policy on its head.
19:01 | In case you missed it yesterday, Sevilla slipped up against Leganés yesterday just incase the Barcelona loss did not inspire Real Madrid to push on in their chase for LaLiga, this will have certainly helped.
18:56 | Xabi Alonso announced he will retire at the end of the season. He had a particularly special time at Real Madrid. Here is his career in pictures from Antiguoko to Munich.
18:52 | It's not the summer yet and the window is ages away but apparently Real Madrid and Barcelona are going to duke it out for this Portuguese wonderkid.
18:51 | Have a read of the match report that saw Barcelona lose to Deportivo and hand over the impetus to Real Madrid in the LaLiga title race.
17:56 | So Barcelona slip up at Riazor after a 2-1 loss to Deportivo. Ahead of the game at the Bernabeu Zidane's side trail to Barça by just one point at the top of LaLiga,
15:00 | And Luka's Modric's milestone is the perfect excuse to look back over his career so far - enjoy this photogallery!
13:55 | Luka Modric is a class act in the middle of the Madrid midfield and as he makes his 200th appearance for Los Blancos, we look back on his family life, moving away fleeing a war-torn country as a refugee.
13:34 | Keylor Navas will start today but again in the UK press there are rumours about De Gea or Courtois moving him out of position at Madrid. Another former goalkeeper, the legend that is Iker Casillas, was breaking records this weekend.
12:45 | Real Betis have been seen as an attractive proposition for some investors in the Far East with a bid of around 160 million euros being considered.
12:09 | For Betis fans around the world that can't survive on Robbie's finger tapping alone, here are some ideas for how and where to watch the game.
11:15 | "We're motivated to win the Champions League and LaLiga," that's the message from the Real Madrid manager
10:28 | Zidane's BBC 'mistake' made the front cover of Diario AS today.
09:35 | Welcome to our build up to the final Liga game of the day. By the time we kick-off at 20:45 we, and more importantly, Madrid's players, will already know how their main title rivals Barcelona got on against Deportivo.
---
Real Madrid - Real Betis: preview
REALity bites today as the Champions League campaign is put on the back burner and two of LaLiga's royal members face off with very different objectives in mind. Safely into the last eight of Europe's top club competition, Zidane now aims to maintain their in-our-own-hands status in the Liga title race. Betis on the otherhand should be a safe enough distance from the drop-zone and can focus on getting as far up the table as possible in the final stages of the season.
Real Madrid
Few will expect Madrid to slip up at home to a team in the lower regions of the table but, depending on the result earlier in the day in La Coruña, there will likely be even more pressure on the home side to keep pace in the title hunt. With the world's attention on Barcelona's stunning comeback against PSG midweek - potentially so powerful it can change the mindsets in both camps - Zidane needs to find a formula for the campaign run-in that satisfies results as well as mentality.
Team selection for the French coach, some would argue, has been aided by the absence of Gareth Bale, who is serving a sanction for his uncharacteristic kick-out against Las Palmas. Being without one of your best players is, in itself, not a positive, but with the BBC combination not convincing anyone at the moment - except maybe Zidane himself based on his interviews - there is an opportunity to adapt the system again. A non-BBC Madrid may not please international audiences looking for the biggest names to grace their TV screens, but it has, in recent times, proved to be mightily more effective on the pitch.
In other team news, Nacho is expected to come into the defence alongside heading-sensation Sergio Ramos, while Lucas Vazquez may be given the Bale-shaped hole to fill.
Player to watch: Sergio Ramos. The man for the big occasion may take a back seat in such a run-of-the-mill league match, however, don't be surprised to see the youth team striker's name called out from Bernabéu faithful each time a corner is won.
Real Betis
A dangerous oppenent is one that has little, or nothing, to lose. And Betis could be just that today. Two wins and four draws in their last ten games has helped Víctor Sánchez del Amo's side keep their distance from the relegation zone (now nine points with a game in hand over those that could threaten them) and a visit to the Bernabéu carries no expectation for the men from Seville. They also know that their hosts have gone behind to so-called lesser sides and Sánchez is feeling confident.
"Some people might be scared to take on one of the biggest teams in football history," he said before adding, "There are others who see it as an opportunity to do something that people will talk about, give you prestige and fame and a lot of satisfaction."
"We feel we can go there and win. As a player I took on Real Madrid in the Bernabeu and got good results. The players see this as an opportunity to do something big."
Rubén Castro is back in the squad for today's game and is expected to start, however, Jonas remains sidelined. We expect the midfield to include Pardo, Ceballos and Donk.
Player to watch: Dani Ceballos: What better place to show the watching millions how special a player you are. One of the promising stars of the future is catching many an eye and Zidane will be mindful of the danger he possesses.
---
Real Madrid - Real Betis: bet on the game
The bookmakers have the home side as clear favourites for this game with a single euro bet returning
Bet on Real Madrid v Betis now
---
Real Madrid v Real Betis: match build-up live stream