Real Madrid would be third without Sergio Ramos' goals
Zidane's team would be way off the pace in the battle to win LaLiga Santander if it wasn't for the team's captain and match-winning saviourReal Madrid vs Leganés: Copa del Rey live
Sergio Ramos has almost single-handedly maintained Real Madrid in the title race. The seven goals which the captain has scored in the present edition of LaLiga Santander have been worth nine points for Zidane's side and without them, Real Madrid would now be languishing in third place, nine points behind Barcelona, four behind Sevilla and just one point ahead of Atlético and three ahead of Villarreal.
Sergio Ramos, master of the late winner
He was a hero Lisbon and crucial in helping the team will the Undécima; Ramos started the season with one of his special, last gasp game changers - it was his header which forced the UEFA Super Cup final against Sevilla into extra-time. He opened his league account for the season in the 5-2 home win over Osasuna in Week 3. That was the only occasion when the team didn't need him to come to their rescue. All of the other goals he has netted since then have been decisive.
He scored the equaliser against Villarreal in Week 5 before being sidelined with injury for six weeks, returning to the team in December to salvage a draw in El Clásico with an equaliser in the final minute. The following week, he provided more heroics - sending the Bernabéu delirious by hitting a stoppage time winner against Deportivo.
'Ramos o'clock'
Into the New Year and Ramos' run continues: he netted a brace to give Madrid all three points against Málaga in Week 19. Then he eased the pressure on the team with a goal against Napoli in a tie which could have turned against Zidane's men (the second goal was accreditted as a Mertens own goal) and last night, he nodded in the winner with nine minutes left on the clock when the game seemed headed for a draw.
Only Cristiano Ronaldo's goals have had more effect on Madrid's position in the table - his 19 goals have been worth 10 points and he is followed by Morata: 8 goals, 8 points while Benzema and Bale's strikes have brought the team just three points.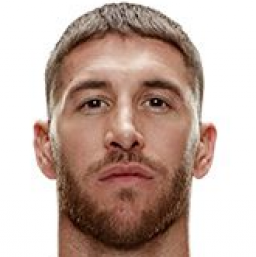 Los goles de Sergio Ramos esta temporada
| | | | |
| --- | --- | --- | --- |
| Competition | Match | Res. | Goals |
| UEFA Super Cup | Real Madrid-Sevilla | 3-2 | 1 |
| LaLiga Santander | Real Madrid-Osasuna | 5-2 | 1 |
| LaLiga Santander | Real Madrid-Villarreal | 1-1 | 1 |
| LaLiga Santander | Barcelona-Real Madrid | 1-1 | 1 |
| LaLiga Santander | Real Madrid-Deportivo | 3-2 | 1 |
| Copa del Rey | Sevilla-Real Madrid | 3-3 | 1 |
| LaLiga Santander | Real Madrid-Málaga | 2-1 | 2 |
| Champions League | Nápoles-Real Madrid | 1-3 | 1* |
| LaLiga Santander | Real Madrid-Betis | 2-1 | 1 |
*UEFA accreditted Ramos' second goal to Mertens.
| | | | | | | | | | | | | | | | |
| --- | --- | --- | --- | --- | --- | --- | --- | --- | --- | --- | --- | --- | --- | --- | --- |
| | Standings | | | | | | | | | | | | | La Liga without Ramos | |
| 1 | Real Madrid | 62 | | | | | | | | | | | 1 | Barcelona | 62 |
| 2 | Barcelona | 60 | | | | | | | | | | | 2 | Sevilla | 57 |
| 3 | Sevilla | 57 | | | | | | | | | | | 3 | Real Madrid | 53 |
| 4 | Atlético | 52 | | | | | | | | | | | 4 | Atlético | 52 |
| 5 | Villarreal | 48 | | | | | | | | | | | 5 | Villarreal | 50 |
| 6 | Real Sociedad | 48 | | | | | | | | | | | 6 | Real Sociedad | 48 |
| 7 | Athletic | 44 | | | | | | | | | | | 7 | Athletic | 44 |
| 8 | Eibar | 39 | | | | | | | | | | | 8 | Eibar | 39 |
| 9 | Espanyol | 39 | | | | | | | | | | | 9 | Espanyol | 39 |
| 10 | Alavés | 37 | | | | | | | | | | | 10 | Alavés | 37 |
| 11 | Celta | 35 | | | | | | | | | | | 11 | Celta | 35 |
| 12 | Las Palmas | 32 | | | | | | | | | | | 12 | Las Palmas | 32 |
| 13 | Valencia | 30 | | | | | | | | | | | 13 | Valencia | 30 |
| 14 | Betis | 28 | | | | | | | | | | | 14 | Málaga | 29 |
| 15 | Deportivo | 27 | | | | | | | | | | | 15 | Betis | 29 |
| 16 | Málaga | 26 | | | | | | | | | | | 16 | Deportivo | 28 |
| 17 | Leganés | 25 | | | | | | | | | | | 17 | Leganés | 25 |
| 18 | Granada | 19 | | | | | | | | | | | 18 | Granada | 19 |
| 19 | Sporting | 18 | | | | | | | | | | | 19 | Sporting | 18 |
| 20 | Osasuna | 10 | | | | | | | | | | | 20 | Osasuna | 10 |
*The teams Sergio Ramos has scored against appear in bold