Formula 1
F1 2017 Pre-Season Report: McLaren
Unless a woeful fortnight in pre-season testing was a giant ruse, it appears McLaren-Honda could go backwards in the 2017 F1 season.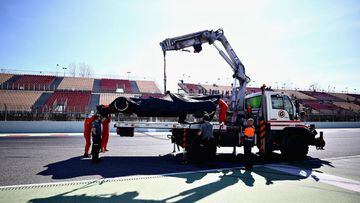 Ahead of the opening race of the 2017 Formula One season in Australia on March 26, we're keeping an eye on how each team is shaping up for the new campaign.
Here we assess McLaren's chances of returning to the fight at the front in 2017.
How did they perform in 2016?
Better than 2015, at least, but that's not saying much. A semblance of reliability from the Honda power unit helped Fernando Alonso finish 10th in the drivers' standings, above the Mercedes-powered Williams of Felipe Massa.
However, a totally revamped power unit is yet to deliver any extra pace, and appears even more fragile than its predecessor. Pascal Wehrlein missed the entirety of the first pre-season test, but still managed two more laps than Alonso did across both.
THE 2017 LINE-UP
Fernando Alonso
The two-time world champion has made it pretty clear he does not want to spend another season in the midfield, but all the signs point to exactly that.
Whether the Spaniard feels entertained by the new, faster F1 is key to him sticking around, but it is highly unlikely that Alonso will be enamoured with what he has seen from his 2017 machine so far.
Stoffel Vandoorne
The 24-year-old actually finished above Sauber's Esteban Gutierrez and Marcus Ericsson in last year's drivers' championship thanks to a 10th-place finish in Bahrain while subbing for the injured Alonso.
Like Nico Rosberg and Lewis Hamilton before him, the highly rated Belgian will hope to follow up winning a GP2 Series title with success in the premier class.
The to-do list
- It's more one for Honda, but finishing races might be a starting point. McLaren used more engines in two weeks of testing than they would be permitted to use over the course of the upcoming season.
- Keeping Alonso engaged and happy is one thing, but Vandoorne is arguably much more important. The Belgian could be the face of McLaren's revival (if and when it ever arrives). However, at just 24, Vandoorne could be viewed as a future replacement for the likes of Kimi Raikkonen at Ferrari, or even Hamilton, who has hinted at an early retirement from the sport in the past.
How will they fare?
All the noises coming out of McLaren's Woking HQ late last year would have had you believe that a title was on the cards this season, or at least some race wins. Unless their woeful fortnight in Barcelona was an enormous ruse, however, it looks like McLaren might even go backwards in 2017. 
Haas, Renault and Sauber all finished below them in the standings last season. However, Haas and Sauber at least enjoyed strong reliability thanks to a Ferrari engine, while Renault's new power unit is much quicker than its predecessor.