Borja Mayoral: "Bayern have problems in defence which Madrid can exploit"
The youth team graduate, who is on loan at Wolfsburg, analyzed Real Madrid's Champions League rivals: "I'll always bet on my Real Madrid to win the Champions League".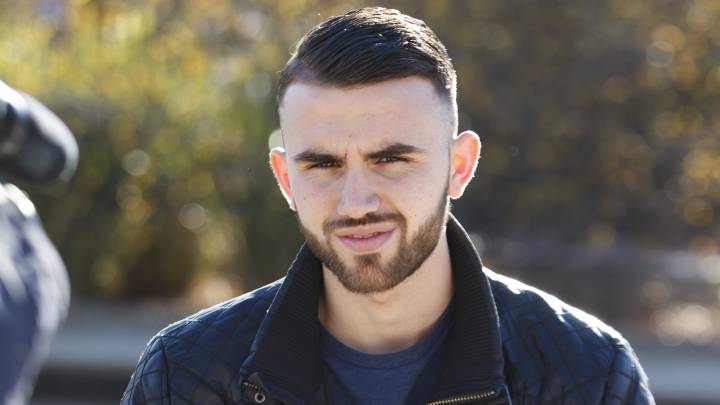 Borja Mayoral, gave his opinion on today's Champions League quarter final draw to his fans on Vippter this afternoon. The Madrid youth academy graduate, who continues on loan in Germany with Wolfsburg, was in no doubt about who thinks will be lifting the trophy aloft in Cardiff. "I will always bet on my Madrid to win the Champions League. Although they have been dealt a complicated hand in the draw, being drawn against Bayern". The striker added that overall, today's draw has thrown up some "attractive and very equal ties".
Bayern are weak at the back, says Mayoral
Mayoral knows Madrid's rivals very well and has met them twice in the Bundesliga this season. "Bayern have problems in defence and that's an area which Madrid can exploit to win the tie". But he also warned of the dangers which Carlo Ancelotti's team also possesses: "Madrid have to be strong because Bayern need only the smallest slip and they'll punish you. It's going to be a brilliant game, I really hope Madrid win"
Borja Mayoral's all-time Real Madrid XI
The Parla-born player also revealed who would feature in his dream Real Madrid line-up of all-time. "Of the players who I have actually seen play live: Casillas, Carvajal, Ramos, Hierro, Roberto Carlos; Modric, Zidane; Raúl, Ronaldo, Benzema and Cristiano".
Best career moment so far
As for the highlight of his career so far, the 19-year-old's answer was immediate: "My best memory is when I made my debut at the Bernabéu against Las Palmas. And my big dream is to triumph at Real Madrid - I continue to work hard every day to try to make it a reality one day". He said the only downside of his time in Germany is missing those back home - "My family, my friends... and the food. On the plus side, the stadiums here in Germany are always full, every weekend and the fans really get behind their teams. I had to leave Spain to continue growing as a player and that's why I joined Wolfsburg on loan".
Mayoral, delighted for Deulofeu
Mayoral is in the list for Spain's Under-21s' upcoming friendlies against Denmark and Italy and congratulated Everton's Gerard Deulofeu for being handed his first call-up with Spain's senior side. "It's a nice reward for me. I am keen to enjoy both of those games against Denmark and Italy. It's great news for Deulofeu - he deserves it because he is a great player and I hope he goes far".
Mayoral, dealing with diabetes
The player also spoke about dealing with diabetes: "I always undergo tests before every game to see is I am low on sugar - if I am, I'll take something with glucose. And I do the same at half-time. I've never suffered a bout of Hypoglycemia during a game but I have done in training and when that happens, I'll ask the physio for something with glucose", he revealed.