Luis Enrique gives Unzué his blessing: "I'll never be angry with him"
Barcelona's coach says that there will be no animosity if his assistant replaces him when he departs at the end of the season: "We're friends".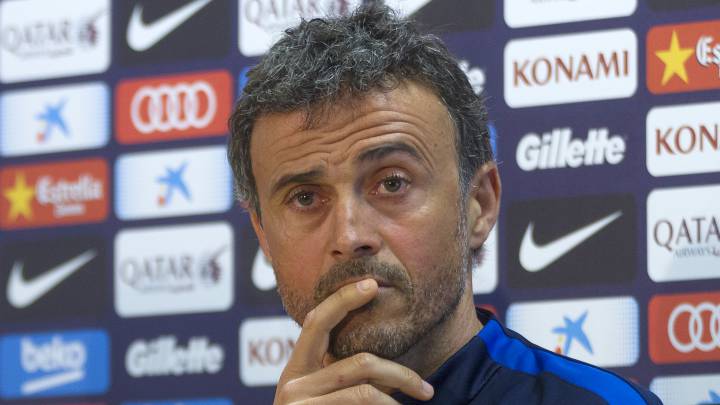 Tomorrow's visit from Valencia which closes Week 28 of LaLiga Santander ahead of the international break was the focus of Luis Enrique's pre-match press conference on Saturday afternoon. Also on the agenda were yesterday's Champions League quarter final draw and where Andrés Iniesta could find himself in the not too distant future as it emerges the midfielder has turned down two lucrative offers from China...
Luis Enrique also said that he won't feel aggrieved if his assistant Juan Carlos Unzué take the reins from him to coach the team next season.

Camp Nou visitors, Valencia: "They are one of the team which we have always struggled against - and not just here but in Valencia as well. They have constantly been a complex rival, because they have high-profile players even if they are not ideally positioned in the table. They are a strong side so we will be to be extra vigilant - if not, they are going to give us problems - not only for their very direct style of play in which they have [Simone] Zaza lurking, but also because of their passing game and the threat from [Fabián] Orellana when they attack".
Barca and Juve in Friday's Champions League draw
Juventus and Dani Alves: "You can't expect to meet a weak rival in the quarter finals. We know them well from our previous run-ins with them. They have changed the team quite a bit since the Berlin final but they are still a team to be feared".
Assistant coach Juan Carlos Unzué tipped to take Barcelona job
Unzué: "You already know how I feel about him. I'll continue to keep him out of the limelight. I think that's the best way for everyone".
Rotating the team: "It's the moment to see who we have in our squad 11 or 12 players aren't going to be able to do that, it has to be the squad".
Quique Setién to leave Las Palmas at the end of the season: "They'll need to sign a new coach".
Iniesta not at 100%: "We saw the best version of Andrés at the start of the season but he had two injuries caused by nasty tackles. Now he is looking like the player he was at the start of the campaign. We need to look after him".
Barca's 2-1 defeat to Deportivo
What has changed since the game at Riazor: "This league campaign will be decided on the penultimate day or the final day because the fixtures list is crazy and because the teams at the bottom are going to start picking up a lot of points".
Munir: "He's getting a lot of minutes. He seems to be progressing well to me. He can still improve and he will".
Juventus' 4-2-3-1 system: "They have various formations open to them. Not so long ago they were playing a 5-3-2. Playing [Mario] Mandzukic out wide on the left gives them more punching power but reduces their velocity. I'm worried about other things but not who plays".
Saving Messi for the final sprint: "He's on more or less the same figures as he was at this point last season - a little more because he was out injured for two months. It's difficult to do without the best player in the world".
Will you be annoyed if Unzué replaces you: "I'm not going to make a song and dance about this. No I can never be angry with him - we have been close friends for many, many years".
Luis Enrique speaks about Iniesta's future
Iniesta: "There are two options open to him - ending at the club where his heart and soul is, which is what I would like to see happen, or try his luck in other league like Xavi did. Either would be an admirable choice in my opinion".
Follow Barcelona vs Valencia coverage | LaLiga Santander