Real Madrid to hand Carvajal and Marcelo new deals in June
The two full-backs will be out of contract in 2020 but will be handed two-year extensions, taking them to 2022. Benzema will also amplify his contractValencia vs Real Madrid live online: LaLiga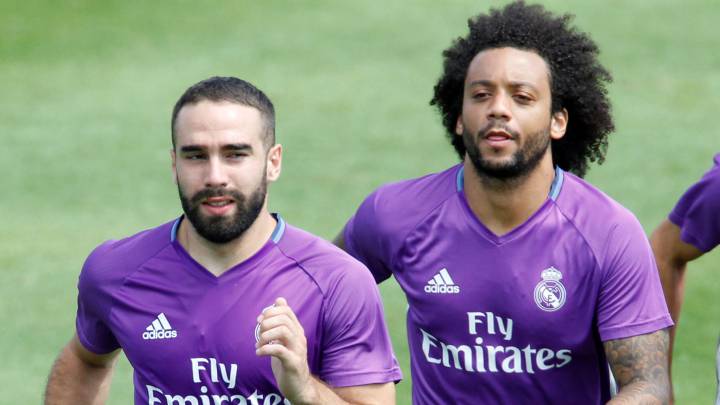 Real Madrid will extend the contracts of both of the team's first choice full-backs, Dani Carvajal and Marcelo in June. Both players have three years to run on their existing arrangement with the club but Madrid's intention is to have both players tied until June 2022. It's partly the reward for the performances which both players have been displaying - and club directors feel that the club is lucky to have in Marcelo and Carvajal, the two best full-backs in the game. As part of the deal, both players will be given a pay rise.
Marcelo, over a decade at Real Madrid
It means Marcelo, who is now in his 11th season at the Bernabéu, has the opportunity to complete 16 seasons with the club. The Brazilian left-back is the third foreign player to have made the most appearances for Madrid (395) and he aspires to overtake the two players ahead of him in that list - Roberto Carlos (527 games) and Di Stéfano (396). Carvajal meanwhile has locked down the right-back position, despite competition from Danilo. He has clocked up 151 official games as a madridista and has also consolidated his place with Spain's national team.
Benzema to renew with Madrid
Marcelo and Carvajal won't be the only players signing new deals with Madrid this summer. Just like AS reported back on 10 February, Karim Benzema will extend his contract to 2022 before the season ends (his current deal runs out in 2019). Florentino Pérez told RMC last week: "If it was up to me, he would end his career at Real Madrid".
Madrid will make the most of a summer in which there is no World Cup or Euros to announce the contract extensions instead of waiting until October like they did last year when new deals were signed by Lucas Vázquez, Bale, Kroos, Modric and Cristiano.