France vs Spain international friendly 2017: As it happened, match report, action, goals
Kylian Mbappé made the headlines at the start but it was Gerard Deulofeu who would settle matters after winning a penalty and scoring himself to give Spain a 2-0 win at the Stade de FranceChampions League draw 2018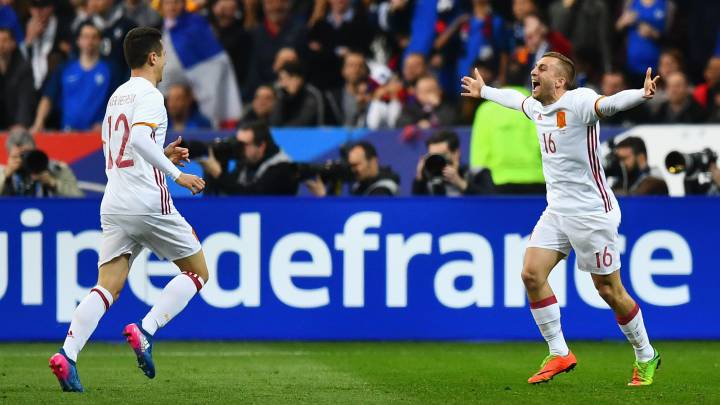 France 0-2 Spain: full-time match report
In a friendly game that had the tempo of a World Cup qualifier, Spain impressed while France looked subdued for much of the game thanks to both their system and the ability of Spain's midfield maestros.
The big news when Didier Deschamps released his team news was that Kylian Mbappé would start, making his first start in a France shirt at just 18 years of age. He looked very lively throughout and looked far from out of place when Griezmann, Gameiro and himself took off in full flight towards David de Gea's goal.
France had the better of the chances in the first half with Mbappé coming close from a Kurzawa cross but the longer the game went on, the more Spain started to boss possession. By the time the half-time whistle came, France were on the ropes. Adrien Rabiot was being overrun in midfield and Deschamps changed the PSG man with Tiemoue Bakayoko at half-time to try and get a hold in midfield.
It worked for a spell and France had a goal scored when Griezmann headed home a Gameiro cushioned header into his path. Spain were taking off back to the half-way line to start again but the video assistant referee had other ideas. He spotted that both Gameiro and Griezmann were marginally offside and ruled the goal out meaning we were back to square one. It barely took a second glance to see that the video assistant was correct and the game never suffered with a delay. Kudos to video technology would come pouring in later.
David Silva entered the fray and affected change inside France's penalty area with the ability to squeezes passes into the tightest of spaces. It was not until Gerard Deulofeu came on, however, that the game would really change though. Within seconds of being on the pitch, he was taken down by Laurent Koscielny when he obstructed him in the penalty area and Spain were awarded a penalty. Silva slotted home and all of Spain's knocking finally procuded an answer.
Just nine minutes later, an exceptional piece of skill by Sergo Busquets to get himself out of trouble resulted in the ball making it's way to David Silva who poked a pass into Jordi Alba's path. He swung a cross into the waiting Deulofeu and it was 2-0 just like that. The video assistant referee was called in to make sure that all was above board and he decided that indeed, it was.
Spain were home and dry and while it was only a friendly, France were desperate for a win in their home stadium having lost the final to Portugal in Euro 2016. The home side did no get to exorcise any demons but Spain did as they were beaten by Italy in the same competition in the same stadium. Mbappé impressed but it was Deulofeu, who was not a debutant but made the difference in the end.
---
France 0-2 Spain: second half
FT at the Stade de France.
Min 90+5 | Bakayoko with a last chance saloon effort for France. He makes it in behind but his pullback is to a sea of Spain jerseys.
Min 90+4 | Deulofeu looking for a second and waiting for the through ball by Silva. He waits, and waits, and the Arsenal defender stands in front of him before Deulofeu throws him out of his way. Free to France. Silly from Deulofeu.
Min 90+3 | Giroud headers a ball down to Griezmann, who is offside and he knows it. France really out of steam here and no way back.
Min 90 | Deulofeu causing chaos again. He exhanges a one-two with Aspas and then gives it to Silva but the Manchester city maestro can't direct his shot on target.
Min 87 | Griezmann trying his bet to geta head on a Dembele cross. He does but Nacho is too close for comfort and he heads it over the bar.
Spain substitution: Nacho comes on for Jordi Alba. Morata off for Aspas too.
Min 85 | Carvajal pulled down by Kurzawa after Jallet's cross is way too long and beats everyone invluding his own teammates at the back post.
Min 83 | Dembele tries an overhead kick and it goes about 75 yards up into the France night. Note to Dembele - need to improve on chilena tekkers.
Min 82 | Foul by Thiago on Griezmann, who gets up and has a nibble on Silva's ankle. Free to France as Griezmann tries desperately to make a difference for France.
Min 80 | Silva in behind again but he is ruled offside. He has made a noticeable difference since he came on (maybe not as much as Deulofeu but certainly part of the change in Spain's attack).
France substitution: Kevin Gameiro comes off for Ousmane Dembele and Tolisso is replaced by Thomas Lemar.
Min 77 1 GOAL! GOAL GOAL! What a move. Silva plays it to Alba, who puts it on a playe for Deulofeu and he finishes with ease. The video referee has a think about taking it away from him but NO! The goal stands.
Spain substitution: Koke comes off and is replaced by Ander Herrera.
Min 74 | Deulofeu in around the mixer again after Thiago wins an aerial battle against Koscielny. Lloris makes it to the ball first though. The Arsenal defender is down getting treatment now after himself and the Bayern midfielder clashed heads.
Min 72 | Griezmann lofts a free-kick into the area and it falls to Umititi, who has a shot blocked by Koke for a corner. Gameiro with a shot as a result of a half-baked clearance and it's another corner. That comes to nothing.
Min 70 | France trying to find a way back into this one. corner won by Gameiro as he kicks it off a Spanish defender.Dangerous ball in is cleared by Deulofeu.
Min 68 | GOAL! David Silva slots the penalty home, sending Lloris the wrong direction. As cool as a breeze that blows through the Etihad in Manchester on a windy Wednesday night.
Min 66 | PENALTY! Deulofeu wins a penalty. After just 15 seconds on the putch. Koscielny obstructs the AC Milan winger. What an introduction!
Spain substitution: Pedro's race is run and Delulofeu replaces the Chelsea winger.
France substitution: Giroud replaces the youngster Kylian Mbappé.
Min 64 | Mbappé passes it out to Kurzawa, who cross low and in behind the back. It ends up back with the Monaco striker and he drives high and wide from an awkward angle.
Min 62 | Ball in behind the back by Silva into Pedro, but Lloris is out and claims.
Min 59 | Pedro with an outside of the laces pass to Morata, who decides his best option is to shoot with Koscielny on his tail. He does and it barely makes it onto Lloris' radar.
Min 57 | Much better from Spain. Silva involved with Pedro and Carvajal down the right. Umtiti slides, cuts out the cross and puts it out for a corner.
Min 55 | Jallet fouled for a late tackle down around Silva's ankles.
Min 54 | Griezmann through on goal with Gameiro in support. He gets the ball to his Atletico teammates but it's just slightly behind him and he can't get himself turned with the ball. France far more dangerous in this half.
Min 52 | Morata bulldozes Umtiti out of the way in search of the ball. Free to the defender.
France substitution: Iniesta and Isco are replace by Thiago and David Silva.
Min 51 | Isco fouled by Jallet.
Min 49 | NO GOAL! The hawk-eye assistant referee has ruled it out for offside. That all happened so quickly that it barely stopped the game.
Min 48 | GOAL! GOAL! GOAL! Griezmann heads France into the lead. Jallet crosses, Kurzawa heads it down to Griezmann and he beats De Gea all ends up. Ramos and The Atletico attacker collided heads with each other.
Min 47 | Bakayoko with a swift pass into Mbappé, who tried to get turned but his touch takes it straight to a Spanish defender and clear.
Min 46 | The second half is go for launch!
Substitution for France: Bakayoko comes on in place of Rabiot.
---
France 0-0 Spain: first half summary
Spain clearly on top in that half with the amount of possession they have enjoyed but the same old complaints blotting their copy. They have failed to get Morata involved in a meaningful way and there seems to be a disconnect between midfield and the striker. Their defense does not look steady but the speed of Mbappé, Griezmann and Gameiro really should come with a health warning. Spain have coped only okay with some of France's counters but are unlucky to not have scored themselves. A really lively 45 minutes with a great atmosphere. More of the same please!
---
France 0-0 Spain: first half
HT at the Stade de France. Reall good game for a friendly!
Min 44 | Back to square one for France as they continue chasing shadows. Isco picks the ball up 40 yards out and makes a move inside before letting fly. It's comfortable for Lloris.
Min 42 | Griezmann pushes up on De Gea and forces a massive kick down to Lloris. France back in possession now. A long ball in behind is caught up with by Gameiro and his cross beats De Gea - one of those ones that's too close to him. Mbappé and Griezmann lurking but neither can get anything on it.
Min 40 | Spain enjying close to 100% of possession in the last five minutes. Griezmann gets a touch but is squeezed as soon as his boot kisses the ball. Still no chances in that time though.
Min 39 | Koscielny up on Morata's back and the two come back down to earth with a crash. The referee decides it was the Arsenal defender who was fouling the Real Madrid striker.
Min 36 | France happy enough to keep poking around France's back four and waiting for a chance to pounce.
Min 33 | N'Golo Kante fouls Isco and gives away a free just moments after Tolisso has a kick at the Real Madrid midfielder. Ramos waiting for the arrival of the free from Koke.
Min 31 | Mbappé playing like a player in his 101st start and not his 1st.
Min 30 | Mbappé gets in behind with a ball from Kurzawa but his cross is lame. De Gea calls it but Ramos comes out of nowhere and puts it out for a corner.
Min 28 | Pedro plays Iniesta through and he opts for an outside of the right shot instead of his left. It looked really awkward. Lloris saves and France live to fight again.
Min 27 | Isco with a dangerous cross into France's penalty area but Koscielny gets down low and headers it away for a corner that comes to nothing. Spain with all the ball now and France struggling to match them.
Min 25 | Carvajal catches two French defenders out with a reverse over the top pass to Pedro. His cross, low and hards nearly reaches Morata but there are too many bodies back there.
Min 23 | Up the other end and Isco's corner is amed straight at Piqué but Lloris gets a fist to it and the defender takes him out and is penalised with a free. Think he might have recieved a punch in the head for himself too.
Min 22 | France break with their front three and Griezmann leading the line. Piqué manages to cut it out. Could have been trouble if the Barça defender was not as confident there.
Min 21 | France with a decent spell of possession now wih spain chasing shadows. A very slick move by lloris leave Morata on his backside, sliding along the ground.
Min 20 | Rabiot with his studs straight into Carvajal's thigh. Booked! Friendly? There's no such thing mate.
Min 19 | Isco with a cross this time, but it is at too awkward an angle for Morata. He throws a foot at the ball but even if he connects, nobody knows where that is going to end up.
Min 17 | Spain getting a lot more joy now and holding onto possession far better. Cross by Pedro nearly makes it to Morata but Umtiti heads it up into the air and Lloris catches.
Min 15 | Koscielny goes through the back of Morata in an effort to get the ball and gives away a free.
Min 14 | Iniesta manages to find a yard of space in the penalty area and he bends one around Lloris but it goes just wide. Spain very patient in their build-up and probing France's back four. The Barcelona midfielder the one to eventually see a hole and go for it.
Min 11 | Griezmann with a perfect cross to a free Koscielny. He beats De Gea but Piqué clears it off the line. Very close to the opener.
Min 11 | Koke fouls Mbappé as the Monaco striker goes down grabbing a handful of his ankle. He's up again and awaiting Griezmann's free from the left.
Min 10 | France sitting back and quite compact but also closing space on Spain meaning there is no room for them to hold onto the ball at the back and throw it around. Very nice balance by the home side at present.
Min 8 | Pedro and Koke link up to get the ball out to Carvajal again. It is theire only form of attack at the moment. He opts not to cross this time though.
Min 6 | Carvajal cross in the direction of Morata but it's too high for him as it skims off his head and gives him a buzzcut in the process.
Min 5 | Gameiro to Griezmann and then a cross by Kurzawa is nearly turned in by Mbappé. Very good reaction save by De Gea. France looking very dangerous when they attack so far.
Min 4 | Gameiro makes it to the ball before Piqué and turns him with the Barcelona defender grabbing at his jersey. The Atletico Madrid striker gets a cross in along the ground but there are nor French players on the end of it.
Min 3 | Little teaser there of the Madrid derby as Ramos cuts Gameiro down from behind. Free to the home side.
Min 2 | Carvajal with a cross after Pedro plays him in but it's cleared back out to him. He tries again and it's headed out for a corner. Griezmann heads the corner clear.
Min 1 | We are underway at the Stade de France.
---
France vs Spain: team news
France XI: Lloris, Jallet, Koscielny, Umtiti, Kurzawa, Tolisso, Kanté, Rabiot, Mbappé, Gameiro, Griezmann.
Spain XI: De Gea, Carvajal, Ramos, Piqué, Alba, Busquets, Koke, Isco, Iniesta, Morata, Pedro.
---
France vs Spain: live stream updates
20:57 | La Marseillaise national anthem blaring at the Stade de France. It's just a friendly but it has a feeling of a proper competitive game. We'll take it.
20:55 | On behalf of all of us here at AS English, we hope that you enjoy your first Kylian Mbappé experience (if this is your first time properly watching him). I can't remember the last time a European player was hyped to this level at such a young age!
20:44 | We are just 15 minutes away from kick-off. Spain are currently 10th in FIFA's World Rankings and France are sixth. Friendlies do count in the rankings.
Actually, I've just spent some time trying to figure it out. The formula is P = M x I x T x C
Points = Match (whether the team won, lose of draw) x Importance (i.e friendly, qualifier etc.) x Strength of team x Strength of Federation.
20:37 | Tonight is a massive chance for Alvaro Morata, who has fallen way behind Karim Benzema in Real Madrid's pecking order. The Spanish striker probably wouldn't be playing tonight either if it weren't for an injury picked up by Diego Costa. He has been itching to get game time and we assume Zinedine Zidane is watching, so he will be keen to get on the scoresheet.
20:33 | Sergio Busquets is the only player to be selected to start in all eight of Julen Lopetegui's first eight games in charge of Spain.
20:21 | Lopetegui obviously looking for some consistency with his back four and midfield but looking to see what he has further forward. Piqué, Ramos, Alba and Carvajal were hardly troubled on Friday night but will be tonight. That France forward line is both lightening and clinical. It will be very interesting to see how Griezmann, Gameiro and Mbappé do.
20:13 | A very strong team put out by Lopetegui. He has decided to play the exact same back four as he did against Israel. He has butchered his midfield and attack though with the changes being David Silva, who was amazing on that night, Diego Costa, Thiago and Vitolo. Pedro, Koke and Isco come in for them.
20:10 | And now we know. Kylian Mbappé starts for France alongside Kevin Gameiro and Antoine Griezmann.
20:04 | Julen Lopetegui is yet to lose a game as the manager of Spain, dating back to when he was the under-21 team manager. That is five years, 20 games with the 21s and seven with the senior side that he has been unbeaten. Can he continue that trans tonight?
19:54 | Kylian Mbappé became the second youngest player to play for France at 18 years, three months and five days and everybody will be paying close attention to the striker if he gets a chance tonight. His Monaco teammate, Fabinho, says it's only a matter of time before he ends up at a club like Real Madrid or Barcelona.
19:39 | One player we will not be seeing tonight is Karim Benzema and he spoke recently about how hurt he feels to be left out. He says, "I love playing with France. I want to continue with the national team, I am young and I have plenty of ambition with that team."
19:35 | Spain's under-21 side won lats night against Italy with goals from Saul Niguez and Borja Mayoral. Marco Asensio started that game and says he really feels valued at Real Madrid under Zinedine Zidane. There had been suggestions that Asensio was not on Zidane's radar but a recent start against Eibar and his reapperence in more matchday squads has reassured the young Spaniard that he is indeed valued at the club.
19:33 | Isco could get a start tonight and after all the fun and games between Piqué and Alba, who were flirting with him since he joined up with the Spain squad, he looks close to a contract renewal with Real Madrid meaning James Rodriguez could be on his way out.
19:12 | France's Kevin Gameiro spoke recently about his Atletico Madrid manager and says that Simeone "lives, eats and sleeps football."
18:30 | The MRI scan which Asier Illarramendi underwent earlier today has revealed a Grade I injury to his left thigh muscle. The midfielder certainly won't play tonight and will likely miss Real Sociedad's league meeting with Leganés on Saturday.

17:45 | There will be a minute's applause this evening to remember the life of French Real Madrid legend Raymond Kopa, who died recently at 85 years of age. Along with Di Stéfano, Puskas, et al, Kopa was part of the cohort that dominated European football in the 1950s.
16:30 | A piece of major breaking news elsewhere on the international football scene is that Argentina captain Lionel Messi has been banned for four matches for a foul-mouthed tirade against an assistant referee in the Albiceleste's win over Chile on Thursday.
16:10 | Real Madrid's Marco Asensio played last night as La Rojita, Spain's U21 side, beat Italy 1-2 in Rome. He spoke to El Larguero about a possible to return to Julen Lopetegui's senior squad.
15:10 | With just under six hours to go until kick-off might we suggest you get prepped by availing yourself of our mightily useful guide on how, when and where to watch?
14:25 | Video Assistant Referee (VAR) technology will be used in this evening's game at Stade de France and Spain coach Julen Lopetegui says he is all in favour: "I haven't had any direct experience of VAR but technology should be welcomed in football as long as it doesn't affect the fluidity or the essence of the game. Applied in the right measures, it can be helpful but I think we are always going to see problems".

13:45 | France coach Didier Deschamps says that while Spain were unable to successfully defend their world and European crowns, the team remains a reference in world football: "Spain is still a global reference for their philosophy, their style of play and for the quality they have. Tuesday's game will be a test for us but if we beat them, it won't mean that suddenly we are at the level of world champions".
13:26 | France v Spain betting odds update: while generally France are just x-1 and Spain x-1, you can get enhanced odds - France 10-1 and Spain 16-1.
13:10 | There will be some familiar La Liga faces in the French side today. Atléti's potent pair of poachers, Griezmann and Gameiro, could start together in attack. In defence, Barça's Samuel Umtiti is looking to consolidate his position as the first-choice centre half for Les Bleus.
12:05 | Asier Illarramendi may have to wait to gain his first senior cap - the Real Sociedad midfielder has been struggling to shake off a thigh problem and will undergo an MRI scan this morning to give doctors a clearer idea of what is amiss. Gerard Piqué took a knock to his ankle in yesterday's session but should be declared fit to start.
11.30 | Kevin Gameiro spoke to Le Parisien ahead of the game and discussed various topics. You can read the Atlético and France striker's thoughts here.

11:00 | All eyes will be on Kylian Mbappé this evening if the young Monaco forward makes his first start for France. The 18-year-old sensation earned his first cap as a late sub against Luxembourg. In doing so, Mbappé became the second youngest player in history to represent Les Bleus after Maryan Wisnieski, who earned his first cap in 1955.

10:30 | This will be the 35th meeting between France and Spain. The first encounter took place in 1922, with France on the receiving end of a 4-0 hiding. In total, Spain have won 15 times and France 12 with seven draws. The last meeting was a friendly in September 2014, which France won 1-0.

10:00 | Julen Lopetegui is likely to play an experimental side this evening and looks to be without Diego Costa and Gerard Piqué, both of whom have knocks, while the unfortunate Asier Illarramendi will have to wait a bit longer for his debut after being ruled out with a muscle problem.

09:30 | Tonight's match between France and Spain in Paris is a chance to have a look at the future of the two European heavyweights, AS editor Alfredo Relaño writes in today's editorial.
---
France vs Spain: possible line-ups
France: Lloris; Jallet, Koscielny, Umtiti, Kurzawa; Kanté, Rabiot, Dembelé, Lemar; Gameiro, Griezmann.
Coach: Didier Deschamps
Spain: De Gea; Azpilicueta, Ramos, Martínez, Alba; Busquets, Koke; Pedro, Isco, Silva; Morata.
Coach: Julen Lopetegui
---
France vs Spain: live online betting odds
France are 7/5 for the win in Paris while you can get odds of 21/10 on both the draw and a Spain victory. Wonderkid Kylian Mbappé is 6/1 to open the scoring and 9/4 to score at any time while a Griezmann hat-trick is priced at 66/1. Alvaro Morata and Diego Costa are the favourotes to open the scoring from Spain's side, with both chalked up at 5/1.
---
France vs Spain: match preview
The match-up in the French capital is the sides' first meeting since Loic Remy's strike gave Les Bleus a 1-0 friendly triumph at the same venue in September 2014.
It's a clash that pits two teams unbeaten in seven against each other, with both fresh from victories that kept them top of their World Cup qualifying groups.
France
France defeated Luxembourg unconvincingly on Saturday, finally winning 3-1 through a Antoine Griezmann penalty and an Olivier Giroud brace having at one point been pegged back by the 135th-ranked home team.
The clash saw starlet Kylian Mbappé become the country's second-youngest ever debutant, and the Monaco ace is in the frame to feature again against Spain.
With LaLiga giants Real Madrid and Barcelona both already being strongly linked with the 18-year-old, he will attract no little interest among Spanish viewers.
Defenders Adil Rami and Djibril Sidibé have dropped out of the squad through injury, Athletic Club's Aymeric Laporte and Lille's Sébastien Corchia replacing them.
It's thought that Sidibé and Benjamin Mendy will make way for Christophe Jallet and Layvin Kurzawa at full-back, with midfielder Adrien Rabiot and striker Kevin Gameiro also tipped to come into the side.
Spain
Spain were far more impressive than France at the weekend, swatting aside Israel 4-1 in Gijón on Friday with goals by David Silva, Vitolo, Diego Costa and Isco.
That win saw La Roja remain undefeated under Julen Lopetegui - with five victories and two draws - since he took over from Vicente del Bosque last July.
Costa has travelled with the squad despite picking up a knock in training, but Real Madrid's Álvaro Morata is expected to get the nod at centre-forward.
Iago Aspas and Pedro Rodríguez are also in line to start in attack, while defender Nacho Fernández and midfielders Koke and Isco are in contention to play.
However, Real Sociedad's Asier Illarramendi is set to miss the chance make his international debut after picking up a muscle injury in training.
France vs Spain live stream online build-up