Deulofeu: "Hawk-Eye? I put the ball away - just to make sure"
The Everton player spoke about scoring his first goal for Spain: "The celebration was a little diferrent because of the video assistant referee but I'm very happy".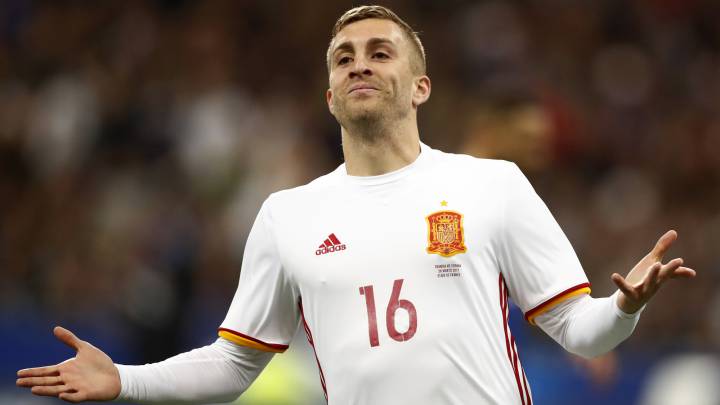 Gerard Deulofeu spoke to Telecinco's pitch-side reporter immediately after Tuesday's 0-2 friendly win over France in Paris. The Everton forward, who scored his first goal at full international in only his second appearance for Spain, explained how Video Assistant Referee (VAR) technology was used to verify his winning strike - a first-time finish at the back post: "The celebration was a bit different this time, because of the new regulations but I'm very happy, above all because we won. I'm working well and I'm pleased".
VAR: "I put the ball in the back of the net just to make sure. When I saw the ref ask for the video replay, I thought that it might be disallowed but then I saw the officials talking among themselves and I knew they had given it".
Provoking the penalty for Spain's opener: "It was a clear penalty for me. I was blocked and it was definitely a foul".
Deulofeu - two caps, one goal for Spain
Impressive Spain: "We dominated the first half and we had several chances to open the scoring. The important thing is that the sensations we have are good; we've won both of our games in this international break and that is very positive".
Role in the national team: "On a personal level I am very happy - especially about being called by the national team, and to have the chance to play with these great players. I am going to continue working hard and hopefully I'll get called up again".