Zidane preparing Real Madrid without James, Asensio in a bigger role
Zinedine Zidane is keen for the club to find a suitable destination for James and his plan is to promote Asensio, who has impressed in every way this seasonPSG - Real Madrid: Champions League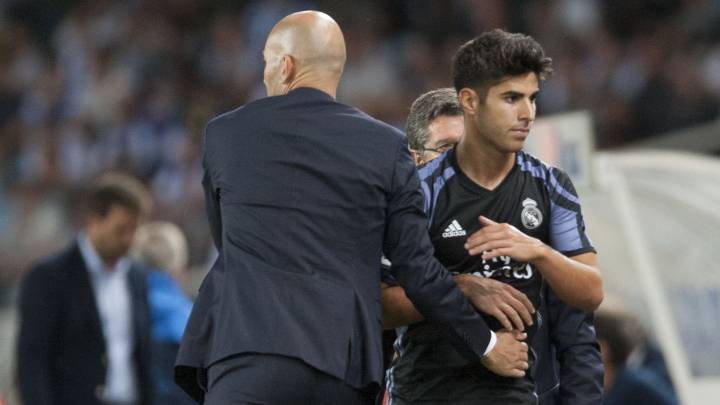 Zinedine Zidane is already making plans for next season and those plans do not involve James Rodriguez. The French manager wants the club to find a way out for the attacking midfielder. Zidane has lost confidence in the Colombian during the season in which he has only played 1,316 minutes (just 33% of the total number of minutes). James is also losing confidence in the director's box and their is a growing sense that he will not be a Real Madrid player next season. They do hope, however, to recoup the €80 million outlay for him during the summer of 2014.
One of the illuminating factors is that James does not feature in the official photo of the Fly Emirates, one of Real Madrid's most important sponsors. James is one of the most marketable stars in the squad and it seems if he had a long-term future at the club, he probably should be front and center of the photograph.
Asensio's impressive attitude
The possible departure of James will alter Marco Asensio's role and it will mean plenty of opportunities for the young attacker. His eight goals this season have convinced many that next season he can play an even more important role. Although many clubs have been in contact over the signing of Asensio, his goals remains clear: to succeed in a Real Madrid jersey and the club concur that it is an achievable objective.
Asensio's attitude has greatly impressed this season and despite a time of uncertainty around January, he started and starred against Eibar and has shown maturity beyond his years hen called upon. During the time when he was out of favour, he did not want to say anything in public about his lack of opportunities, which is something that James did when he was not being played at the end of 2016.
Follow the coverage match of the week 29 of the Liga Santander between: Real Madrid-Alavés
---
Update 12 May 2017: James has reached an initial agreement with Manchester United.